Ahhh, the handy and very versatile bedroom chair. The majority of us own one of these without really knowing it, and whether it's actually used for sitting or as a place for various clothes and clutter to live is anyone's guess. Perhaps it dabbles in both? Ours does – and we're not quite sure what we would do without it. This is why we've curated a list of the fanciest bedroom chairs online so that when it comes to replacing this all-important piece of furniture, you can do so with ease – and online. Wave goodbye to having a floordrobe forever, and a big hello to the trusty bedroom chair which has been making messy rooms look a tad tidier for years.
We've found everything from small bedroom chairs to stylish grey armchairs, something large for spacious bedrooms and even a cheap bedroom chair if you are on a budget. Because who doesn't love the idea of having a comfy chair nestled into the corner of their bedroom?
Redecorating your bedroom? For more bedroom ideas head, over to our gallery.
The best bedroom chairs for all budgets
Why you can trust Real Homes Our expert reviewers spend hours testing and comparing products and services so you can choose the best for you. Find out more about how we test.
1. Dunelm's Vivian Velvet Chair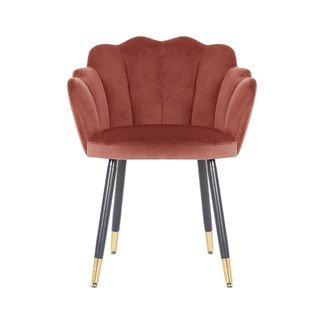 Dunelm Vivian Velvet Chair
This velvet bedroom chair is the perfect buy for any room, small or spacious, especially if style is at the top of your checklist. More so if you're searching for a bedroom chair that's comfortable – and also if you don't fancy spending an arm and a leg on one. It's available in five fancy colours including Brilliant Rose, Old Gold and Midnight Blue. With a soft scalloped back and black angled legs that are gold-tipped, this bedroom chair definitely isn't a case of style over practicality. It's super versatile with some buyers using it as a dressing table chair and others purchasing a few to go around their dining table. Bag the best price using one of our Dunelm discount codes.
2. MADE's Shona Accent Armchair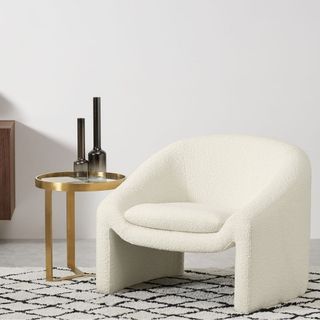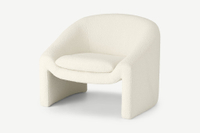 MADE Shona Accent Armchair
The perfect cosy chair fit for only the fanciest bedrooms, this Made number is upholstered in boucle fabric to make it comfortable to sit on – and pretty to look at. It's ideal for popping in a corner thanks to its rounded back and curved design, while it'll happily play home to a quarter of your dress collection at the same time. This Scandi-style chair comes in white or black, though do consider that it can only be professionally cleaned.
3. Habitat Rufus Velvet Accent Chair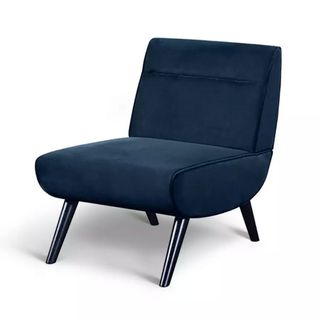 Habitat Rufus Velvet Accent Chair
This smart velvet accent chair would perhaps be better suited to smaller bedrooms – thanks to its compact size and striking yet convenient shape, that is. It would look equally as perfect pushed into a corner as it would at the end of a bed, while the lack of arms will help this chair blend right into your bedroom, and its thick piping and plush seat and back make it comfortable to chill on. With black angled legs, it may be sophisticated in looks but it's impressively cheap when it comes to price.
4. Habitat's Nellie Fabric Accent Chair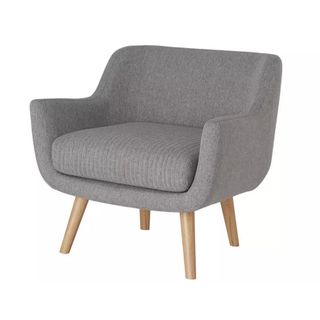 Habitat Nellie Fabric Accent Chair
A bedroom chair fit for grey homes, the Nellie accent chair is as comfortable as it looks. It's sizeable to make a statement and it sits on angled wooden legs. All the while it boasts a comfortable curved back and arms, and a quilted seat cushion. You may not be planning to sit on it for hours a day, but rest assured it can hold your belongings – from clothes to bags and shoes – in style. You can even get a free fabric swatch to make sure it fits in with your style before purchasing.
5. Made's Modica Accent Armchair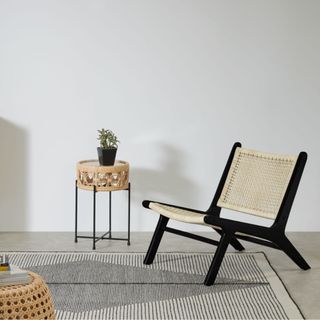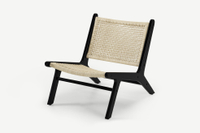 MADE Modica Accent Armchair
We love the relaxed vibe of MADE's Modica chair. It would be ideal for a spacious bedroom that's slightly boho, especially if said bedroom already plays home to other black furniture. With a rattan seat and angled back, it has a minimalist black frame, and it takes up a minimal amount of floorspace. We suggest placing it in a corner of your bedroom and draping a light blanket over it for maximum effect. Equally enough, you could pop a side table next to it to make this chair look inviting and somewhere to read a chapter of a book or catch up on your phone notifications somewhere different than your sofa.
6. B&Q's Turio Burnt orange Velvet effect Chair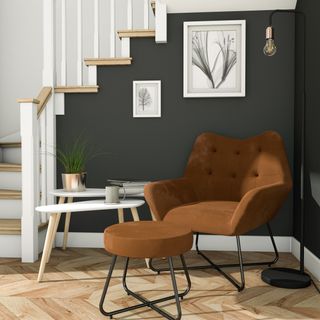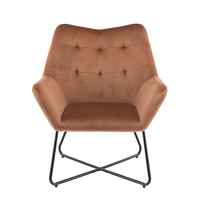 B&Q Turio Burnt Orange Velvet effect Chair
This inexpensive chair can be found at B&Q (yes!) and it comes in lots of colours, though Burnt Orange is by far our favourite. To add a pop of colour to your bedroom, of course, and since it's upholstered in velvet, it'll be sure to make a statement around other furniture. You can also buy a matching stool to put your feet up (or pop more clothes atop) while this chair boasts a black metal frame and a curved design. Comfortable, cheap and charming.
7. The White Company's Petersham Linen Union Armchair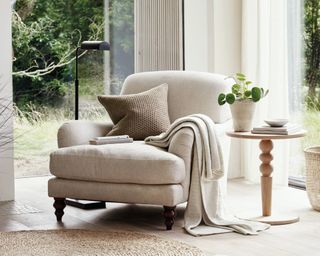 The White Company Petersham Linen Union Armchair
Do you even really need a bed when bedroom chairs come as soft and deep as the Petersham armchair from The White Company? If you have the space for a large marshmallow of a seat then we say go for it. It's made of premium linen and comes with a scatter cushion, while this sizeable chair has a curved back and arms, atop a hardwood frame. Choose a leg colour from dark stained beech or natural oak and invest in this chair to live in your large bedroom or guest room.
7. Loaf's Munchkin Chair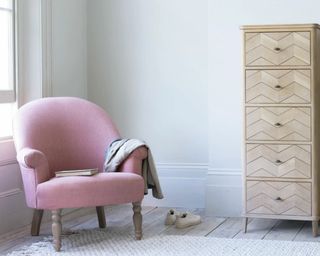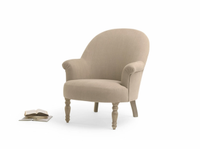 Loaf Munchkin Chair
As the name would suggest, the Munchkin chair from Loaf is on the smaller side – perfect if you are working with a teeny bedroom. The chair is upholstered in Azure plush velvet (what else?) and you can choose from over 151 fabrics and finishes. A great choice if you are searching for a chair to fit in with your current colour scheme.
8. Maisons du Monde Pétunia Rattan Rocking Chair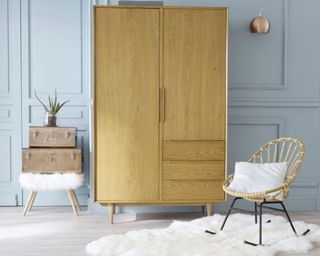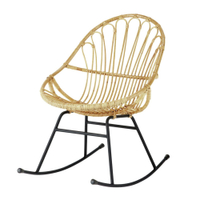 Maisons du Monde Pétunia Rattan Rocking Chair
We are all aware that a '70s bohemian vibe has been infiltrating interior decor lately, from macrame wall hangings, wicker furniture and house plants galore. Embrace this trend and add a laid-back feel to your bedroom with a rattan rocking chair like this one from Maisons du Monde. With black metal legs, it's certainly as practical as it is pretty, while it would also go great in a nursery.
---
Where to buy a bedroom chair?
Yet to find a bedroom chair to blend seamlessly with the rest of your furniture and home decor? If you want to search for this item yourself, then see our recommendations below on where to buy a bedroom chair online.