Natural choice
If you love wood, there's no need to default to aluminum for your bathroom Venetian blinds. Faux-wood blinds are perfect above a basin or a bath as they don't mind being splashed, wipe clean and are a cost-effective choice. You can also use faux-wood blinds in a bedroom and en suite for a harmonious feel.
Painted option
Swap the vertical blinds in your kitchen for Venetian blinds and you will not only free up more space on the windowsill, you'll have a huge choice of finishes. While faux wood is often best for areas of high humidity, if your kitchen's well ventilated, real wood that's painted should be durable enough to withstand potential warping. These painted blinds come in a range of timeless colours.
Expert tips for measuring up, by Nadia McCowan Hill.
The resident style expert for Wayfair explains how to measure your windows to ensure a perfect fit every time.
• Blinds can sit either inside or outside a window recess, so it's important to decide which look you prefer and what works with your windows before taking measurements. If you'd prefer your blinds to sit inside the window recess, measure the width at the top, middle and bottom of the recess.
• Measure in centimetres and round down rather than up to ensure that your blinds fit within the recess space and don't snag. If you prefer a blind that hangs outside the window recess, measure the width at the top of the recess, then add at least 7cm on each side, so that the blind overlaps the window symmetrically.
Best for bathrooms
Aluminium Venetian blinds are a smart option for bathrooms and other rooms that require regular ventilation. Adjustable slats and easy operation mean they are perfect for allowing fresh air to flow freely through the space. Aluminium blades also work well in a contemporary bathroom as they're cool, clean and fuss-free.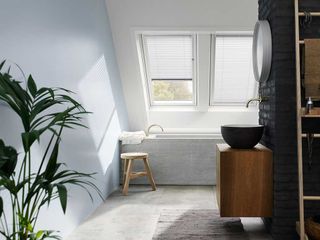 Cordless Venetian blinds
If you've always thought of Venetian blinds as fussy with cords and bars, consider a cordless option. The absence of window cleats, tilt wands and pull cords not only gives an ultra-sleek and uncluttered look to your windows, but also makes this style ideal for playrooms and homes with children or pets.
Statement look
Blinds are often the final finishing touch to be added to a room, but this doesn't mean they should be given any less consideration. A splash of colour is a great way to make the most of them – and with Venetians, there's no need to tie yourself to the same shade all the way down. Opting for a block of a few coloured slats is an easy way to create a feature in a compact room.
Versatile design
Venetian blinds are a great choice for design flexibility. They look neat at small and large windows, as well as French doors, helping to unite a space and smooth out visual inconsistencies – which also makes them ideal for open-plan areas.
Personal touch
Choosing between cords or tapes tends to be down to personal preference. However, one advantage of taped versions is that they cover the holes created by the cords, letting less light through and making them ideal for a bedroom. Taping also means you can add a contrasting colour to neutral blinds, helping to tie them into the colour scheme in the rest of the room.
Simple styling
Most Venetian blinds come in many different slat sizes and colours, so if you choose wooden blinds, you can opt for some contemporary details. A deep slat, around 50–70mm, adds a luxurious feel to a tall window, while a dark-stained finish pairs well with wide tapes. This combination will still work for slim windows – just reduce the number of tapes.