If there were ever a year to invest in the best at-home gym equipment, it would be 2021. Sure, many of us remained hopeful and optimistic that this year would be a return to "normal," but the harsh reality is we're all stuck in limbo for the unforeseeable future, and we're not exactly sure when we'll be returning to the gym. And, if that isn't sitting well with you, you're not alone. 
Enter: one major QVC deal.
Starting January 15th and ending January 18th, QVC is selling The Total Gym FIT Max. for $1,100 off. 
Whether you're looking to maintain your "New Year, New You" mentality or you're already a fitness junkie, this 14-piece set is suitable for all levels of expertise, and it  will instantly transform your living room into an at-home gym. 
Now, in the case you're not sure where to start or how to start? Not a problem – tune in to one of the eight included DVDs that offer guided workout routines and programs to mimic your trainer or favorite gym workout class. 
Plus, if you're someone who is in need of versatility, you're also in for a real treat. You can continue to mix things up by tuning into six free months of Total Gym TV with every purchase (and yes, that includes the premium content!). With dozens of classes and pre-recorded programs available to stream, it's impossible to be left missing the gym.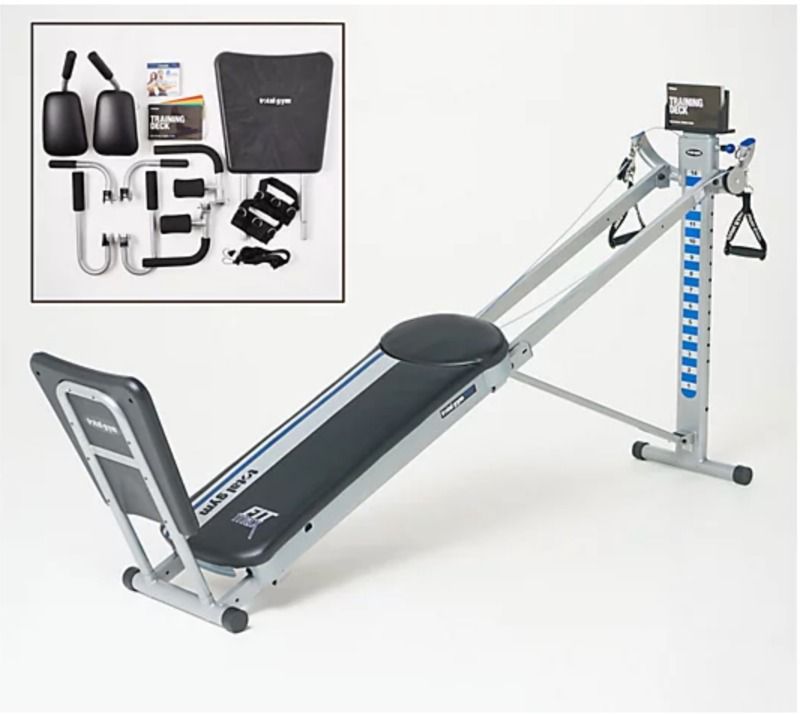 But, let's say you're someone who isn't missing the gym classes per se, and instead, you're longing for your gym's high-quality machines? You're in luck. 
Arriving with loads of attachments, the Total Gym FIT Max is designed to resemble all of your favorite workout machines in one. Users can build muscle and tone their arms on the press-up bar or dip bar, and other days can target their legs, quads, and glutes courtesy of its XL squat stand. 
Whereas other days, you can opt to make your stomach a primary focus and take full advantage of the AbCrunch —a two-part wing attachment that you can add on and off the machine in seconds. 
The Total GYM FIT MAX machine offers 85 possible exercises to endure each day, and over 14 included resistance levels. Every user can add or subtract resistance to make their workouts tougher (or easier) on a case-by-case basis and continue to adjust it as they go along. 
So, whether you're looking to reduce stubborn fat, improve stamina, tone muscles, or even build them in the first place, consider this machine your one-stop-shop for all of the above.
Plus, did we mention right now this QVC sale has this magical machine not only marked down but majorly marked down? We didn't, well, we should.
Right now, this at-home fitness machine is $1100 off its original retail prices. Yes, you read that right: it's more than half off. So, what's the hold-up? The clock is already ticking on this QVC sale, and this magical machine is sure to sell out. Make 2021 your best yet, and accomplish all of your fitness goals by adding this machine to your carts ASAP.