If you're looking for tips on how to deal with anxiety, you will know how crippling it can be, especially if you get anxious on a daily basis. And right now, even those of us who normally don't suffer from anxiety may find it difficult to cope with the uncertainty of Covid-19.
The following tips for overcoming anxiety have all been proven to work and are based on solid research linking these activities and techniques with lower levels of stress and anxiety. They vary significantly in the amount of effort and time required, so you can find something that suits you.
For more health-related advice, visit our hub page.
1. Breathe deeply
Deep breathing really does work for anxiety: it basically tells your brain that there's nothing to worry about and improves the oxygen supply, also important for good mental health. Lie on your bed or on the floor, with your arms by your sides or on your tummy. Breathe in slowly – try to count to five as you do so. Breathe out at the same slow rate. Repeat 10 times.
2. Chew gum
Another very simple stress-relieving tip is to chew gum. Scientists aren't sure how exactly chewing gum works to reduce anxiety – it may be by sending positive signals to your brain, or by increasing blood to the brain – only that it definitely does.
3. Eat a small snack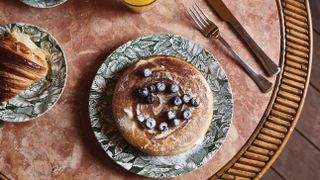 We're not talking a heavy meal – a banana or a rice cake will do. Studies have shown that people with low sugar levels are more prone to anxiety and even panic attacks, so taking light snacks throughout the day to keep your sugar levels stable may help you feel calmer.
4. Drink a glass of water
Dehydration has been linked to increased feelings of stress and even panic attacks. So, next time you feel an increase in anxiety, drink a whole glass of water, and take your time over it: drink slowly and make a mini break out of it.
5. Supplement your diet with anxiety-busting herbs
Supplements should be the last port of call, but if you really feel unable to cope, herbal medicine has a lot of time-tested (and non-addictive) remedies for anxiety. Valerian is by far the most effective, but you can also try melissa (also known as lemon balm), passion flower extract, and even strong green tea, which contains stress-reducing antioxidants.
6. Sleep more – and better
There are countless studies that establish the link between poor sleep and poor mental health. If the problem for you is circular – can't sleep well because you're anxious, but also find yourself anxious about not getting enough sleep – you may need to make a few practical changes in your bedroom first. That way you can try and externalise the problem of poor sleep. Consult our guide to sleeping well for more advice.
7. Gardening therapy can reduce anxiety
Reputable research is beginning to back up the claims that gardening can be used as a therapeutic remedy for a range of mental health problems, from anxiety to depression. In fact, a study published in the journal Health and Social Care in the Community has revealed the overwhelmingly positive results recorded when a group of people who had accessed mental health health services took part in an experiment that saw them attend a gardening project in South East England.
Obviously right now we're not able to garden communally, but there's plenty of evidence that even gardening on your own is tremendously beneficial to our mental health. Half an hour a day tending to plants is all it could take to help you feel better.
8. Limit your news intake
Of course, it's important to stay informed, given how quickly the situation is changing. However, staying online for hours and reading every coronavirus-related article is only going to make your anxiety worse. Allocate yourself a set amount of time for reading the news each day and stick to it. And stick to trusted sources, such as the BBC news or mainstream channels/newspapers/websites. Don't be lured on to Facebook groups where everyone's an armchair expert.
9. Try a 10 minute guided meditation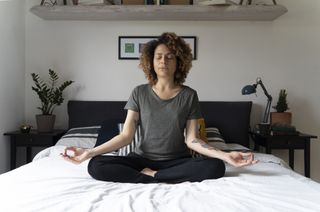 There are countless online materials for guided meditation that will help you relax, some as short as ten minutes (useful if you have young children and don't have much time to yourself). Some involve listening to ambient music, while others are more like talking therapy. Explore and experiment and you soon enough will find something you respond to well.
10. Take a bath (or a long shower)
Need to be alone for a bit? Take a bath. Failing that, a long, warm shower. Warm baths are great for us in all sorts of ways: they relax tense muscles, improve circulation (good for both physical and mental health), and – taking a bath can be a real refuge from noise and stress. Add some aromatic bath salts to amplify the effect.
11. Try potting up some house plants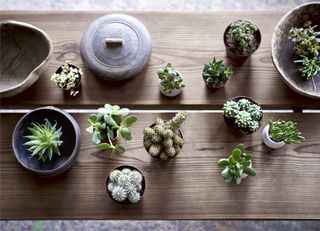 If you don't have a garden, try doing some potting indoors. Whether it's bonsai trees, succulents, or good old geraniums, planting can be soothing and fun; besides, house plants look great in your home. And you can order them online.
12. Read a good book
Reading as little as 10 minutes a day has been shown to reduce stress and risk of depression, and this applies to both adults and children. This doesn't mean you can't read a thriller or detective story – it's whatever captivates and delights you. If reading before bed, though, consider something fairly calm like a biography or non-fiction book.
13. Home schooling? Go easy on yourself
If, like us, you're homeschooling your kids (and trying to work from home), go easy on yourself. Everyone's in the same boat and we don't know a parent amongst us who's found today easy, let alone the weeks to come. We spoke to a teacher today and she said that if you can get them to three hours in one day, you've done really well. And some of that time might be reading a book or watching a film version of a classic book – or tackling Joe Wicks' PE lesson. Get those done and you're halfway there.
14. Watch a good movie
There are so many brilliant streaming services offering great options for you, often at reduced prices and many with free trial periods. These are our favourites and are definitely worth checking out – we've listed what they offer on our pages:
15. Try a new hobby or craft
You know you've always put off taking up a hobby (too busy, too tired, never at home...) or trying a new craft? Now's the time – you can order much of what you need online still and it's a great way to stay diverted, be productive and feel calm. See all our craft activities in one place. Or try these:
16. Talk to your friends and family
Short of seeing a therapist, talking to a friend or family member really is the very best medicine. If you're stuck indoors, the phone is a good option for staying in touch, but nothing beats seeing another human being, especially if you're alone, so we've been taking advantage of Facebook video (easy if you already have a Facebook account), Zoom chats and Houseparty. All are free to set up, can be set up quickly on a computer or phone and all help you stay in touch, talk and (hopefully) laugh, all of which will reduce your anxiety.
17. Keep to your normal work schedule
One potential problem with working from home, as many of us are doing right now, is blurring of boundaries between work and time off. It may tempting to start work as soon as you get up and carry on working past your working hours, but for the sake of your mental health, resist this temptation.
Try to stick to your normal working hours, and use the time you would spend commuting to do exercise or go for a walk.
18. Small flat? Make small changes during the day
Staring at your bed while working is not ideal, but it is the reality for many people, especially those who live in flat shares. In order to create some sense of separation between work and home, get a bedspread and make your bed neatly every morning. Also, try dressing as you would for work – avoid sitting in your pyjamas all day.
19. Introduce relaxing music or white noise
Some people may be relishing the peace and quiet of working from home, but for others, the lack of background noise may raise their anxiety levels. Put on some light instrumental music, or even the sounds of a busy cafe if you're a freelancer and used to working from cafe. All available for free on YouTube.
20. Reduce or stop caffeine intake
We're not saying everyone has to give up coffee: if you like it and it doesn't have an adverse effect on how you feel during the day, enjoy. But it is a fact that coffee makes anxiety worse, so if you are feeling anxious and jittery throughout the day, excessive caffeine intake may be making matters worse.
Switch to green tea: it still has caffeine, but it also has plenty of antioxidants that have been shown to be beneficial to both physical and mental health.
21. Reduce blue light exposure
Everyone knows about the importance of avoiding screen time before bed, but what about all the blue light we're exposed to by our screens during the day? The longer the exposure, the more likely you are to suffer from poor sleep and being unable to relax.
There are plenty of free apps you can download that regulate the amount of blue light in your screen settings – our favourite is f.lux.
22. Keep up your vitamin D levels
Vitamin D is the vitamin a large number of us are deficient in, which can result in poor mental health, among other things. If you're not getting at least ten to twenty minutes' worth of sunlight a day, you should consider a vitamin D supplement.
23. Try a weighted blanket at night
There is a theory, which is just beginning to be supported by research, that sleeping under a heavy blanket can reduce stress and anxiety. It may or may not work for you, but it's definitely worth a try if you find yourself restless and anxious in bed.
24. Take time out to connect with loved ones
It is hard to have to stay apart from loved ones during lockdown, but we have the benefit of Skype, Whatsapp, Zoom, and other apps that allow you to screen time your family and friends. So, next time you're about to binge-read coronavirus-related news, video call you gran/brother/best friend instead.
25. Do yoga
Yoga is one of the best all-round forms of exercise you can do. Designed as a holisitic practice that keeps your body strong and your mind and spirit well, yoga can help calm anxiety and reduce stress, as well as keeping your spine healthy and your muscles toned.
Yoga with Adriene is a long-time favourite with the team at RealHomes: easy to follow routines and a friendly and positive instructor.
26. Try to think positively
This is a challenging and anxious-making time, but try to focus on the positives, whether it's having your loved ones near, or a hobby. We also recommend diluting your daily intake of (scary) news with something a bit different, like the Good News Network that offers a positive slant on news broadcasting.