The Smarter Coffee 2nd Generation has done the inevitable and created a coffee machine that can be controlled remotely. This machine marries the best bits of bean to cup and filter machines, but it has a minimum serving size of four cups, so it's definitely not one for the casual coffee drinker. Caffeine addicts, however, will love the feeling of having an endless supply of hot, fresh brews.
We're keen on the Smarter Coffee 2nd Generation machine for its easy controls, but it doesn't tick every box. For a start, this machine comes with limited instructions, so you really will depend on our Smarter Coffee 2nd Generation review if you want to get started after purchasing. Take a look at the best coffee machines for more options, and browse our thoughts below to see if the Smarter Coffee 2nd Generation is right for you.
Smarter Coffee Machine specifications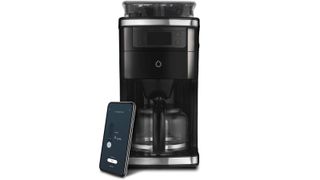 Type: Bean-to-cup, filter-style machine
Capacity: 1.5 ltr water tank
Dimensions: 26.6 x 20.6 x 42.4 cm
Who will the Smarter Coffee Machine suit?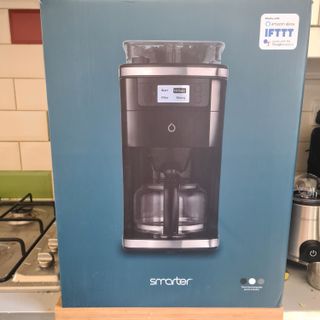 I have dubbed the Smarter Coffee 2nd Generation a 'bean-to-carafe' coffee machine. It is suited to a very specific customer. If you have a home office (or you're shopping for an office environment) with a lot of coffee demands, it will fit the bill nicely.
The important thing to remember when buying the Smarter Coffee Machine is that the only thing it has in common with most of the best bean to cup coffee machines is that is grinds and brews the coffee itself. The experience couldn't be more different from a high-end espresso machine. It's far more similar to a regular filter coffee machine, but you won't have to worry about the messy grounds.
What is the Smarter Coffee Machine like to use?
Take it out of the box, plug it in, and in theory you're ready to go. Of course, you also need to pair it with the Smarter app to make the most of it. The front light will flash orange to show that it isn't paired, and the app will guide you through the process, which involves flashing lights and a loud beep when it's paired.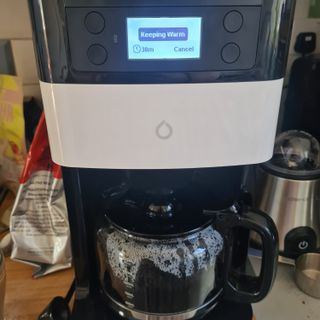 The machine comes with a glass carafe, which is easy to clean.
You can also choose from three colours for the front panel: black, grey and white. These panels are easy to detach and swap around depending on your kitchen style, you simply press two buttons to pop the panel away and then press the one you want in its place.
This coffee machine arrived with extremely minimal instructions. It's easy enough to figure out, but nonetheless I was disappointed that there was no guidance on cleaning or different settings.
Setting up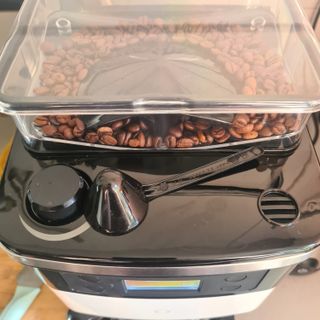 Adding water and beans is the first step. The water container is not removable, and it is quite narrow and fiddly to reach. Refill with a jug to make sure you don't spill.
The capacity is limited to just over a litre, which is equivalent to the largest sized carafe it will make. If you expect to get through multiple carafes, you should top up between uses. The app will tell you how much water is in the unit, so it won't let you brew more coffee than it has reserves for.
The bean container also runs down fast, especially when making large carafes. You can set the grind coarseness with a dial at the top of the machine, and use a button on the side of the machine to open up the filter and empty it out.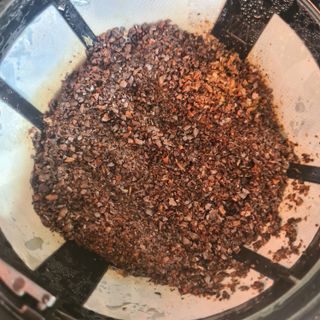 I was not impressed with the coarseness settings in the Smarter Coffee 2nd Generation. The grind does not feel nearly as high-end as a traditional espresso machine or coffee grinder. Even when on the finest of the settings, the shards of beans were not finely milled, which felt like a waste of my fancy coffee beans.
The coffee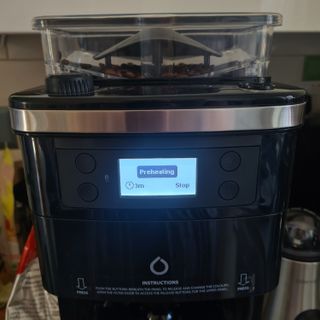 The first coffee I made in the Smarter Coffee Machine was extremely strong, and I'm no stranger to a strong coffee. I brewed a four-cup carafe (the minimum amount you can brew at once) and chose a strong setting, expecting the classic weak filter-style coffee I'm used to from days in the office. How wrong I was. This was like drinking coffee from a percolator, and it came out very dark and hot.
The display shows the process as the machine works, from grinding to heating and eventually to brewing. From start to finish, it took 5 minutes, so the advantage of being able to start the process from my office was quite appealing.
From the app you can choose from Strong, Medium and Weak, as well as the volume of coffee (anywhere from 4 to 12 cups), the preheat time (1-5 minutes) and keep warm time (up to 40 minutes).
You can also select filter, which means going in yourself and adding coffee grounds, or bean, which grinds the beans automatically to match the volume of coffee needed. There is no guide on how many scoops of coffee grounds to add when doing the filter setting.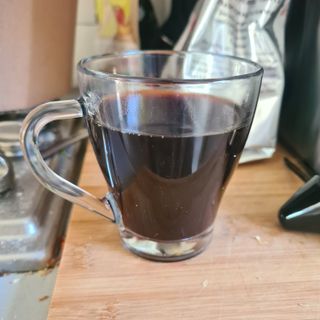 Smart settings
The Smarter Coffee 2nd Generation really comes into its own with the app settings. The app is very easy to use, and you can schedule coffee to be brewed in advance, which is perfect for those who like to have a cup of coffee first thing in the morning.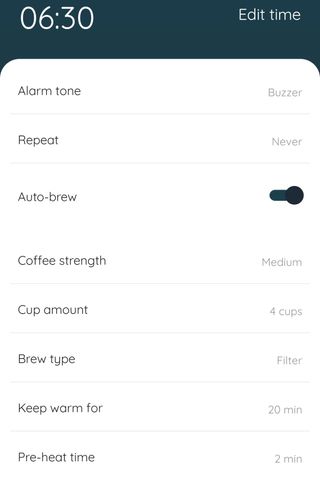 For families who all queue up for a morning cup of coffee or those who like numerous drinks throughout the morning, this is an excellent feature.
I found it hard to get through an entire carafe within the 40 minute heating period, but I found that this coffee made great iced coffee too, meaning I kept any leftover coffee in the fridge for later.
Should you buy the Smarter Coffee 2nd Generation?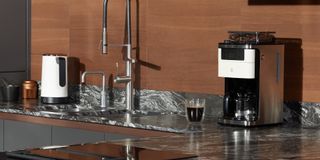 I think this coffee machine is best suited to office (or home office) environments. If you're unfussy about the quality of your coffee but don't like dealing with messy ground coffee, it ticks a fair few boxes.
Where I was disappointed was the quality of the grinding itself, as well as the small water reserve and bean holder. The smart settings really do make life easier, but you have to attend to the machine quite often to make the most of them. When setting the alarm I had to remind to go and top up the machine itself with water because it runs low so fast.
About our review – and our reviewer:
Millie Fender is small appliances editor at Real Homes. She spends her days testing everything from coffee machines to bread makers. This Smarter Coffee 2nd Generation took place over the course of a week, after which she returned the machine to Smarter, who kindly loaned it to her.
Millie lives with her partner, who likes his coffee long and in large quantities, in a South London flat. Her kitchen is quite small, so if something gets to stay in her flat full-time, you know it's worth the hype.