New tools can be intimidating to many, and I am no exception to that. I often find it a bit nerve-wracking to try a tool that I have never used before, no matter how small.
I recently tried out the Ryobi Cordless Right Angle Drill, and as usual, I was a little nervous to use something that I wasn't familiar with previously.
However, after using it on a couple of projects, I can now say that I can't believe it took me this long to try a Right Angle Drill!
I absolutely loved the convenience of it — and it is perfect for those tight spaces that a standard drill won't fit into traditionally. Find out how I got on and why it is one of the best power tools around.
Ryobi Cordless Right Angle Drill: specifications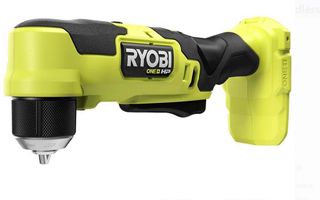 Power type: Battery (sold separately)
Power: 18V
Weight: 2.5lbs
Chuck size: 3/8in
Max speed: 1,700 rpm
Features: Brushless, no chuck key needed, includes bits and belt clip
What is the Ryobi One+ HP 18V Cordless Right Angle Drill like to use?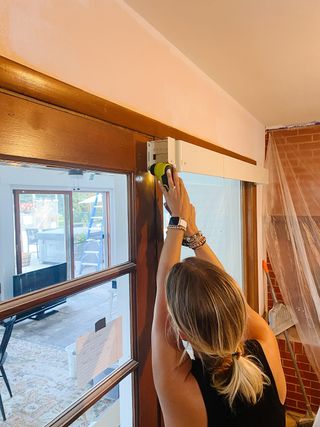 Full disclosure: this is the second Ryobi tool that I have used, and I have to say that I am very pleasantly surprised with how much I love these tools. For me, small details like ease of use and lightweight are essential when choosing a tool — and Ryobi has pulled through for me in both areas.
Let's talk about the weight of this drill first.
There is nothing worse to me than trying to work with a drill that weighs more than it needs to. Arm fatigue in projects is a real thing! I was pleased when I discovered that the Ryobi Right Angle Drill was incredibly lightweight, even with the battery in use.
Speaking of the battery, my favorite feature of the Ryobi tools is the battery design. The charger is compact, so it doesn't take up a lot of space on my tool bench, and it is also seamless to use. With a "set it and forget it" design, I can drop the battery in, and I don't have to worry about anything clicking in before it charges.
Gravity essentially does the work for me, and I love that feature.
The Ryobi Cordless Right Angle Drill is affordable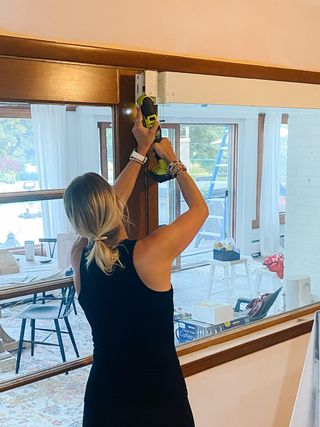 These days, project materials can add up incredibly quickly, and so when you add the cost of tools to that, any DIY can end up being quite pricey. One great thing about Ryobi tools is that they are incredibly affordable.
This drill rings in at just under two hundred dollars, and that is the price point is pretty unusual for a quality, brushless tool like this.
So, if you are dipping your toes in DIY, or if you want to try out a new tool, the money spent on purchasing a Ryobi won't break the bank.
The Ryobi Cordless Right Angle Drill: The verdict
Quite often, when purchasing a product that has a lower price point, I am a little worried about the quality that it will provide. I have not found this to be the case with the Ryobi products that I have used. Affordable and effective, this power that the Ryobi Right Angle Drill put out was impressive.
I didn't find myself working for the drill, which is a nice feature in any situation.
In general, projects that would require a right-angle drill might be a project that could prove to be aggravating. We all know the feeling of trying to complete an easy project, but the frustration that may ensue makes it seems more advanced than it needs to be.
For example, when I had to hang a simple curtain rod in a tight space, I tried using a standard drill, and to make a long, frustrating story short, this drill was just too large for the bracket, and it was making it very difficult.
I ended up walking away from the project and coming back to it a couple of days later with the Ryobi Right Angle Drill in hand. The difference in the level of difficulty between the two days was night and day.
The right angle drill was the appropriate drill for that particular project, and it works effectively. I was able to remove the brackets easily and without frustration, and for that (in itself), I would have paid way more than what the drill is worth.
All in all, I would highly recommend the Ryobi Right Angle Drill as a tool that should be part of any DIYer's collection!
Ryobi Cordless Right Angle Drill: where to purchase it?
Ryobi warranties only cover products purchased directly from Ryobi or through their trusted seller, The Home Depot. You can buy this right angle drill by itself, with batteries and charger, or bundled with other Ryobi cordless tools.
About this review and our reviewer:
Liz Hartmann is a blogger, DIYer and freelance writer. Liz and her family recently moved to an old farmhouse that they are renovating, so when Liz is never searching for a project! When she isn't busy with DIYs around the new house, Liz and her family love spending time at their family's cabin, participating in any and all watersports. Follow Liz and her projects on her Instagram and Pinterest pages.