The ironing pile is one which always seems like a mammoth task to climb so when the opportunity came up to try the new Russell Hobbs Titanium Carbide Iron I was keen to find out more.
To help put the iron through it's paces over the past few weeks I enlisted the help of my mum who seems to ALWAYS have a lot of ironing, and has many more years of ironing experience than I do, so it seemed like a logical way to test how the iron performed under pressure. We've looked at how easy the iron was to set up and use, as well as how it looks and feels, to give you a well rounded opinion.
Keep scrolling to see how it performed then, check out our best steam iron guide for more top options.
Key specifications:
Power: 2600 W
Reservoir capacity: 330 ml
Steam output: 55 g/min
Power cord length: 3m extra long length
Weight: 1.26 kg
Dimensions: H12.2 x W29.6 x D12.2 cm
Who would the Russell Hobbs Titanium Carbide Iron suit?
Anyone who would like a good standard of ironed clothing, for as little effort as possible.
How easy was the Russell Hobbs Titanium Carbide Iron to set up?
The iron is ready to go out of the box with minimal set up required, aside from unwrapping it from the protective carboard layers – good news for those of you (myself included) who have a finite amount of patience reading instructions.
However, what I would say is that the instructions sheet could do with more key locations marked on the diagrams. And the iron itself would benefit from a visible water tank marker so it's clear how much water you are topping it up with.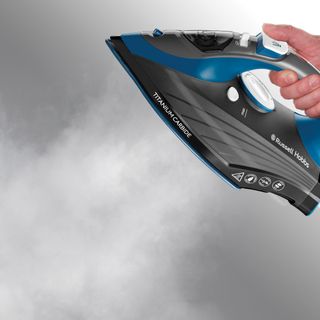 What was the Russell Hobbs Titanium Carbide Iron like to use?
Once over the hurdle of figuring out what goes where and how much water you need to put in, it was plain sailing (ironing). The iron was actually a joy to use which made ironing into an (almost) pleasurable experience. The smooth sole plate seamlessly slid across the material which the spec says has a special titanium carbide surface making it scratch and heat resistant. And the results were fabulous; even the crinkliest garments were crease free when the vertical steam shot and correct heat settings for the material were used – in record time, too. The anti-drip function actually worked as well so there were no spots of water left on the shirts or trousers after a press and steam either.
There are four settings to choose from – Cool, Warm, Hot and Max – which are well suited to pretty much any material suitable for pressing. It's also super lightweight with a three-metre-long power cord so there was no getting in a tangle when reaching for a socket from the middle of the room when watching the television.
Cleaning, storing and maintaining the Russell Hobbs Titanium Carbide Iron
The ergonomics of the iron make it very stable when sitting on its base, so it's easy to store in the upright position on a shelf. This one also comes with an anti calcium build up feature which is sooo worth it because it helps to keep the steam jets free of limescale build up.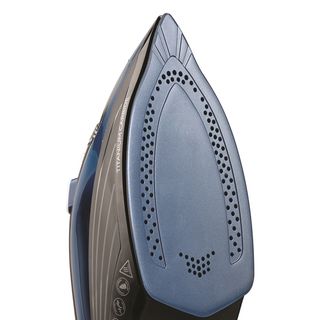 How does it compare with other steam irons?
Compared to the other steam irons out there, this model from Russell Hobbs sits comfortably in the mid-range. The water tank capacity isn't amongst the largest (400ml) but it's by no means on of the smallest (100ml).
The features and functionalities stand their ground, too, as they rival those with the bigger price tags such as the Tefal Ultimate Pure FV9845 and Philips Azur Elite GC5039/30. Both of these models have advanced soleplates, anti calcium build up and a generous steam output with the only (obvious) difference being the wattage plus some frills which you may /may not find useful depending on your needs.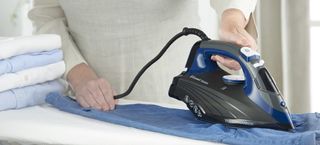 Should you buy the Russell Hobbs Titanium Carbide Iron?
Absolutely, yes! It's a great iron, especially for £49.99 RRP, and is something which we struggled to see fault in. For me, personally, I'm not a fan of ironing (who is?) but it was made so much more easier with this iron from Russell Hobbs – it's something I, and my clothes, are thankful for.