If you like a good coffee hit at home and haven't invested in a nice machine before, Morphy Richards' Espresso coffee machine is worth adding to your kitchen counter. Combining good coffee with a modern looking machine that won't take up too much space, it's a sound option for anyone wanting to replicate cappuccinos, lattes and flat whites of their favorite coffee shops without the spend, and without having to leave the house.
Wondering what else is on our roundup of best coffee machines this year? Take a look at our guide.
Specifications
Coffee type: ground / ESE pods
Pressure: 15 Bar
Water tank capacity: 1.1L
Cups: 1 or 2
Who will the Morphy Richards espresso machine suit?
Anyone who likes coffee, made simple, is sure to be a fan. This machine is sleek looking and built with simple operation in mind, so much so that you hardly have to open the manual to get started. Of course, we always recommend reading the manual first.
This espresso machine uses ground coffee or the ESE pods, it can brew two drinks at a time and has an easily refillable – in situ or at the sink – 1.1l water tank. Simply follow the indicator lights on the 4 button control pattern, to switch the machine on and off, choose between brewing one or two cups, and to turn on the steamer, and you're good to go. Before first use, it's advised to run water through the steamer three times, we would also recommend running hot water through the coffee filter without any coffee in there.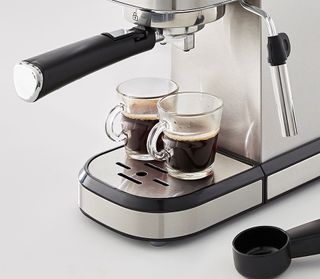 Our favorite features
It goes without saying that the steam wand is one of this machine's best features. With a variable and easily controlled steam function by means of the dial on the side, it's powerful and creates barista-style milk in seconds, letting you create cappuccinos, lattes, macchiatos and more whenever you should want one. To work it, simply select the steam function and then open the steam control dial, ensuring a vessel is there to catch any flowing water. When the steam starts, you can then add your milk to a heat-proof jug (not provided) and start steaming.
Another good feature is the ability to control the length of your coffee. As it comes, one cup will deliver 50ml of coffee and two cups, 100ml. However, you can easily alter the dispensing amounts by holding either the one or two cup button down, until the desired length of coffee is reached. This amount will then be stored, so the next time, you will simply need to click once for the same amount of coffee to be dispensed. If you prefer to keep the dispense amounts as they are, you can simply make your coffee longer using hot water from the steam want by turning the dial.
Our next appreciated feature is the built-in cup warmer which rids the need of boiling the kettle separately to simply warm your cup.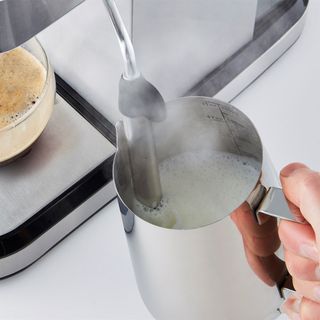 Our less favorite features
On a personal note, it takes too much time for the machine to cool enough to make another coffee after the steam wand has been used. So if you intended on making two double shot cappuccinos quickly, it would be a fairly frustrating wait. In saying that, you can speed up the process by tuning the speed dial to on so that cold water will pump through and cool the machine down more quickly.
Emptying the grounds is very awkward as even with the latch in place, the whole thing will fall out into your sink/compost pot. And, taste-wise, I'm very much a bean to cup person so if your last machine was bean to cup, you risk being disappointed as the coffee aroma and crèma layer is there but it's missing depth.
For me, this machine looks good but is lacking in finesse and feels a little too basic.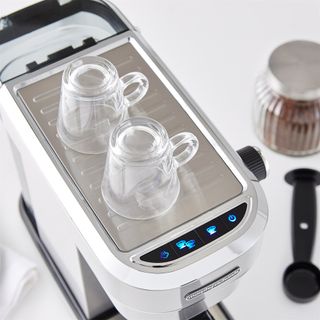 Cleaning and maintenance
Day to day cleaning is easy. The machine's exterior, removable drip tray and steam wand are wipeable with a damp cloth.The drip tray also has an indicator which provides a polite reminder to empty any standing water. It's recommended to rinse out the water tank and the filter holder after each use, occasionally running the filter on just water as mentioned with first use. The one design flaw is that the filter holder clip doesn't hold the filter in place that securely, so emptying used coffee grounds can be a bit more tricky, but manageable all the same.
Additionally, you can use a pin to clear the nozzle head of the steam wand should it become blocked with use, but you can avoid this by dispensing hot water through after every steam. And, should the filter become clogged, a pastry brush can be used to clear it. From there, it's just descaling that you'll need to tend to as often as the hardness of your water requires. Simply follow the manufacturer's instructions and ensure the machine is flushed with cold water before using it again.
About the reviewer
Camille Welch is the Digital Editor at Real Homes and when she's not looking for the latest kitchen looks or garden trends, she's making a cup of coffee. It could be the French in her but good coffee, brewed in a great machine, is paramount. When it comes to coffee machines, she prefers bean to cup, so the stakes are high in terms of design, ease of use and taste. If you're really into coffee and rarely without a flat white, you can count on one of these reviews.