Our Millbrook Bed Company Nemo mattress review aims to help you decide if this recycling-focused mattress is the investment for you.
We know that finding a really good mattress is key to a decent night's sleep, which is why the Real Homes team has been putting a vast range of mattresses through their paces to bring you a true picture of how comfortable each one is, how much support it provides, and, ultimately, if it's worth you parting with your hard-earned cash.
If you're looking to find the best mattress for your needs, you'll find plenty of choice amongst our top picks – but don't miss this deep dive into The Millbrook Bed Company's Nemo mattress first.
---
BUY NOW:
Nemo Single Mattress, £499 from The Millbrook Bed Company
Nemo Small Double Mattress, £649 from The Millbrook Bed Company
Nemo Double Mattress, £649 from The Millbrook Bed Company
Nemo King Mattress, £699 from The Millbrook Bed Company
Nemo Super King Mattress, £799 from The Millbrook Bed Company
---
The Millbrook Bed Company Nemo mattress review: tried and tested
We tested out the Nemo mattress for a month before writing this review, and to help put our review into context, it helps if you know a little about the reviewer. This is because weight, height, temperature preference, and sleeping style can all influence how suitable a particular mattress is for our needs. As such, here are my sleep stats:
Sleep position: side or front
Tension preference: medium-firm
Sleep problems: prone to overheating
Height & weight: 5"10 and 9-10 stone
Average sleep time: 8 hours (ideally more)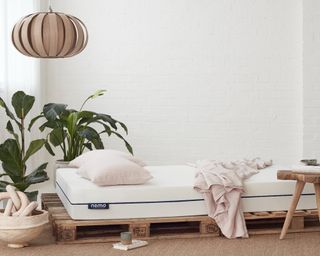 The Millbrook Bed Company Nemo mattress specifications
Tension: one tension designed to suit everyone
Type: pocket-spring
Sizes available: single, small double, double, king, super king
Who will The Millbrook Bed Company Nemo mattress suit?
Those who like things soft: the upper polyester layer is particularly squishy, so it's good for lightweight sleepers, or those who prefer a soft sleep surface rather than firm
Those who aren't fans of memory foam: there's none to be found here!
Forward-thinkers: the mattress is designed with ease of recyclability in mind, so Nemo has made it as easy as possible to deconstruct and recycle each component at the end of the mattress' lifespan
The Millbrook Bed Company Nemo mattress fillings
Starting at the top, the Nemo mattress is covered in an aesthetically-pleasing viscose outer with a honeycomb textured surface on the upper section (that feels very pleasant to the touch) and a waffle textured lower section. The outer fabrics are separated by a smart navy blue trim that hides a zipper, meaning it's super simple to unzip the outer covering and see exactly what's inside.
Here you'll find three layers of construction. The base layer, that contains 1000 pocket springs, a dense middle layer of recycled polyester that offers support and cushioning, and an upper layer of far softer polyester wadding for comfort.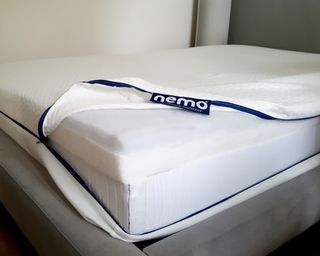 The Millbrook Bed Company Nemo mattress eco-credentials
It's worth discussing eco-credentials early on because this is at the heart of the Nemo mattress' design considerations.
The Millbrook Bed Company is proud to recycle 300 plastic bottles for use in each of the Nemo mattresses, plus the mattress is designed to be fully, and easily, recyclable at the end of its lifespan, preserving valuable materials and repurposing them into other products.
Depending on the type and condition of a mattress when it is disposed of, most mattresses could be recycled. However, the National Bed Federation estimated that in 2018 the recycling rate for mattresses was less than 20%, and with over 7 million mattresses disposed of in 2017 alone in the UK, that is a lot of mattresses ending up in landfills.
The reason for such a low recycling rate is ultimately the time and cost involved in the process. As the NBF 2019 Mattress Report states, "mattresses are such a problematic and costly waste stream because of their weight, bulkiness, low reuse potential, and the low value of the materials that can be recovered from them".
The Millbrook Bed Company has factored this recycling challenge into the construction of the Nemo mattress, focusing on creating a simplified construction process, which lends itself to easier deconstruction at the end of the mattress' lifespan.
Instead of using staples or stitching, the encapsulated spring system – contained within walls made from recyclable polyester – is designed to be easy to dismantle, significantly reducing the time and cost of re-processing, and therefore helping to reduce the number of waste mattresses going to landfill each year.
In terms of the 300 recycled plastic bottles, these are thoroughly cleaned before being crushed into pellets for transformation into the polyester thread used within the Nemo mattress. Using this method Nemo estimates that by the end of 2021 it will have repurposed over eight million plastic bottles.
Nemo mattresses are also made in Southampton in the UK, reducing the carbon involved in overseas transportation, and the brand has recently achieved Planet Mark accreditation; a certification that recognises efforts towards continuous positive change in sustainability.
While some would say that using synthetic materials makes it hard for a product to be truly sustainable, the Nemo mattress is an admirable effort to close the production loop so that no more virgin materials are extracted from the earth, and to ensure that those materials already within the production process are responsibly processed and able to be recycled at the end of the product's lifespan.
This certainly makes the Nemo mattress a more environmentally-conscious choice than a good deal of competitor offerings and is a move in the right direction towards brands innovating more and more sustainable product solutions.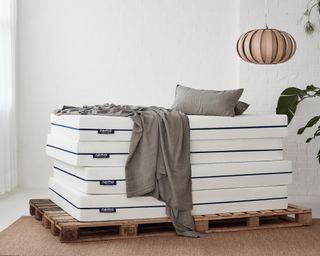 What's The Millbrook Bed Company Nemo mattress like to sleep on?
Because we received an early sample of the Nemo mattress to test, it wasn't yet being delivered rolled up into a box, and instead arrived flat in a protective sugarcane sheath – a robust plastic alternative. However, going forward, Nemo mattresses will arrive rolled and compacted into recyclable packaging, making it easier to manoeuvre the mattress into its final destination.
That said, this mattress is pretty lightweight, so manhandling it up an awkward staircase and into a first-floor apartment still proved a pretty easy task for the two-person delivery team.
Once unwrapped, we did discover that the mattress doesn't have any handles to make indoor manoeuvres easier – a bugbear with many of the mattresses we've tried and tested. Because the outer fabric covering of the mattress can be unzipped and removed, this also makes it quite loose, so it can be difficult to get a good grip on the mattress. No problem if you don't intend to move it around much – and it's easy enough to slide around to rotate it on the bed if you want to – but not the easiest to manoeuvre if you're a serial relocator perhaps.
However, we were pleasantly surprised by the lack of odour with this mattress, having expected some of the usual chemical smell that tends to accompany the unwrapping of a synthetic mattress, which, for me at any rate, was a big tick in its favour.
The Nemo mattress doesn't come with any choice of tension, being described as the perfect tension for all users, and on the first lie down we were initially slightly surprised at how soft it felt - perhaps simply because we're used to a medium-firm tensioned mattress, and because our current mattress has a memory-foam top which tends to feel a little more firm to the touch until you sink in.
Once you unzip the very smart navy trim to reveal the construction of the mattress, the reason for the soft feel becomes clear. We've outlined the mattress construction above, and it's that inch-thick layer of polyester wadding at the top of the mattress that gives it such a soft feel.
As a hot sleeper, I don't tend to love feeling enveloped by the mattress itself (a lesson learnt from the ownership of a memory-foam number that I'm very enthusiastic about replacing when the time comes), but, underneath the soft upper, the 1000 pocket spring base does deliver plenty of support, and once I got used to sinking in a little deeper than I am used to, I did find it plenty comfortable enough for a good nights sleep.
One point to mention is that as someone who has the (probably bad) habit of sleeping on the very edge of a mattress – a position ingrained whilst this already hot sleeper tries to escape the added body heat of warmer-than-should-be-allowed partner I think – I did find that the supportive foam layer made a little bit of noise when depressed and released as I rolled over, but only on the very outer edges of the mattress where there's a good chance most sleepers don't spend too much time hanging out.
Overall, as a hot sleeper, a firm mattress preferrer, and an edge-of-the-bed hanger outer, there's some possibility I wasn't the Nemo mattress' ideal target audience, so the fact that I still slept well on this mattress could be considered a big vote in its favour.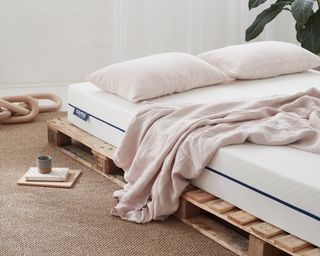 Is The Millbrook Bed Company Nemo mattress worth it?
From the brand's marketing, it's clear that the Nemo mattress is aimed at those who have an awareness of the environmental impact of their purchases, and The Millbrook Bed Company's forethought to design the Nemo model with the product's end of life recyclability in mind does currently differentiate it from many of its competitors.
That said, there are now – thankfully – quite a few mattress manufacturers extolling the virtues of using recycled plastic bottles in the manufacture of their polyester, and with environmentally-conscious consumers often preferring to avoid synthetic materials entirely (or as entirely as possible) in favour of natural materials like wool, cotton, hemp and flax, Nemo is potentially navigating a difficult gap in the market.
However, the organic and natural mattress market does tend to come with some very high-price points, especially if you prefer a softer feel to your sleep surface. And whilst there are plenty of cheaper 1000 pocket spring mattresses on the market, not all demonstrate such obvious concern for their environmental impact.
So, if you're looking for a more eco-friendly mattress that retains affordability, and doesn't mean giving up a soft touch for a firmer sleep, then the Nemo mattress takes some good steps forward in combatting the lack of sustainability in the mattress manufacturing arena, and that's certainly something worth investing in.
BUY NOW:
Nemo Single Mattress, £499 from The Millbrook Bed Company
Nemo Small Double Mattress, £649 from The Millbrook Bed Company
Nemo Double Mattress, £649 from The Millbrook Bed Company
Nemo King Mattress, £699 from The Millbrook Bed Company
Nemo Super King Mattress, £799 from The Millbrook Bed Company