When the MeacoFan 1056 Pedestal air circulator arrived in the midst of a mini heatwave, I was rather pleased to try it out. My existing fan does cool a room and fairly well too, but it is not the quietest so the promises of this new fan based on its 'whisper quiet' predecessor grabbed my attention – especially since I have to sleep with a fan on fairly often in summer.
Meaco are well known in the world of air treatment, be it for their top rated dehumidifiers or their range of cooling products including the MeacoFan 1056 (non-pedestal version) which features in our guide to the best fans. Read on to see how it stood up to the test of an overheating loft and whether we think you should buy it.
MeacoFan 1056 pedestal fan specifications
Size: H820–955 x W320 x D339mm
Weight: 4.7kg
Noise: 20 to 60 dB(A)
Max fan flow rate: 27.56m³/min
Speeds: 12
Settings: Normal, natural, sleep, eco
Control: on base and remote control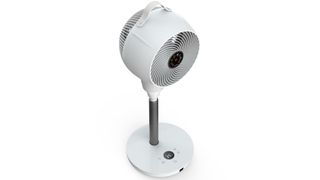 Who will the MeacoFan 1056 air circulator pedestal fan suit?
This quiet fan is perfect for bedrooms and offers the most efficient cooling by air circulation alone that we have come across. If you often use a fan through summer and need a floorstanding option as surfaces are limited, this is definitely worth considering. The safe design would make it perfect for cooling kid's rooms, too.
First impressions: unboxing the MeacoFan 1056 pedestal fan
As I was sent a test model, it was packaged differently to how a consumer would usually receive it, but Meaco assured me that environmental impact has been considered in the whole design and they no longer use polystyrene. All new fans come packed in 100 per cent recyclable cardboard eggshell packaging.
I removed it from the box and had no complaints about the appearance – although the head of the fan is quite large, it has a minimalist stand and attractive faux leather handle that makes it easier to carry. At risk of personifying it, it looks like a big eye and reader's of a certain age (or with kids) might get the reference to it looking a bit like Mike from Monsters Inc or even the Pixar lamps.
The base requires just over a foot (depth and width) of floor space and you won't want it too close to walls, so to allow for movement. The fan arrives fully constructed so there is no set-up required. Simply plug in and go, and adjust the pedestal (up to 95cm high) by pressing the button on the pole and clicking to the desired height.
How easy is it to use the MeaconFan 1056 pedestal fan?
The instructions were thorough, but not really needed as the settings and buttons are intuitive. You can operate it from the base, which I did first, but the remote has more options. From the base you can turn the fan on, pick from one of 12 speeds, and operate the oscillation. It does both up and down and side to side for a pleasing 60º range up and down and 80º horizontally.
You can also set the timer from the base which will automatically turn the fan on or off in the desired number of hours. To start, I simply switched the fan on by holding down the on button, set the desired speed and sat back to enjoy the breeze (and a chilled glass of wine).
The base control is touch so doesn't have lots of obtuse buttons. This makes it easy to clean, neat in its design and less tempting for inquisitive toddlers. With that in mind – and the fact the fan blades are very well concealed – you could safely use this in a child's room. The front grill lets plenty of air through, but has narrow gaps. It would take a very determined child to poke something through – although as parents will know, that should not be ruled out. You should also be aware that the fan is rather top heavy, so I wouldn't leave it unattended near a small child who wasn't safely confined in their cot.
Control and settings
As well as the base control, it has a remote. This is a handy fan feature as means you can change the settings from the comfort of your bed. When not in use the remote attaches to the centre of the fan head.
The fan is 12 speed and as mentioned before, the head can move vertically and horizontally. On top of speed and movement, it has the following modes and settings.
Normal mode:
This is the standard setting and the fan will remain on the speed and movement you pick. You can use the timer on top of this and up the speed as required.
Natural mode:
Designed to replicate a natural breeze, the fan will alternate between weak and strong.
Sleep mode:
If you like to fall asleep with a cool breeze, but don't want the fan running all night, this is for you. Start the fan on your desired speed and it will work down one level every 30 minutes until it turns off. A fab feature, but if you want the fan on for longer than three hours after bedtime, the timer might be better suited to you (more on this in the section on noise).
Eco mode:
This handy feature optimises power based on the temperature. If you use this setting, the fan will adjust it's speed accordingly, using a high setting of 9, 10 or 12 in temperatures above 29ºC.
Timer:
You can set the timer to make the fan automatically turn on or off. When already on, this will act as a countdown to turn off. If plugged in and on standby (but not in operation) this will countdown to a time to turn on. I used this to turn the fan off after 4 hours when I went to bed and also used it to set the fan to start cooling the room before I headed up.
Light:
The fan has a base lamp that displays various things in LED numbers depending on operation. If left on, it gives off a low-level glow that can work well as a nightlight. I am very light sensitive when I sleep so appreciated being able to turn this off by the remote once in bed, but also used it in the night as a very dim light to guide me to the loo without shocking my eyes.
How noisy is the MeacoFan 1056 Pedestal?
Noise (or lack of) is where the MeacoFan 1056 really wins. Like the smaller version, the balance between noise and cooling is spot on. The fan is quiet enough to have on while you sleep up to about speed 6 or 7 – the middle range. I have found with most fans that their low setting is the only one that is not too noisy for sleep so this was a big pro.
Even full speed is not too noisy and those who aren't light sleepers like me might be able to handle the higher settings. As mentioned before, the fan does have a sleep setting that gets progressively weaker every half hour. This was great, but I found when the sunset was later my room was not cooling until the early hours of the morning, meaning I wanted the fan on for at least four hours. To do this, I would need to have the fan on 8 or more to start which was a bit too loud to sleep with. I would instead use the timer and put the fan on the highest setting I could manage.
I found the Natural mode impossible to sleep to as it the change between weak and strong (and thus quiet and loud) was too distracting, but that mode is really designed for day use in a living space. I would also advise against choosing Eco mode as you sleep as the fan switches up and down with the temperature – if it was teetering between higher temperatures it would keep speeding up until it had cooled enough to go down, then speed up again. The change in noise was enough to wake me up, even at fairly low speeds.
Cooling and range of movement
Although the range doesn't sound big on paper, it covers a good area and the movement really aids the circulation of air. I think this (along with the shape and focus of the fan head) makes it more effective when it comes to cooling. We tested it downstairs while watching TV on a particularly warm day, and it was easy to position out of the way of the screen, while covering us both sitting on the sofa.
The real test was my loft bedroom. I have two south-facing rooflights that lead to solar gain issues and overheating in summer. It often reaches temperatures in excess of 35ºC and takes a long time to cool after the sun goes down – especially when there is no breeze. Placing a fan in front of a window is a good way to pull in colder air from outside, but unfortunately the fan was not tall enough to do this that well. As you can see from the image below, it could have done with being about 30 centimetres taller, but I assume the height has been capped to prevent toppling.
It still cooled the room really well, and when on with the window open it was bringing in fresh air – just not as well as it would if the back of the fan was directly in line with the opening. If you have low windows (like traditional sashes) this fan would be great.
My bed is quite low and the fan was a good height for blowing in my direction as I slept. However, I can see it being a bit low if you have a high bed, perhaps a tall divan, with a deep mattress. And this is my only criticism of the fan – the pedestal that makes it cost £40 more than the normal MeacoFan 1056 is not elevating the fan head enough.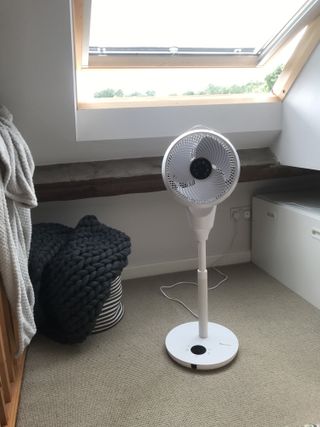 How does the MeacoFan 1056 rate online?
The fan gets an average of 4.5 stars out of five on third party sites and 5 stars on Meaco's own site – this fan clearly has plenty of it's own fans out there. Nearly all of the reviews praise the fan for being powerful but quiet, and many commented on its modern looks. Like me, a few people felt it could do with being taller.
How does the MeacoFan 1056 compare to other fans?
Many people who reviewed this compared it to the Dyson models, listing the price difference as a reason to buy and also preferring remote to smartphone operation. From my own experience of both pedestal and tower fans, this certainly tops the lot on performance and I would go so far as to say it is the best I have tried, even if it is noticeably shorter.
The only fan I would consider its rival for this price bracket, is its smaller sibling, the MeacoFan 1056. You get the same performance and range of movement, minus the stand (and for under £100, too).
The verdict?
Quiet, stylish and very very good at cooling a room, you can't fault the performance of the MeaconFan 1056 Pedestal Air Circulator. However, I loved this fan, but not enough to put it on a pedestal (sorry). Yes, it has all the great features and functions of the standard MeacoFan 1056, but the stand just isn't enough to justify the price difference. For that reason I am giving it 4.5 stars instead of 5 as although the performance is great, I feel that it doesn't represent the great value for money of the other MeacoFan 1056 (which by the way, gets a solid 5 stars).
That said, if you do not have enough surfaces for the tabletop model, this is a great buy. Keep your eye out for a deal on it and then the extra price for the stand won't feel like such a sting.
Read more fan reviews: