Our Google Nest Hub review is a must-read if you're considering purchasing a smart speaker. It's the smart display (by which we mean 'screen') that sets the Google Nest Hub apart from other smart speakers on the market. And it makes controlling a wider smart home system easier and more efficient.
If you think the Google Nest Hub looks familiar, it's likely because you've seen it before. But, under its another name: the Google Home Hub. Following a recent rebrand – and a £20 price drop – it now forms part of the Nest family of smart products, which include everything from smart thermostats to security cameras and video doorbells.
But, what did we think? We spent a week with the Google Nest Hub in our home to see what it's all about, and to decide whether its worth investing in. Discover everything you need to know, below.
Head over to The Hub for more smart home advice, information and unbiased reviews
What is the Google Nest Hub?
The Google Nest Hub is part of a growing section of tech called smart displays. Like the Amazon Echo Show 5 (see our review on that too), the Google Nest Hub is ultimately a smart speaker, like Google Home, and contains all the smarts of Google Assistant, but with a 7in display tagged onto the front of it. (We've written a Google Assistant review, if you'd like to learn more about that, too.)
That display naturally forms the focal point of the device, and hides the majority of the fabric-covered speaker, which doubles as a stand.
The display means not only can you get a visual information as part of any smart assistant activity, but it can also double up to offer media playback from YouTube, work as a digital photo frame for displaying your pictures and be act as a hub for controlling all of your smart home devices in one place. Plus it makes a pretty fancy desk clock too.
What it isn't is a tablet – there's no ability to download apps or do any internet browsing here. This is a smart display in the purest sense.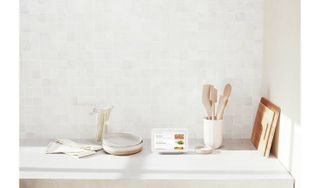 How easy is it to set up the Google Nest Hub?
When you first plug in the Google Nest Hub and turn it on, you'll be prompted to download the Google Home app (iOS/Android) on your phone. If you have other Google smart devices in your home, you may well already have it downloaded.
From the app, you will need to add the Hub to your devices by pressing the '+' icon – the app will then look for devices ready to connect, display a code on both devices to be sure you're connecting to the right one and that's it done. You'll then have an option to name the speaker so you can easily identify it, connect it to the same Wi-Fi that your phone is on, and confirm you want to switch on Google Assistant.
Once you've done all that, you can start to personalise your Google Assistant experience, by adding your accounts for Spotify or YouTube Music, teach Google Assistant your voice and set up Duo W-Fi calling.
The only downside is the Hub has no camera so can offer voice calls only, rather than the video calls you can do with something like the Echo Show 5.
Who will the Google Nest Hub suit?
If you've been thinking about investing in a smart speaker, but like the idea of the visual element to bolster the experience, then the Google Nest Hub could be worth considering – as long as you don't mind paying a bit more for the privilege.
By comparison a Google Home Mini, which also offers all the smarts of Google Assistant but without a display, is only £49. So it's something to consider.
While having a smart home setup to control isn't a necessity, it's worth thinking about whether you'll want one in the future (and what you might want), as well as considering any smart devices you already have, to make sure they're compatible with Google Home.
Of course anything from Google's Nest line will be a perfect match, as will Chromecast and Google Home devices, not to mention a whole host of third party products. But if you already have Amazon Echos dotted around your house, for example, you might find the Alexa-packing Echo Show 5 a better match.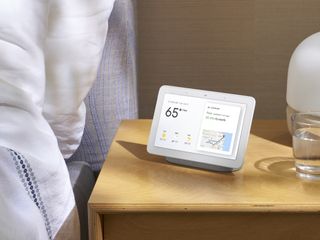 How will you use the Google Nest Hub?
There are several areas that the Google Nest Hub excels in, which I found useful.
Its display makes the smart assistant experience better
The big one, of course, is that it adds a visual element to any smart assistant activity. Ask Google for a weather update and you'll get a weather graphic for the day; ask Google for a recipe for onion soup and it can pull up a YouTube video; ask Google to play your cooking playlist and it'll find it on Spotify and offer you on-screen controls.
It will even recognise your voice with a bit of pre-programming. That means when you ask it things like "how's my diary looking today?" or "how's my route to work?", it will bring up personalised information for you, based on what you've told it, and not your partner, for example.
It just adds a whole new dimension to the smart speaker experience, and I found the combination of voice control and touchscreen interaction makes the very most of a voice assistant.
And for those times you'd rather there wasn't a smart speaker in your room? There's a physical mute button that will give you peace of mind that the Google Nest Hub isn't listening in.
It's a gorgeous digital photo frame.
The screen on the Google Nest Hub screen is clear and punchy but not reflective, so when it's not doing other things, it does a grand job of displaying your pictures just as well as a real photo frame would do – and its size is perfect too.
It also features an Ambient EQ Light Sensor at the top of the screen, which – if turned on – will adjust the display to match the colours and lighting in your environment. Not only does this mean the photos it displays will blend in with your home decor, but your screen won't be blaring brightly in the corner of a dimly lit room either.
You can choose to have the Hub cycle through pro photos from Google's vaults, or connect it to your Google Photos account, and have your own pictures scroll through instead.
Even better, you can choose specific albums or even faces you want to see using Google Photos' facial recognition feature, so you don't get random email screengrabs appear in the middle of your favourite holiday snaps. Plus Google will only show the good shots, using machine learning to avoid duplicates and blurry snaps – clever stuff.
It's great for media playback
While it's very unlikely you'll sit and watch a whole movie on the Nest Hub, its 7in display is a great size for quick internet videos, plus offers on-screen controls for music playback too.
The sound is just ok though – it's fine for casual listening, and nice and clear for radio or podcasts, but you'll want to invest in the larger Google Nest Hub Max if you were hoping for something to fuel the playlist for a kitchen party.
You can control your smart home from it
As long as you've set up a smart home device within the Google Home app, you will be able to control it either by touch or voice from the Nest Hub.
Swiping down from the top of the screen will give you the ability to monitor all your devices in one place, including your connected cameras, lighting, heating and speakers. It's here that you can also set up routines, to trigger a number of smart home devices into action with a single command.
For example, saying 'hey Google, good night' could lower your thermostat, turn off your lights and TV and turn on your security camera.
As you'd expect, the Google Nest Hub works seamlessly with other Nest devices. I was testing a Nest IQ home security camera at the same time as the Hub, and could bring up a live video stream on the screen with ease.
Equally, Nest Hello doorbell owners can have their doorbell video stream pop up when the doorbell rings, and if you subscribe to Nest Aware for facial recognition, the Hub will even announce who it is when it does.
What did I like about the Google Nest Hub?
The Google Nest Hub is a superb smart display that has all the brains of Google Assistant but with the richer experience that having a display offers, including smart home control.
Its screen and form factor are just the right size for a desk or bedside table too, and its display is great quality for displaying your pictures.
What didn't I like about the Google Nest Hub?
The sound could be better, and the lack of camera is a shame, particularly when you can get one on competitor devices. It would be nice to have the option to video call.
It needs plugging in constantly too, so you have to make a careful decision about where you're like to get the use from it most. I plugged it in in the living room as that is where I spend a lot of my time, but it could equally find a home in a bedroom or kitchen, depending on what you see yourself using it for most.
Is it worth buying a Google Nest Hub?
If you're keen to invest in a smart home set up and want an easy way to control it all from a central location, while also bagging a natty digital photo frame in the process – yes, absolutely.
At £119, it's not prohibitively expensive, though the fantastic Amazon Echo Show 5 is now available with a £40-cheaper price tag of £80.
At 5.5in, the display on the Echo Show 5 is smaller though, and is arguably not as good quality, but it does come with a camera on board for video calls, and the ever-brilliant Alexa. You have to upgrade to the £219 Nest Hub Max to get a camera from a Google smart display.
Ultimately though, with the difference in capabilities between Google Assistant and Alexa getting smaller by the day, it probably comes down to what smart home devices you decide to invest in that will determine which smart display is right for you.
Real Homes verdict
Small but mighty, the Google Nest Hub offers all the smarts of Google Assistant and throws in a great screen for a richer experience. Smart home fans will find it a great tool for controlling all their devices from a single place, and Nest users will find it particularly slick at controlling other parts of the Nest family. The enhanced with a sharp display that doubles up as a great digital photo frame is a bonus.
More smart reviews: