Buying a new coffee machine? Think that the Bosch Tassimo Happy TAS1002GB could be the appliance to make your morning coffee? You've come to the right place because we have all you need to know about this neat coffee maker, below.
We have tested a wide selection of the best coffee machines to see how much of your worktop they'll take up, how easy they are to use, how quickly they'll deliver your drink, which coffees they'll make, and – crucially – what the brews taste like. Now you'll know if the coffee machine you are after is worth your money. Even if it is on sale for Black Friday for under £30 – see this deal below.
Keep reading to discover whether the Bosch Tassimo Happy TAS1002GB coffee machine is worth the hype...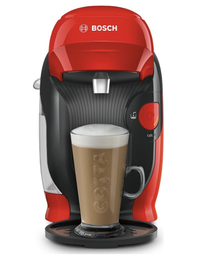 Tassimo by Bosch Style TAS1102GB Coffee Machine | £89.99 £29 (save £60.99)
Not only is this coffee machine great at making coffee, but it's also a dream to clean, with detachable parts that are dishwasher safe. It comes in five colours, and it comes with a two-year guarantee.
Bosch Tassimo Happy TAS1002GB specifications
Why you can trust Real Homes Our expert reviewers spend hours testing and comparing products and services so you can choose the best for you. Find out more about how we test.
Type: Capsule
Pressure: 3.3 bar
Capacity: 0.7 ltr water tank
Dimensions: H30.5 x W36 x D23cm
Who will the Bosch Tassimo Happy TAS1002GB suit?
Singles, couples and families who want the widest range of drinks from their machine, plus capsules that are available in supermarkets as well as online.
What is the Bosch Tassimo Happy TAS1002GB like to use?
Set up is swift, and you'll be serving up coffees in a trice, although it is a smidge noisy.
The Bosch Tassimo Happy TAS1002GB is a coffee machine that doesn't just make coffees – you'll be spoiled for choice when it comes to which capsule to pop in. Each of these T-Discs – you guessed it, Tassimo discs – has a bar code that the machine scans in order to use the correct water temperature, brewing time and quantity of water for the particular drink.
Coffee options and taste
This machine – as with all of the best Tassimo machines – will brew you up coffee shop style drinks including espresso, Americano, latte, cappuccino, flat white and so on. Like flavoured coffees? It'll please you on that score, too, with offerings such as Toffee Nut Latte, Baileys Latte Macchiato, or Costa Gingerbread Latte.
In fact, you'll find lots of Costa-branded capsules as well as those from the likes of Kenco, Jacobs and L'Or among the range, so you can have a fine old time discovering your favourites.
Bear in mind that most milk containing coffees require two discs, not one, and you'll run through a pack at twice the rate therefore. Check the outside of the packaging before you buy is my advice as it tells you how many drinks you can make.
The coffees I brewed up with the machine had a good crema, but I found the aroma a little muted, and while the drinks were tasty they didn't quite pull off coffee-shop taste. Producing a cappuccino was an easy option compared to using a steam spout, but it's a balance of convenience over authenticity that you'll need to take a view on.
The huge bonus with the machine is that it's not limited to different coffee options. It can also make you a lovely cup of tea with Twinings T-Discs, or a hot chocolate – with offerings from Cadbury, Milka, and Baileys – or even, fans of Oreo biscuits rejoice, an Oreo drink.
Brewing up
It can be a bit of a palaver to get started with a new coffee machine. Lots of bits to fish out of the box, initial cleaning of parts and runs through without coffee, removing and reinserting the water tank, putting in the beans, ground coffee or capsules and so on. This machine? Easy and quick to get going with.
When I was brewing drinks, the water tank lifted off and fitted back in place easily, and the slot for the capsule was accessible. After that, it was coffee at the press of a button. As I mentioned, the drinks that contain milk are generally made with two capsules. The milk pod went in first then it had to be removed and the espresso pod put in. It's not a huge performance, but it does make things slower and create more capsule waste.
One thing you'll need to bear in mind if you won't want requests for their own brews from other members of the household? I found this machine was a little bit noisy, so it does give you away.
Using different sized cups is easy as the cup stand is height adjustable. Also adjustable is the volume of the drink. You can override the bar code's recommendation to your personal taste with the start/stop button, although you will have to stand there and hold it down to make a drink longer.
Cleaning and maintenance
The machine's not overly demanding when it comes to care. Some of the parts are dishwashable, which is a boon in my book, although you'll be rinsing the water tank in the sink as well as brewing up with water to clean thoroughly.
As with other coffee machines, descaling is needed to keep it producing tasty drinks. There's a light to show you this needs doing, but if coffees aren't looking or tasting as they did before or they're reduced in volume, it's time to get descaling. There are Tassimo branded tablets to do the job, and the process is simple, so it won't be a burden.
What to watch out for
Modest dimensions of H30.5 x W36 x D23cm should put this on your shortlist if your kitchen's small, and frequent homemovers will like its light weight.
The capsules can be recycled via Terracycle, and you need to drop them off at your nearest location. Mine didn't turn out to be very close, and it's worth checking before you buy to see if there's a venue convenient to you.
Like instructions in words? This machine won't delight you as other than using 'click', and 'max' and giving a 'min' for cup size, it's pictures you have to follow for the step by step. Call me old fashioned, but I like words as well as diagrams when I'm buying an appliance.
How does it rate online?
It's a pleased 4.5 out of five from Amazon reviewers. Praise came for the ease of use, the neat proportions and the fact that the capsules are widely available in supermarkets. The grumbles were about the size of the water tank and the cost of the capsules.
From the buyers at John Lewis the verdict's 4.3 out of five. The good value for money of the machine was praised, as well as its looks and lines. As for negatives, these users also commented on the relatively small size of the water tank, and the minimal instructions.
About our review – and our reviewer:
Sarah Warwick has specialised in homes and interiors for over 20 years. She was Executive Editor of Ideal Home magazine, and has written for nationals, magazines and websites including Real Homes, Homebuilding & Renovating, Grand Designs, Homes & Gardens, Houzz, The Guardian, House Beautiful and Country Homes & Interiors. She put the coffee machines to the test on a variety of drinks, as well as checking out how easy they were to set up, and to clean.