If you're looking for the best carpet cleaner that leaves your carpets clean and fresh, whist not taking up much room in your storage, the Bissell Powerclean 2889E Series could be for you. Bissell is well known for developing innovative floor care solutions which make cleaning easier for busy families.
With a three-year-old, 11-month-old baby and two cats, I am always on the lookout for tools that are going to help make cleaning my house quicker and easier. We already own a fantastic carpet cleaner from Bissell, but it is a little bulky, so not the easiest to get out of storage and I would never use it if I needed to do a quick job. So when this smaller model appeared on my doorstep, I was eager to see if it could make cleaning the carpets easier, with the same noticeable results.
We have cream carpets throughout our house, including the hallway and living room, both of which were in need of a good clean, so I was ready to put it through its paces and test it on new and old stains, to see if it could make my carpets look as good as new.
BISSELL POWERCLEAN 2889E SERIES SPECIFICATIONS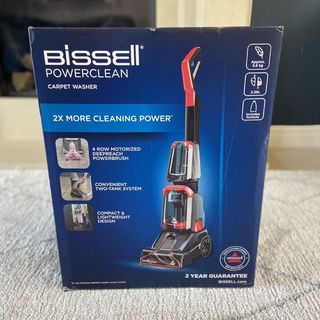 Maximum power: 600 watts
Cable length: 6m
Dimensions: 36 x 25 x 109.2 cm
Weight: 5.61kg
Capacity: 1.72 litres (dirty water); 2.36 litres (clean water and cleaning solution)
Warranty: Manufacturer's 2 years
WHO WILL THE BISSELL POWERCLEAN 2889E SERIES SUIT?
Busy families with smaller homes, who want a more regular deep clean and have limited storage space.
WHAT IS THE BISSELL POWERCLEAN 2889E SERIES LIKE TO USE?
My first impressions upon receiving the Bissell Powerclean 2889E Series carpet washer, were just how small and light the box was. I was a bit confused as to how an upright carpet cleaner could fit in a box like that, but assumed that there would be some assembly involved.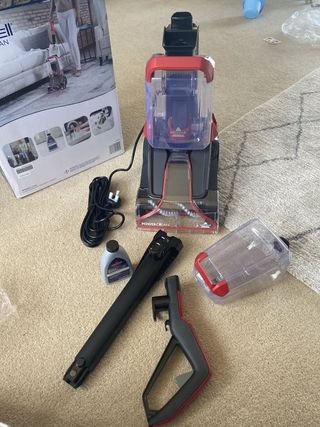 Setup
Once I had pulled everything out of the box, I saw that there were only four parts to assemble, along with two instruction booklets and three A5 bits of paper with additional information. After a quick look through the safety booklet, I moved on to reading the assembly instructions, all of which are illustrations. I was pleased to see that there were only four steps – attaching the handle and the trigger, which just click into place, fitting the clean water tank, then wrapping the cord around the cord hooks. This took just under a minute to complete.
There is an additional set of instructions on a yellow piece of paper in the box, which point out the importance of removing the dirty water tank and tightening a ring underneath prior to first use. I unclipped the tank easily by pulling out and up on the latches on the side, then lifted it out by its handle. After ensuring the ring on the bottom of the tank was fully tightened, I then placed the water tank back and secured it in place with the latches. This took about 30 seconds and following this step, I was ready to start cleaning.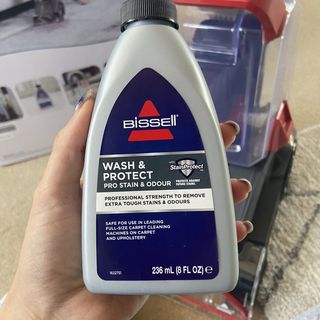 The Bissell Powerclean 2889E Series carpet washer comes with a small 236ml bottle of Bissell Wash & Protect formula. To start cleaning, you add warm water (no hotter than 60 degrees Celsius), to the clean water tank, up to the line clearly marked 'water'. You then add formula up to the line labelled 'formula'. Finally, you screw on the cap and slot the clean water bottle back into place.
To start cleaning, you plug the machine into the mains and turn the machine on via the red switch under the power cord storage, whilst the handle is in an upright position. You then press the pedal at the base of the machine with your foot to get the machine into its working position. To dispense the formula mix, you squeeze the trigger on the handle of the machine and release it to stop. When the trigger is released, the carpet cleaner sucks up excess water and dirt.
CLEANING CARPETS AND RUGS
We moved into our home in February 2020 and the previous owners had installed beautiful cream carpets throughout the house, which were in immaculate condition. A year and a half later, I'm sad to say that the carpets, although still cream, also contained shades of brown (coffee stains), blue (paint stains) and red ('presents' from the cats), alongside general dirt from muddy wellies and water stains from countless spills.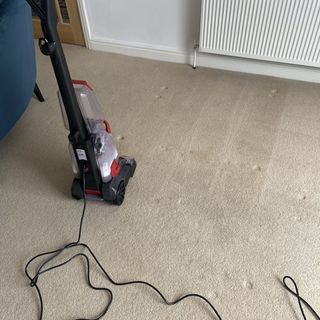 I had used our other carpet cleaner on the carpets a handful of times, but it had been a good few months since they had had more than a quick vacuum. As I have used a carpet cleaner before, I knew that cleaning is more effective when you vacuum first, although this isn't mentioned in the instructions. After moving the furniture, clearing the floor and whizzing the vacuum around to pick up all the loose bits of fluff and dirt, I plugged the Bissell Powerclean into a socket in my lounge and turned it on.
The instructions show that you move the cleaner forwards and backwards with the trigger pressed, to dispense the fluid, then you release the trigger and move the cleaner forwards and backwards again over the same spot. Instantly, the dirty water tank started to fill up with murky, grey water. There were two large coffee stains as well as a small spot of dark blue paint, where the sofa had been. On these spots, as they had been there a while, I ran the cleaner over a couple of times.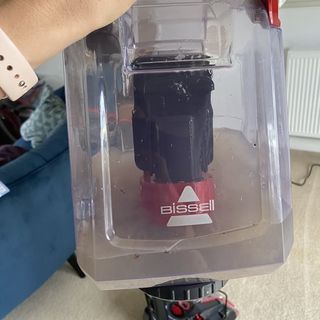 It took me just ten minutes to do half of my living room. I had to refill the clean water tank once, but didn't have to touch the dirty water tank until I'd finished. One thing I did have to do was pause to pick up clumps of carpet fibres which were being left by the brushes. Our other Bissell model does this and if you don't clear them quickly enough, they can leave a dirty mark.
Whilst I waited for the living room carpet to dry, I moved on to the hall. Again, this had several old stains on both the carpet and the matching hallway rug. I had used all of the included bottle of formula on the living room, but fortunately I had a large bottle of the same formula, in the cupboard, for use with our current carpet cleaner.
I started on the rug, which I had moved into the kitchen, as I had a feeling that water would collect around the edge of the rug if the cleaner overhung. I was correct, but this wasn't a problem as I just cleaned it up with kitchen towel. I went over the rug twice as it was very dirty and then left it to dry. I then moved on to the hall carpet which is about 3m x 5m. The carpet cleaner is good at cleaning right up to the skirting boards, but doesn't reach effectively into the corners. Overall, the rug and carpet took just 15 minutes.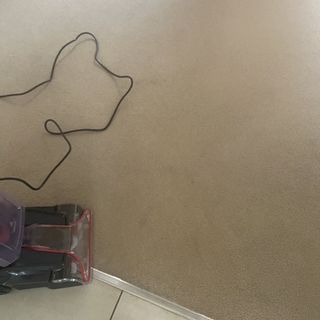 When I had completely finished, another thing I had learned from using Bissell models before, is to stand the cleaner on a towel or hard floor when it's upright and off, as it leaks a bit of dirty water and in some cases, leaves clumps of carpet fibres. I turned the Bissell Powerclean off, wrapped up the plug and then left it on our kitchen tiles. As the hallway is one of the busiest areas of our house and I didn't know how long it would take to dry, I timed the cleaning to just before we all left the house for an afternoon outing. I walked over the carpet in my socks and although it was damp, it didn't leave my socks sodden.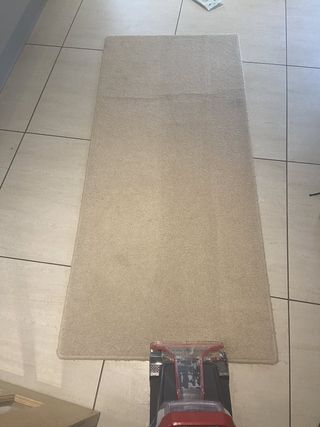 Four hours later, we returned and were hit instantly with the smell of freshness as we opened the front door. I was impressed with the hallway carpet and it felt fluffier under foot. The appearance of the rug although better, still had two stains on it. In the lounge, the carpet was also looking and smelling clean and fresh. However, like the rug, the coffee stains hadn't completely come out and to my annoyance, where I had left the cleaner upright for five minutes while I vacuumed the hall, (not heeding my own advice), there was a dirty mark where it had stood. Overall though, for a job that took just half an hour, I was pleased with the results.
Next time I use the cleaner, I might try pre-treating the stained areas first before going over them with the carpet cleaner. As the carpet cleaner is so light, easy to move around and set up, it might also become my go to for spills, when they first happen – a regular occurrence in our house unfortunately!
MACHINE CLEANING & MAINTENANCE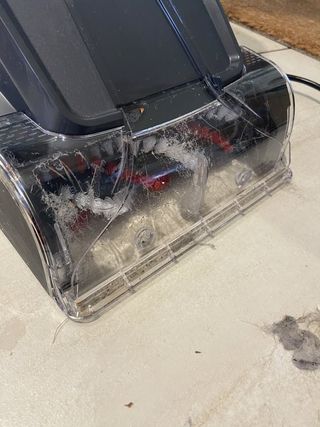 Following cleaning your carpets, you will need to empty both water tanks. Both are easily removed and very simple to clean. For the dirty water tank, you unscrew the bottom ring, lift out the float and rinse it all under the tap.
The front nozzle also lifts off, so you can rinse this under the tap too, then leave all parts to air dry.
Using a soft cloth, you can clean the fixed parts, such as the filter, around the brushes and underneath where the nozzle was. It's only when you clean the machine that you realise just how dirty your carpets actually were and how much the vacuum doesn't manage to reach. The dirty water tank was full of sandpit sand, which my son had obviously been trampling in through the lounge doors, straight from the garden.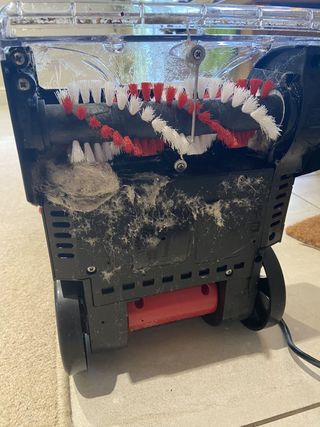 There are some areas of the machine that are hard to clean, such as some inlets on the bottom of the machine. These were full of a mix of sand, carpet fibres and cat hair and the only way I could clean them properly was by scraping it out using a butter knife. My other Bissell carpet cleaner comes with a handy tool which you can slide into hard-to-reach places for machine maintenance. It would be great if this machine had one included too.
The instructions give a helpful guide on how to clean and replace all the removeable fixtures of the machine. They also show how to replace the motor belt if that snaps. There is additional advice on the effective use of the carpet washer in the safety booklet, including how best to store the machine and warning not to clean the tanks in the dishwasher.
HANDY FEATURES
The Bissell Powerclean 2889E Series comes with four rows of motorised "DeepReach PowerBrushes", which are said to aid in double the amount of cleaning power versus Bissell's previous light weight carpet washer. The two-tank system ensures that dirty and clean water are kept separate, so floors are always cleaned with a mix of fresh water and formula.
STORING
Unlike my other Bissell carpet cleaner which is very bulky to store, the Bissell Powerclean 2889E Series, does not take up much room in my utility cupboard at all. The power cord wraps up easily and the one benefit of no extra accessories, means not having to find somewhere to store them.
MANOEUVRABILITY AND NOISE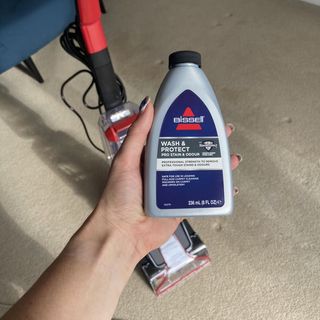 There is no denying the fact that this cleaner is very light and manoeuvrable. At just 5.6kg, it is the lightest in Bissell's extensive range of carpet washers and the carry handle and compact design, make it very easy to transport around the house, even up and down stairs. It's also very easy to move around when cleanin and my partner, who is 6ft 4, found the handle was at a good height for him to use comfortably as well.
In terms of noise, it's a lot quieter than our current Bissell machine, which used to scare our three-year-old when we turned it on. Although not loud enough to scare the kids, it is loud enough to be heard in a different room and draw the attraction of my youngest child, who likes anything that makes a funny noise and moves around. It's very hard to clean a carpet with a crawling baby around!
HOW DOES IT RATE ONLINE?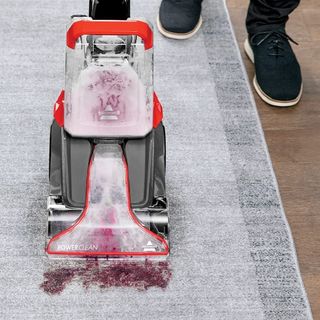 The Bissell Powerclean 2889E Series rates very highly online, with most retailers rating it four and a half stars. If this would have been the first Bissell product I'd used, I would have maybe given it slightly higher than four stars, but compared to my current Bissell carpet cleaner, it's not as effective in cleaning old stains, or as versatile.
Most reviewers rating four and five stars have commented on how easy it is to set up, how lightweight it is and how fresh and clean it leaves carpets after just one wash. Others comment on how easy it is to clean the machine after use and that it's great value for money, all of which I would thoroughly agree with.
Those who rate the carpet washer three stars or less have done so because they feel it's difficult to get into the corners, it leaves clumps of carpet fibres and doesn't easily lift old stains.
HOW DOES IT RATE AGAINST OTHER BISSELL CLEANERS?
My current carpet cleaner is the Bissell ProHeat 2X Revolution Pet Pro. It's a lot heavier and bulkier than the Bissell Powerclean 2889E Series, weighing 8kg and takes up a lot more room in our storage. It also leaves a lot more clumps of carpet fibres when cleaning, but that might be because of how much more powerful and effective it is.
The Bissell ProHeat comes with a whole arsenal of handy features which make it superior to the Bissell Powerclean in my eyes. It has a spotclean function to pre-treat stains, three different cleaning modes, one of which leaves carpets dry in just 30 minutes, plus it has upholstery and stair cleaning attachments, which mean you can clean almost all the fabric surfaces in your home.
However, I would never consider getting the Bissell ProHeat out of storage just for a quick job, due to its size, weight and time it takes to set up. The Bissell Powerclean is definitely better for regular cleaning and spot cleaning and would suit any family with a small household.
ABOUT OUR REVIEW – AND OUR REVIEWER
We test all appliances in the setting in which they were intended to be used – the home. This carpet cleaner was tested by Bethan Davis, a PR and events officer, who spends her time juggling her career, an on-the-go three-year old, an active eleven-month-old baby and two even more needy cats. Finding ways to keep the house clean, hygienic and tidy with ease has been tricky, so she is testing the latest buys to help make daily life less hectic. She tested this carpet cleaner against all the grime of a normal home, plus some curveballs thrown in by her sons and accident-prone partner...