If you're a small homeowner, renter (like me), or even a university student, then you know the struggle of never having enough storage space. There are no extra cupboards, spare bedrooms, or offices to keep additional items you don't use all year round. A well-needed fan, for example, is essential in the summer, but when it comes to the colder months you're puzzled about where to put it. The same can be said for a portable heater.
Well, the Beldray Orbit Air Climate Circulator poses a solution: It's a 4-in-1 fan, humidifier, heater, and aroma diffuser you're sure to use come rain or shine. It has adjustable temperature control, so you can heat up, cool down or, refresh your space. It also has 12 wind speeds and four settings, including normal, natural, sleep, and eco.
Beldray is somewhat of a household commonplace, known for its floor care, cleaning supplies, and more (if you've not got a Beldray item, your mum, auntie, or uncle are sure to). So there's no surprise the company has thought of it all. But how does it compare to switching the heating on? And do ALL the settings live up to expectation?
TLDR: What we thought of the Beldray 4-in-1 Orbit Air Climate Circulator
Yes. In my opinion, the Beldray 4-in-1 Orbit Air Climate Circulator is certainly worth the spend, especially if you work from home. The table-top design makes it ideal for placing on your desk, opposite you in bed, or positioned just about anywhere you need it. It may be quite bulky, but it sure doesn't look too bad, and the performance can't be faulted.
In fact, I'd go as far as saying I can't live without it on the days I work from home. During the summer, it was the perfect alternative to a free-standing fan that just, quite frankly, got in the way. With winter nearly here now, it's saved me from turning on my heating and unwillingly upping my bills.
Honestly, I'd never have thought about investing in a hot and cold heater, only because I'd assumed they were all too expensive. While this one is into the £100 territory, I'd call it the much-loved Dyson fan's cheaper, smaller cousin. If you've not got enough cash to splash on a high-end hot/cold model, then I'd recommend this one instead.
Testing the Beldray 4-in-1 Orbit Air Climate Circulator
Like most of the Real Homes team, Louise spends two days a week working from home: Mondays and Fridays (lucky, we know) and has been using this fan for a good few months now on her desk. It's been the best companion during the earlier heatwaves and even more so does her some favours in the heating department. Whether she's too hot or cold, this fan's been a lifesaver at cooling her down or warming her up on WFH days.
The techy stuff
Size: 27.5 D x 32.5 W x 44.8 H cm
Weight: 0.45 kg
Power: 1800 watts
Speeds: 12
Functions: Humidifier, fan, heat, aroma
Settings: normal, natural, sleep, and eco
Temperature:12°C–27°C
Control: Touch and remote control
Unboxing the Beldray 4-in-1 Orbit Air Climate Circulator
First off, for a bulky piece of tech, this was surprisingly light. Packaged in cardboard (yay) but wrapped in plastic (boo). I mean there's no beating around the fact this isn't going to be the most eco-friendly purchase I've made, so I have to give credit where it's due. Otherwise, the heater came fully assembled with a small handheld remote packaged separately too. After removing the (very satisfying) protective plastic stickers and casing on the plug, it was ready to go.
How to use the 4-in-1 functions
Test 1: Heater settings
Heater setting: As you can imagine, this heater has been very handy over the terribly cold days we've had in December 2022. Super easy to use, just select the heat setting on the remote and pick a fan level. I've found around 54% was perfect for a not-too-hot blow of air that became uncomfortable, but also enough that I felt the benefit. The remote is the best part of this. I can turn it off from the other side of the bed when it's in my room or from a distance when I'm working at my desk. Yes, I am that lazy. Or maybe I'll just call it convenience.
Test 2: Cold fan settings
Cold fan setting: As you'd have guessed, this fan has been my companion since the start of summer when I received it. When the heat wave hit, our relationship took one step further to bestie. That may sound a little sad, but honestly, if you work from home like I do a few times a week, you know how lonely it can get. All jokes aside, a fan was essential this year, and this one did the job of cooling me and my laptop down at the touch of a button. I did go full power on a 100% setting on the hottest of days for perhaps an hour or so at a time before turning down to a slower speed throughout the day.
What I like about this fan is that it's not that loud, even at full speed. And that's for all functions. It might not be a Dyson fan, but I'm someone who doesn't get along with white noise of any kind, so this one wasn't too bad.
Test 3: Humidifier setting
Humidifier setting: To most people's surprise, I've never used a humidifier. I'm actually someone that always seems to suffer from colds too, more often than the average person, I have to admit. So when I read that a humidifier can help with dry sinuses and blocked noses, I couldn't wait to try it out — even if I had to get ill first to feel the full effect. It also led me to think the air in my apartment is actually super dry.
Truth be told, the humidifier setting on this has changed my life. I have it beside my bed at the times I felt a cold coming and I'd leave it on all night. I was no longer waking up with a stuffy nose and a dry throat like before. As for the days, again I thought I'd try it out by my desk. I felt much fresher by the end of the day. It is a small size fan, so if you've got a huge room to fill it probably wouldn't work as well as you'd like. It's not the best to use in my open-plan kitchen-living room combo, for example. But for the bedroom, it's perfect.
Test 4: Aroma settings
Aroma setting: Arguably more exciting than the humidifier setting is the aroma function, especially for a home fragrance fanatic like myself. I do have an oil diffuser already from Neom, which sits on my bedside table. But the idea this one can be used as a fan at the same time is a game-changer. Simply put a couple of drops of essential oil into the top section and close the lid. Blow the sweet-smelling air of lavender and essential oils right in my direction, yes, please.
However, I didn't find it as effective as my Neom pod, and you don't get the relaxing trickling sounds you do with a diffuser designed for relaxation. Though I had to put this down to the fact I may have had the fan speed on too high for it to diffuse at a steady rate.
Is it right for you?
If you want an appliance that won't clutter up a small space, this air circulator poses the perfect practical solution. Versatile and useful, it can be used all year round. I've had it out from summer right through to the depths of winter at this point, while the Amazon fan I bought before it sits sadly staring at me from the corner of my room. Put simply, renters, small space owners, and work-from-homers, this one is for you!
And yes it may be over £100, but you'll get your use out of it. I certainly have. Having had it for around six months, it's still in great condition too. No noticeable wear and tear, but I'll update this review if things change.
How does it compare to switching my heating on?
Unwillingly, I have started to switch my heating on, but it's on a timer for the morning and at night, not during the day. My housemates and I are rarely there during the day, and it doesn't make sense just yet to rack up the energy bill if we can help it. On the days I work from home, I have felt the frost. Using the Beldray has been one of the best energy-saving products I've bought. But it's worth knowing how it actually compares to turning my heating on.
Having spoken to experts, I've found we can save 7% in energy with every degree lower we set our thermostat. To calculate the cost of the Beldray 4-in-1 Orbit Air Climate Circulator with an approximate power of 1800 W, or 1.8 kwh (as stated on Beldray's website), you need to multiply by the pence/kWh unit. In the UK, this would be 1.8*0.34 = £0.61, putting it at 60 pence per hour in December 2022.
So this may sound like quite a lot, compared to something like an electric blanket, for instance, but you're still better off than putting your heating on, particularly during today's economic and outside climate.
More top picks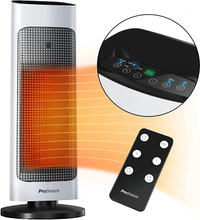 If you want something cheaper

Pro Breeze® 2000 W Ceramic Tower Fan Heater |£79.99 at Amazon
Pro breeze offers a range of fan and heaters at a much more affordable price. This one is a tower version, so it will take up more space, but it's also pretty sleek and won't look too out of place. It has two settings, heater and fan, for all-round use too.

If you want something more eco-friendly

Dyson hot + cool HP04 | £549.99 at John Lewis
So we couldn't let you go anywhere without recommending the Dyson hot + cool HP04. But we're suggesting it as an eco-friendly alternative. Why? In our Dyson hot + cool review, we noted how it came in fully recyclable packaging and a warranty where it can be repaired for up to two years after purchase. That's if you've got the budget to buy it.

If you want something more stylish
Dreo Space Heater Solaris Slim H3 | £89.99 at Amazon
This Dreo heater looks great, as far as fans go. In fact, as soon as I saw it, I had to get my hands on it. I just know it would look great with the rest of my black furniture and gold accessories. Perfect for the home office or bedroom, it has a thermostat, remote, overheating protection, a one to 1- hour timer and 70-degree oscillation.
We're currently reviewing it, so stay tuned for our verdict.
About this review, and our reviewer
Louise is the ecommerce editor at Real Homes and has been testing out her fair share of small appliances, bedding, and anything else you can think of for your home. As a flat-sharer and renter, she's eager to find any products that won't cost a lot, nor take up too much space. Any energy-saving buys? She's quick to test out where she can save.
She was gifted this appliance to test by Beldray and has been allowed to keep it for personal use: yay!