Weighted blankets have never felt more relevant. As more of us are reaching to try out these blankets that promise to offer relief for stress and anxiety and improve sleep, they've definitely become a literal security blanket. It almost sounds like magic, but the benefits are actually backed by science, following the principles of deep touch pressure therapy.
Right now, it seems like there are a lot of new weighted blankets on the market but one that really stuck out to us is the Bearaby Napper Weighted Blanket, which is available in three different fabrications and tons of colors. After seeing it all over our social media, we knew we had to try out these gorgeous weighted blankets, especially the luminous eco-velvet napper.
Read on for our review of the Bearaby Velvet Napper weighted blanket, so you can evaluate if a weighted blanket, and more specifically, the Napper, is for you!
Looking to improve the quality of your sleep? The best mattress is a great place to start.
Why try a weighted blanket?
Following the principles of deep touch pressure (DTP), weighted blankets help improve sleep, ease anxiety, and relieve stress. Think of it as being embraced in a reassuring hug; a sense of calm and relief just pours over you. When pressure points on our bodies are activated, DTP rebalances hormone levels leaving us calmer, sleepier, and less stressed.
Weighted blankets are essentially are an all-natural, drug-free way to address issues related to sleep and stress by boosting seratonin and melatonin and reducing cortisol.
For the longest time, weighted blankets have been used as a therapeutic tool for individuals with autism, sensory disorders, PTSD, and anxiety since the 1990s. Over the last few years, they've become a mainstream way to seek out a better night's sleep.
When choosing a weighted blanket, it should weigh roughly 10 percent of your body weight. Common weights available for purchase are often 12, 15, 20, and 25-pound options. If you're in between a suggested weight, Bearaby recommended you size up; for instance, if you weigh 175 lbs, you should try the 20-pound option.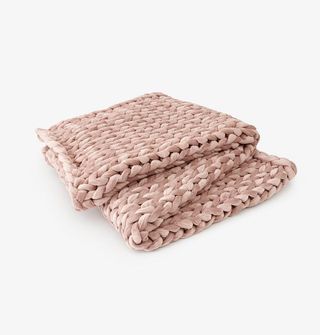 Bearaby Velvet Napper: SPECS
Color: Rose Quartz (other colors available)
Materials: Eco-Velvet (100% upcycled, GRS and OEKO-Tex 100 certified Polyester)
Filling: None
Size: 45" x 72" (other sizes available)
Weight: 20 lb. (15 lb. and 25 lb. weights available too)
Care: Machine-Washable, Tumble Dry Low (DO NOT HANG DRY)
Trial Period: 30-day refund policy
Bearaby Velvet Napper: THE BASICS
Bearaby, which just celebrated two years in business, sets itself apart with its stylish chunky-knit design and emphasis on eco-friendly practices, starting with the materials.
The Velvet Napper is made of what Bearaby refers to as Eco-velvet, which is manufactured from recycled marine plastic, aka 900 plastic bottles that are upcycled into 100 percent recycled polyester. The final product: a beautifully soft and luminous fabric meant for cuddling. It's available in five colors—I tested the dusty pink Rose Quartz— that are all inspired by healing natural gemstones.
In addition to the velvet edition that I tested, Bearaby also makes its original Cotton Napper made of 100% organic, GOTS certified, sustainably-farmed cotton, and the Tree Napper, made entirely of Tencel. The Tree Napper is both body temperature regulating and moisture-wicking and is the suggested pick for users who tend to sleep hot. All three are available in 15, 20, and 25 lb. increments, and there is also a version made just for kids, the 8 lb. Nappling.
While most weighted blankets use plastic pellets or glass beads to get their weight, Bearaby uses none at all. The chunky Napper blankets get their weight from layers and layers of the fabric molded together. This guarantees that weight will always stay distributed, you don't have to be disturbed with any sounds when shifting under the blanket, or worry about the blanket ripping and creating a massive mess of beads.
Beyond the stylish and handwoven appeal of the knit design, the chunky, open weave is also meant to promote airflow and keep you cool. Though gorgeous in nature, I realized pretty early that this requires taking extra care when using the blanket. It's almost too easy to poke a toe through the blanket without even trying, or to loosen the weave as I hoisted my heavy 20-pound blanket further up my body once I got into bed.
The Napper Blankets are designed to be used by a single person, as they are long and narrow, and do not cover the whole bed—a common weighted blanket standard. I would prefer it to be slightly wider because I'm accustomed to spreading out when I sleep, but the weight does limit movement once you're settled in. If you're looking for a weighted blanket that can replace your duvet cover or cover you and a sleeping partner, Bearaby also makes a weighted comforter called The Sleeper, which is constructed like a traditional weighted blanket as it is filled with glass sand and a mix of eucalyptus fiber and recycled Polyester fiber, and it is available in twin, queen, and king sizes.
Bearaby Velvet Napper: My Experience
Unboxing:
No plastic is involved with the shipping, which helps stay true to Bearaby's eco-friendly mission. Once arrived, schelping the 20-plus pound box up the stairs was a task, but we got it there. Inside, the blanket was wrapped in an eco-friendly cotton bag and kept together with two strands of the eco-friendly velvet.
Sleeping with the Blanket:
The easiest way to describe a weighted blanket is to refer to it like a gentle hug. Right away, I felt soothed by just sitting under its weight. It sort of inspires a feeling of just being, and that you can relieve yourself of other responsibilities. I was so excited to try sleeping with my new Bearaby blanket, but I probably should've eased my body into sleeping with 20 pounds on top of it. In fact, Bearaby recommends starting out with 30-minute intervals and covering just your legs. It can take up to 10 days to start to notice the full benefits of using a weighted blanket.
But I'm telling you, I was so excited, and my falling asleep experience is basically a blur, but we can chalk that up to a good thing. But I do remember my first morning after sleeping with my weighted blanket. The primary reason I was curious about using a weighted blanket is that while I don't struggle with falling asleep (once I peel myself away from my phone) getting out of bed in the morning is a whole other topic. I woke up feeling awake and ready—normally I hit snooze about 6 times—, but I was feeling kind of sore on my arms and chest since I believe my body wasn't used to having such an amount of weight on my body for an extended period of time. In the following days, that feeling has completely gone away.
But as awake I feel in the morning, I was cozy in my cocoon, getting out of bed was still one of those sluggish experiences... especially knowing that to start my day, I would have to pull 20 pounds off my body... that's a lot of exertion for first thing in the morning, but keep in mind, that's something that would ring true with all weighted blanket experiences.
Being that the blanket is heavy, you're going to want it centered in the bed. Any sort of overhang could easily cause it to slip onto the floor while you sleep. That happened to me on my first night, when I woke up in the middle of the night, most likely aware the weight had been lifted off of me, wondering what happened to all my blankets? Of course, I found it on the floor, but lifting it up half-asleep was no fun.
As far as temperature, I mentioned before that Bearby's open-knit promotes airflow The Velvet design is most likely it "warmest" option, but I never felt overheated, and I still find it breathable. I may be one of the few left that loves to sleep warm, especially in the winter, so I did continue to use my quilt and sheets both for warmth—and as a way to keep my toes from poking through.
General Use:
For the sake of this review, I essentially let this blanket become part of me. I sat and worked in it, watched TV in it, even dragged it down to the living room—all 20 pounds of it. Now, as a weighted blanket, it is HEAVY, and carrying it around the house from say the bed, down the stairs to a sofa is quite the task. While lovely to binge The Bachelorette in, I do not foresee myself carrying this blanket all over the house. If you're anything like me, you probably won't either. So it may come down to making some tough decisions over will your blanket be reserved for relaxing and naps on the sofa or nightly use on your bed.
Stress and Anxiety Relief:
The question on everyone's mind: Did it work? I am not a medical expert, but I can attest to the calming and soothing properties that came from sleeping with my weighted blanket. It can take at least 10 days to feel the effects of sleeping with a weighted blanket, but the added weight on top of me while I rested provided immediate comfort while using it. Am I less stressed and anxious during the day? That I'm not yet able to determine or quantify. But I do greatly look forward to the part of the night where I get to slide under my Bearaby Napper and kick off a new nightly routine.
What do online reviewers say?
The Bearaby Napper gets 4.8 out of 5 on the Bearaby website with over 900 customer reviews that encompass all options of the blanket. It's filled with cheeky headlines like "Can't Stop Fighting Over Who Gets To Use It!" or "Love at First Sleep," but the general consensus among users is that the Napper offers supportive comfort, not too hot or stuffy, and of course, love its appearance.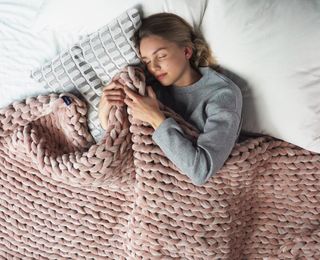 Bearaby Napper: The Verdict
While definitely on the more expensive spectrum when it comes to a weighted blanket, Bearaby's commitment to craftsmanship and eco-friendly materials shows through. Sure, part of the allure of Bearaby Nappers are influenced by the aesthetic of it all, but we were blown away by Bearaby's ability to make a weighted blanket without fillers, reducing the use of plastic beads or pellets that could shift with use, make noise, be uncomfortable to lay on, and simply add more plastic to the environment. Now, the design does need to be handled with care, especially after noticing how the handwoven weave can all too easily stretch.
Though using a weighted blanket takes getting used to, I believe that my Napper gave me a better night's sleep, and made me feel calmer and more relaxed. And from a style perspective, it definitely doesn't hurt that I'm seriously obsessed with how it looks slouched over my bed.
Bearaby Napper: Where to buy