Working from home is easier for some people than others, and that doesn't only apply to the home office setup. Working remotely can feel lonely, especially if you're used to the constant stimulation of being part of a large team. Fortunately, there are now countless apps for meeting up virtually – Zoom, Hangouts, Skype, to name just a few – that allow you to reconnect with your colleagues. Try the following ways to reestablish that sorely missed human connection (hint: this is nothing to do with work-related meetings).
For those new to this remote working life, get your setup sorted with the working from home essentials.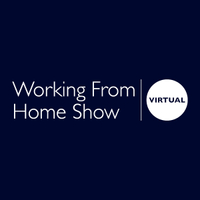 (opens in new tab)
Don't miss the UK's first virtual Working From Home Show, which will take place on July 30 & 31. Whether you're a business owner or employee, you'll be able to join interactive seminars, watch product demonstrations and visit exhibitors with products that will make working from home that little bit easier.
Register your interest now (opens in new tab)
1. Start meetings with a personal chat
It's a good idea to start off any business calls with a more personal chat and engage with your colleagues as people. Asking someone about their weekend is a small thing that can lead to discovering common interests; if they have a kid, or even a pet, take a bit of interest in their daily life outside of work. For those working and living alone, connecting in this way makes a big difference.
2. Do weekly after work drinks over video
The Friday evening out at the pub is what many people miss the most about normal life, and recreating that in a virtual format over Google Hangouts or Zoom is a great way to bring back some of that normality. Plus, with less pressure for everyone to be drinking alcohol since you're not at the pub, more people might want to join in. And no faffing around with a cab to get home. Brilliant.
3. Start a virtual book club
Book clubs are an excellent way to bond with colleagues in a non-work-related context: you learn so much about people when you talk to them about something you've both read. There's also more of an incentive to commit to regular meetings if you've invested the time in reading something.
Not into reading? Start a movie club instead – or even set up regular meetings to discuss the Netflix series you're all watching.
4. Bring your pet to work – virtually
We don't know how about you, but we've probably talked to our colleagues about our pets more than about other members of our families. The love of animals is a surefire way to connect with colleagues – and, while bringing pets to a physical office is hardly feasible, everyone can get their pet to pose for the camera for at least a few seconds (with some very stubborn exceptions).
5. Start a 'water cooler' Slack channel
Slack is a very useful tool for resolving work issues in real time – but it can also become a great way to connect with colleagues. Start a separate channel just for light-hearted, water-cooler style chat with your coworkers that people can dip in and out of whenever they need a mini break.
Read more: