Book lovers adore books as gifts, right? Well, yes, but we would argue that the best Christmas gifts to give to those who enjoy reading are all about the room where the reading happens and the lovely accessories that can make the already pleasant experience of reading even better. So, without much further ado, here's our selection of best Christmas gifts for book lovers, from irresistible stationery to cosy homewares.
When you're done reading, take the legwork out of the rest of your Christmas shopping by checking out the Real Homes team's top 50 Christmas gifts for 2018: we want them (and so will you and your friends and family).
1. A bookrest that is also a lamp
Who hasn't lost their bookmark, fumbling behind the sofa, wondering where it went? If only there was a handy book rest that would keep your book undamaged while you're making yourself a cuppa... Well, not only is there a perfect book-shaped book rest on the market, but it also doubles up as a lamp.
With its soft ambient light, The Book Rest Lamp by Suck UK is sure to delight every book lover. Available at Red Candy.
2. Bookends with personality
Bookends don't have to be boring – explore the world of bookends-cum-accessories. Really nice bookends can really help to bring a book-lined interior together, especially if the books are kept on the mantlepiece or prominent shelf in the living room.
The Lito Eye Bookends are pure luxury – made from porcelain, they are finished in a striking, Surrealist design that will make a statement in any room. Available from Amara.
More bookend options:
3. Bookmarks with an animal motif
Did we say bookmarks were easy to lose? Perhaps less so when they're very special. The Arctic Animal Bookmarks from Another Studio are etched in metal and come in the shapes of different Arctic animals. Easily attached to note cards as well as book pages, they will make great companions to winter reading.
More gift-worthy bookmarks:
4. A book-themed study cushion
Reading, especially in the semi-comatose state that tends to accompany the Christmas period (too many mince pies, or vol-au-vents, or whatever your festive vice), is all about comfort. A nice sofa, a cosy blanket, and, of course, a soft cushion to prop you up. If you are choosing for a book lover, book- or literary-themed cushions are definitely a thing, from cushions featuring the portrait of Lord Byron to Bridgman's Bibliotheca Cushion (below) that mirrors an antique bookshelf.
More literary-themed cushions:
5. The waterproof Kindle e-reader
Some of us prefer digital reading; some of us also like reading while taking a bath, which is not ideal with a paperback. The new Kindle Oasis E-Reader is waterproof, so will be a perfect gift who those who love finishing that thriller while bathing, or frequent travellers who might be lucky enough to be spending their Christmas on a beach.
6. A subscription to Real Homes magazine
We know we would say this but Real Homes magazine is a fab read – as well as being a great reference for anyone looking to transform their home. A subscription means you'll have all the latest on updating your home, whether owned or rented, and whether you're on a budget or splashing out on a forever family home. It covers the latest decorating trends, too, for book lovers who like to be on trend.
7. The ultimate paperweight
A really good paperweight can – and should – last a lifetime, occupying a prime spot on your desk.
The M700 Turtle Bell and Paperweight by El Casco is the ultimate in paperweight luxury. Exquisitely designed, made from steel and coated in 23-carat gold, it will make the perfect gift for an older book lover with a substantial study. It's not cheap, but is guaranteed to delight and last a very long time. Available at Liberty's.
More paperweight ideas:
8. Colourful stationery
Let's all admit it: part of of the reason why anyone bothers with a study or home office is so that we can indulge in cool stationery. We think that to be gift-worthy, stationery should be beautifully designed, lovely to the touch, and eye-catching.
The new stationery by Chase & Wonder is all of those things, with stylish graphic prints making it a perfect stocking filler. Prices start at £10 for a writing set.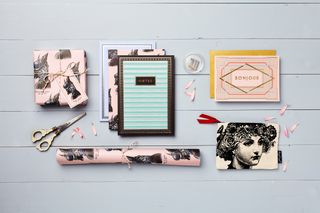 9. A poetry subscription
Not all book lovers have much time to read – our busy lifestyles often mean that we end up watching TV instead (not that Strictly/Netflix aren't amazing in their own right). Poetry can be a surprisingly easy way to find a bit of time for reading, since many poems are short and will only take up only a few minutes.
The Classic Poetry Subscription by Bespoke Verse is a unique gift, with the recipient getting three beautifully-printed poem postcards every month. A lovely and thoughtful gift to encourage a quiet moment here and there. Available at Not On The High Street.
10. A notebook good enough to keep
Not all notebooks are created equal; most are either boring or fall apart soon after they've been filled. If your gift is for someone who likes writing and would like to keep what they've written, choose a notebook that is prettier, and sturdier than average.
The Alphabet Books by the Letteroom are original, properly bound, and finished with a gold foil embellished buckram spine. Definitely good enough to grace a bookshelf alongside the classics.
More beautiful notebook ideas:
11. A typewriter to tease out their writing talent
What if your book lover is also, potentially, a book writer? They almost certainly already have a laptop, but we bet they don't have a typewriter. Old-fashioned, yes, but also could provide a great antidote to the distractions of the internet?
The Vintage Triumph Typewriter in Light Blue has been re-lacquered and is in full working order. Even if they don't use it in the end, it will make a lovely, quirky addition to a hallway or study. Available from Etsy.
12. Cool bookish accessories to kit out the home office
Beyond cool stationery, think other bits and bobs that will help them make their home office stylish and cool. The devil is in the detail, and everything contributes to a polished look, from mugs to pencil cases.
We love the earthy tones and tactile textures of the desk accessories from Maisons du Monde.
13. A scented candle to create a library ambience
Nothing enhances the pleasure of reading like a nice-smelling room. Give the gift of a calm and bookish atmosphere with the Library scented candles from Paddywax; our favourite is William Shakespeare, with notes of papyrus, palm, and eucalyptus. Available at Hurn & Hurn.
Prefer more traditional festive scents? Don't miss our pick of the best Christmas candles.
14. A stylish and lightweight sleeve for their Kindle
Those who like reading on the go and prefer digital to analogue reading need a protective sleeve to keep their Kindle safe from scratches and bumps inside their bag.
The Moko Sleeve Bag for Kindle Paperwhite/Kindle Voyage is made from felt, which is lightweight but sturdy, and is very attractive.
15. A handmade leather case for their reading glasses
If your recipient wears glasses when reading, why not gift them a colourful, high-quality leather case to keep their glasses safe? We love the Leather Glasses Case With Fastening by Tori Lo Designs. Comes in a range of colours, available at Not On The High Street.
16. A reading light that goes the extra mile
Clip-on reading lights are nothing new; to make sure yours is gift-worthy, look out for extra features, such as an eyesight-saving night mode, controllable brightness levels, and long battery life (forget anything that has an awkward cable, they won't want to use it). The Book Reading Light by Levin has all of the above features, and at just over £10, is a very budget-friendly gift.
17. A Penguin Book print for connoisseurs of classics
Lovers of second-hand bookshops will know the old Penguin book covers well – the colour block design and penguin symbol have become synonymous with modern literary classics since Penguin's establishment in 1935. The Penguin cover prints come in a variety of sizes and prices – the most affordable we've found is the small Penguin print from John Lewis. A great addition to a gallery wall or home office.
Read more: