Set in eight acres, this stone farmhouse complete with paddocks, stables and views over a vast, unspoiled landscape, is perfect for a family of horse lovers.
Project notes
Owners: Barbara and David Matthews live here with daughter Emma, 22, their dog Teazle, a Petit Basset Griffon Vendéen, horses Dexter and Deeky, pony Lily, and chickens Fanny and Pointy. Barbara is a political assistant and David is a retired teacher
Property: A three-bedroom, mid-19th-century Dales farmhouse in North Yorkshire
What they did: The couple had chimneys rebuilt, built stables, lime-pointed external stonework, fitted a reclaimed fireplace, refitted the kitchen and bathroom, installed underfloor heating, replaced flooring and decorated throughout. The land drainage has also been improved to protect the house from floods
'The first time I came here I thought the house would be perfect for us, but we were trying to find a place completely on its own, and this is slightly overlooked on one side,' says Barbara.
Their search continued with a whole series of narrow misses. 'We'd sold our house in about two minutes,' says Barbara, 'and that was the last bit of luck we had. We lost so many places.'
So when the farmhouse owner called to say his sale had fallen through too, they saw no harm in taking a second look. Raised in the USA, Barbara loved its old English character and history, its beamed ceilings, panelled walls and the traditional black-leaded range set into a sandstone fireplace.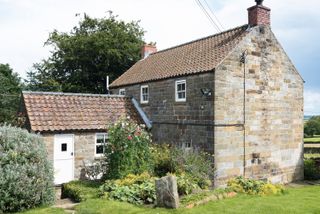 The previous owners had already built a kitchen extension, complete with a utility and cloakroom
They took their time making improvements. 'It was important to get the feel of the house,' she explains. 'I agree with people who say don't change your house as soon as you move in; you have to live with it for a while first.'
They soon grew to love the exposed location and beautiful house, but draughty sash windows made for chilly winters. Their solution was to fit secondary glazing, which clips into place each autumn and is taken down each spring.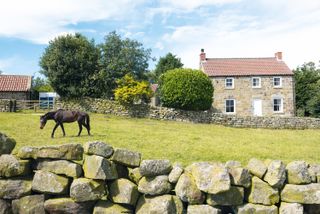 Barbara and David's mid-19th-century stone and pantile farmhouse is set in eight acres of land at the heart of the North York Moors National Park. Its stonework has been repointed using traditional lime
'They've made a huge difference, limiting heat loss and for overall warmth when the wind comes up the dale - and of course it meant we could retain the original timber sash windows,' says Barbara.
Weatherproofing became a theme. In heavy rain, water pours down the hillside, so improving the drainage and steering floodwater away was key.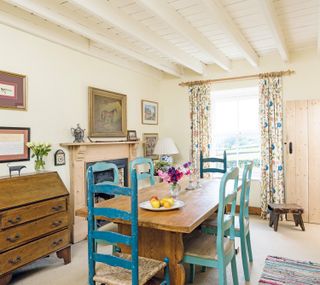 A pair of blue antique Swedish ladder-back and rush seated chairs given to Barbara have been teamed with a further four painted chairs found in York. The dining table is from Tony Popek's Antiques and the French curtain fabric is from Peter Silk. The bureau belonged to David's aunt. On the mantelpiece is a treasured silver coffee pot dating back to the American Civil War
All of the external stone has been repointed in lime, and there's a rolling programme of painting the woodwork.
It was their painter who alerted them to yet another key task. 'He came down from the ladder and said: "Have a look at your chimneys…" One was quite obviously listing sideways, the other you had to be on the roof to see, but both had to be done – one completely, one partially,' adds Barbara.
They've worked on the interior gradually, and Barbara's initial plan was to paint over the stripped pine. 'The orange 90s pine is gone or painted, and we've lightened the beamed ceilings - but there's a lovely patina on some of the doors.'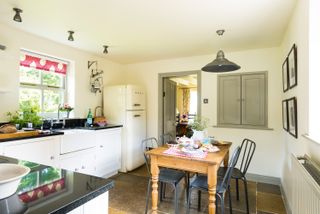 Barbara's new kitchen is full of farmhouse style, with a stone floor, Shaker-style cabinets, Belfast sink and pine table. The flooring is from Doug Taylor Tiling and the units are from David Shield Bespoke Kitchens
In the bathroom, a new pump boosts the water pressure, a slightly shorter bath now lies against one wall and, by a neat trick, the shower bracket cuts into the ceiling to gain head height.
Its mix of traditional Belfast sink, panelling and contemporary chrome fittings is typical of the couple's skill in blending old and new.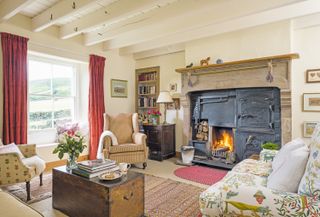 The original cast-iron range with carved stone surround makes a stunning focal point in the sitting room. The walls are painted in House White and the beamed ceiling in White Tie, both by Farrow & Ball. The bespoke sofa was made by Peter Silk. The previous owners' curtains have faded to a rich red and Barbara has picked up on the warm colour with a traditional American-style braided rug from The Braided Rug Company and a late 19th-century tribal rug she found while on a riding holiday in Morocco
In the kitchen, contemporary chairs and lighting are teamed with a classic farmhouse sink, painted cabinets, granite worktops and stone-flagged floor.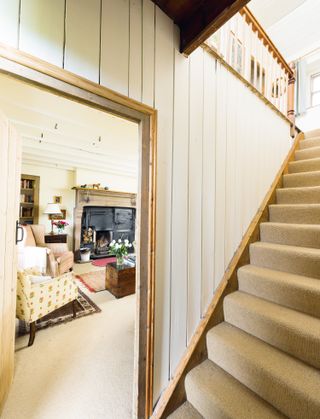 The pine panelling in the hall and stairway has been painted to open up the space and make it lighter. Seen through the open door, the American 1930s armchair has been reupholstered by Peter Silk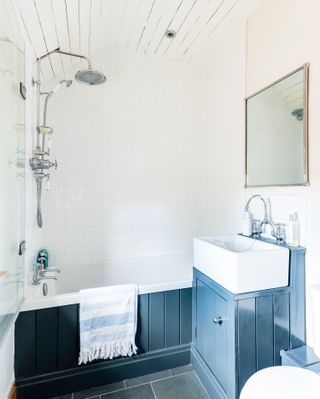 A slim channel has been cut into the ceiling to accommodate the height of the shower. The bath panel and cabinet are both painted in Downpipe Estate Eggshell from Farrow & Ball. To fit the space, the couple chose a slightly shorter bath from Watermark Plumbing and the shower is by Burlington
The calming backdrop suits the farmhouse's original features and the eclectic mix of furniture. In the sitting room a clean citrus white offsets both the iron range and bespoke floral sofa, while the couple's 19th-century tall post bed, brought over from New England by Barbara, stands out against pale cream walls.
The family, she says, has found a true sense of escape here, whether on morning rides out on the hills or evenings by the fire.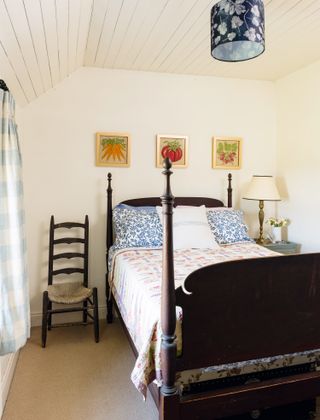 The 19th-century American bed is from Barbara's home in Connecticut. The bedlinen is from LL Bean, the curtain fabric is by Colefax & Fowler and the pendant lampshade is from Cox & Cox. The bedside lamp is one of a pair from Jim Lawrence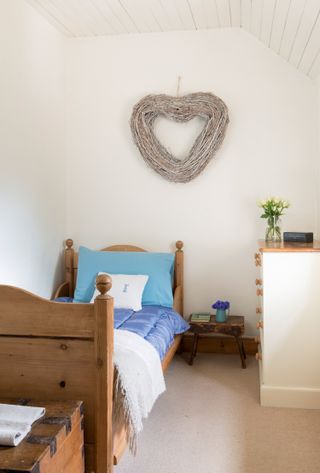 The Eastern European sleigh bed in the guest room was Emma's when she was a child. The vintage quilt is from Busy Bee Studio and the heart garland is from Cox & Cox. The blanket box is from an estate sale at Hovingham Hall in North Yorkshire