After renting in Norfolk for five years while waiting for the right renovation project to come along, Pamela and Jason Crawley finally found this Georgian farmhouse a few miles from Norwich in 2009.
Enlisting the help of their son James, who is equally passionate about historic architecture, the family has completely restored what was a dilapidated house into one with period style and splendour.
Project notes
Owners: Pamela Crawley and her husband Jason, a chartered building surveyor; they have three grown-up children: Catherine, Sophie and James, an interior designer
Period: Farmhouse built in 1790 and extended in 2010
Size: Five bedrooms
Location: Norfolk
'We waited a long time for the ideal house in a peaceful location,' says Pamela, 'and when this one came up for auction two years ago, it suited us perfectly. It required a huge amount of restoration, had potential for an extension, and is set in beautiful rolling countryside on the outskirts of a pretty village.
The timing was just right, too: our youngest son James had just completed a degree in architectural studies, so he was able to work with us full time for the year we planned to complete the renovation.'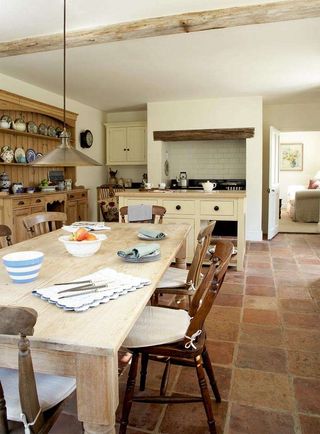 The kitchen is part of the extension, but Norfolk pamment flooring and old beams add an authentic feel; the farmhouse table and chairs were from the Crawley's previous home
The house had a sound structure but had been unsympathetically modified in the 1950s and 1960s: there were metal windows everywhere, patterned carpets, ceramic tiled fire surrounds, no central heating or mains water, and cement render had been applied outside.
'No maintenance had been done for 50 or so years,' adds Jason, 'so the flooring was in a poor state in many rooms, both upstairs and down; and the original features had been either removed or covered up.'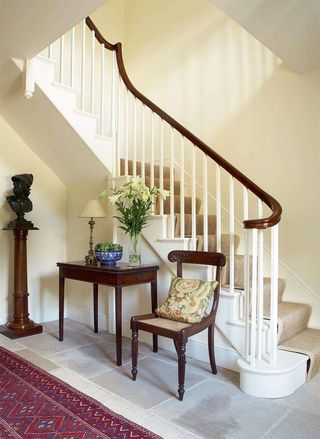 James designed the staircase with a graceful sweeping handrail; the runner on the stairs is sisal
'We wanted to ensure that the renovation was completed as authentically as possible,' says Jason, 'so it was imperative to save or replace all the features that had been damaged or lost.
To recreate the missing details, such as the timber framed windows and shutters, James spent innumerable hours researching Georgian properties, and took a lot of inspiration from other farmhouses in the area. He was then able to work closely with the tradespeople and specialists to ensure every new element was historically accurate.'
The family also spent a lot of time at salvage yards collecting bricks, floorboards, flagstones and timber beams – that had just the right amount of wear and patina – to repair the structural components damaged over time.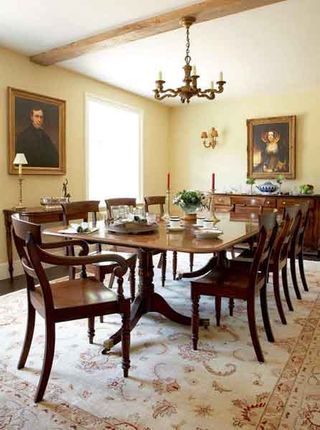 Traditional furnishings in the dining room give the room a formal look
The restoration was important, but the extension was an equally essential part of this transformation. It would give the house a large farmhouse kitchen, a formal dining room, a spacious entrance hall in the centre from which all the principal rooms are now accessed, and a master suite above.
The latter comprises three interlinking rooms: the bedroom, a dressing room and a bathroom in between; by designing it this way, the dressing room can become an extra bedroom if required in the future.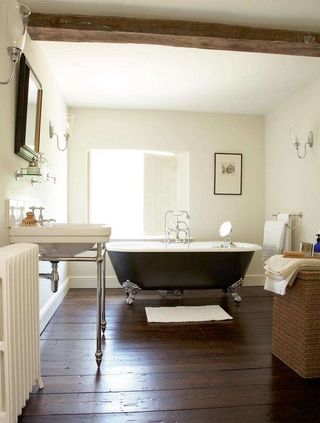 The family bathroom features a soft colour scheme and sanitaryware from CP Hart
To ensure that these new rooms blend seamlessly with the original structure, the same meticulous attention to detail and use of old materials have been applied.
'Nine inch walls were built internally to match the existing ones,' says Jason, 'and any new plasterwork was given soft curves. We also sourced more reclaimed flooring: Norfolk pamments for the kitchen, Portland stone to be laid in the entrance, and reclaimed floorboards for the dining room and master bathroom. The other rooms we carpeted in sisal for a warmer feel.'
'All the doors are 19th century,' adds James, 'and therefore all slightly different. And to finish them off, we added antique brass door knobs, which are in keeping with the Georgian farmhouse feel.'
The smart country house style has been continued in the decoration, too, which further unifies the two halves. James chose a complementary palette of Farrow & Ball shades that range from light and airy off whites – such as White Tie in the kitchen – to those with a little more depth, for instance Light Blue in his own room, and Bone in the dressing room.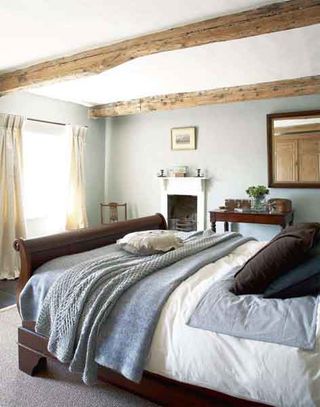 James used Light Blue by Farrow & Ball for his own room. The floorboards and ceiling beams are original and were restored; a sisal rug from Alternative Flooring adds warmth
The farmhouse has been complete for almost a year now, and Pamela and Jason are finally settling into their new home; thankfully, the dream they'd had for so many years has definitely lived up to their expectations.
'Ultimately, we feel our home reflects the time, effort and passion that has been integral in every stage of this renovation project,' says Pamela.
'Many people might have torn down an old building and just started from scratch, but for us that was never an option as we have the greatest sympathy for historic architecture. That visitors are often amazed that any part of this house is new is possibly the greatest compliment we could ever receive.'