This single-storey apartment in London was a warren of small rooms that hadn't been updated since the 1970s when Sarah Wallis bought it. 'I was looking to buy somewhere as my next project when a friend spotted this place online,' she recalls.
Sarah didn't hold back when viewing the property, measuring each room, contemplating how the layout could change, and even crawling up into the dusty loft to see what was up there. The plan was to totally reconfigure the internal layout, starting with the creation of a double-height kitchen-living-diner.
Project notes
The owner: Sarah Wallis, an interior designer and project manager, lives here
The property: A three-bedroom maisonette in Acton, London
Total project cost: £87,500
Sarah also planned to build a whole new storey by utilising the generous loft area, making room for a third bedroom and bathroom. 'My background as a surveyor helped me organise the build,' she explains. 'I've learned that the more decisions you can make from the outset, the less likely it is that things will need to be changed – which will incur more costs.'
All of the changes were covered by permitted development rights, meaning no planning permission was required.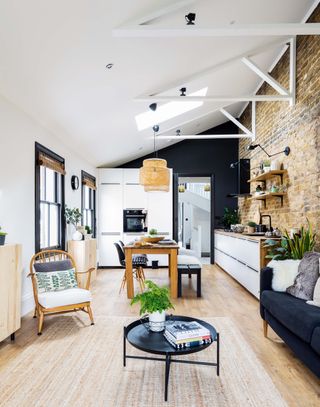 The open plan kitchen-living-diner is located where the dated kitchen and bathroom once stood. One wall has been left exposed to add texture
First to be knocked down were the walls between the existing maze of rooms to the rear of the property. The ceiling was then removed across two-thirds of the house to unveil the new double-height area, while the rest of the loft was converted for the extra bedroom and bathroom.
From the moment the property belonged to Sarah she knew how the final interior would look. 'I love a pared-back Scandi style, as I'm drawn to neutral shades, natural materials, bare brick, and love mixing textures instead of colours,' she explains.
Four months after construction began, the remodel was complete and Sarah moved in. 'There was so much dust, it was unbelievable,' she laughs. 'But, the design is perfect and I've created the loft-style home I dreamt of.'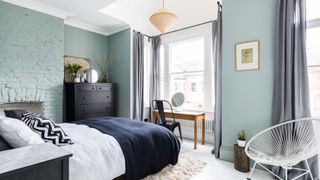 Sarah was going to locate her bedroom in the newly created loft space, but decided the former living room offered better light and more storage. For a similar wall colour try Pistachio Whip from Dulux. Bed, light shade, chair, curtains, drawers and side tables, all Ikea. Rug B&Q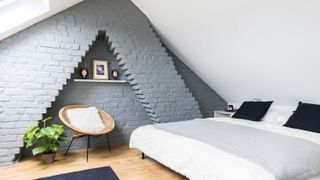 The exposed brick wall, which is painted in Farrow & Ball's Downpipe, is a key feature in the new loft bedroom. Laminate flooring, Quick-Step. Bed and shelf, Ikea. The vintage 1960s chair was passed down from family. Roof window, Velux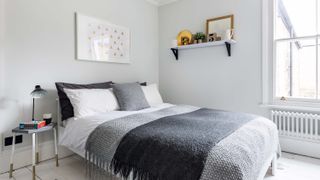 The guest bedroom has been decorated in pale grey with an exposed brick fireplace (out of shot). For a similar wall paint, try Brandy Snapp from Crown. Bed and bedside tables, Ikea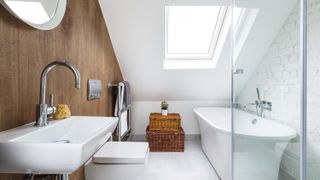 The elegant loft bathroom is located under the eaves. Bath Soak.com. Tap, shower and enclosure, Victorian Plumbing. Roof window, Velux. Flooring and wall cladding, Walls & Floors. Mirror, Ikea