It's hard to over-emphasise the benefits of a loft conversion. On a moderate budget, you can add value and space to your home with minimal fuss. If an extension isn't right for you – either because you have a tricky plot, no garden or a budget that won't stretch far enough – looking upwards could be the way to go.
That was certainly the case for Polly and Oli Geal. With two children growing fast, and fed up of sharing their one bathroom, the couple began to think about a loft conversion to provide more space. They had been in their Victorian home in south-west London for six years, but didn't want to leave as they love the area and have plenty of friends nearby – so extending upwards was the most logical way to get more space and child-free privacy. Polly talks us through the steps she took to create her new master suite.
Use your house to the fullest by converting the loft. We have lots of of helpful advice and loft conversion ideas in our dedicated feature. For more real home transformations, head to our hub page.
Profile
The owners Polly Geal, a photographer (@thishouseourhome; littlekin.co.uk), and her husband, Oli, a creative director, live with their children Raff and Elsie
The property A four-bedroom Edwardian terrace in Isleworth, south west London
Project cost £51,213
'We felt we were outgrowing our house, which was a real shame – we've renovated every inch of it,' Polly says. 'We had to find a solution or move. Our loft was large with a good height, so we started making serious plans for a conversion in the spring of 2018. A friend of ours had employed a local company, Ash Island Lofts, to do some architectural drawings and plans, so we asked the team round to mull over some ideas. We got on well with them, and realised we'd be happy if they did the whole build from start to finish. We put it out to tender and their quote was competitive, so we booked them in.'
'Because the house is in a Conservation Area, we knew there was no chance of a dormer on the front of the house, facing the street – it would need to be at the back. We had initially thought about putting two smaller bedrooms up in the loft and adding another bathroom on the first floor, but our architect said we'd add more value if we made the loft a master suite, with a large bedroom and en suite.'
'We did overrule him on the layout, though. He suggested the bathroom should be partly in the dormer, which would give us an L-shaped bedroom, but we wanted the large space to be the bedroom with a view over the garden and the bathroom in the eaves at the front of the house.'
'One of our main aims was to get a spacious feel to the conversion, and the flooring was a big consideration. I didn't want anything dark, but I love natural materials, so wood was always going to be my choice rather than tiles or carpet. I searched through hundreds of different oaks online before I finally found the one I wanted at Quick-Step. It's got a real limewashed feel to it, which fits in with the Scandi style of the rest of the house, and it will only get better with age. Plus it was a reasonable price.'
'With the build finished, I tackled storage. I envisioned built-in cupboards floor-to-ceiling to the right of the dormer, and I wanted the dead space under the eaves used so I could store towels and toiletries. We had a quote from one company that was astronomical, but I found a great local carpenter who did exactly what I wanted, plus put a hidden cupboard in the bathroom – which the other company told us couldn't be done – all for £1,200.'
'Choosing the paint colours and furnishings was as important to me as the flooring. My idea of a nightmare conversion is a modern box stuck on top of a lovely old house, so we made every attempt to make it feel like it'd always been there by using natural materials and muted, subtle colours, as well as adding plenty of texture. I searched out vintage pieces – like the chest of drawers –and made sure the bathroom fittings were appropriate for the age of the house. We're so happy with our sanctuary up the stairs. The loft means we don't have to move now – or possibly ever.'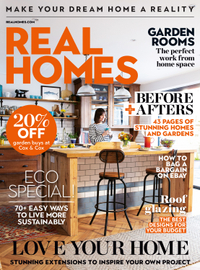 Subscribe to Real Homes magazine Want even more great ideas for your home from the expert team at Real Homes magazine? Subscribe to Real Homes magazine and get great content delivered straight to your door. From inspiring completed projects to the latest decorating trends and expert advice, you'll find everything you need to create your dream home inside each issue.
More reading: