Family ties and a stroke of luck brought Jo and Simon Rutt to their new Hertfordshire home. 'I was reluctant to leave our Victorian flat in north London, but by the time our son Harry was born, William, our eldest, was a toddler and we felt we had outgrown the flat,' says Jo. 'My sister noticed that this pretty cottage had come up for sale on the next road down from her and she persuaded me to take a look. As soon as I walked up the path, peered through the letterbox and saw the original cast-iron fireplace in the hall, I was sold.'
The inside of the house lived up to those first impressions, and Jo and Simon put in an offer on the cottage, sold their London flat, and completed a private sale with the home's previous owners, who had inherited the cottage from their elderly parents. 'We moved in when Harry was six months old; luckily, everything went smoothly,' says Jo.
'The house had previously been a rental property, but it was still in good condition, with many original features intact, including cupboards, fireplaces and wooden floors.'
Fact file
The owners: Jo Rutt, owner of a vintage homeware and antiques shop, lives here with husband Simon, who owns a business consultancy and a bicycle sales company, and their sons, William, 13, and Harry, 10
The property: A mid-terrace cottage built in 1906, now an extended four-bedroom house
The location: Bushey, Hertfordshire
What they spent: The couple bought the cottage for £340,000 in 2005 and have spent £72,400 renovating it. It has recently been valued at around £570,000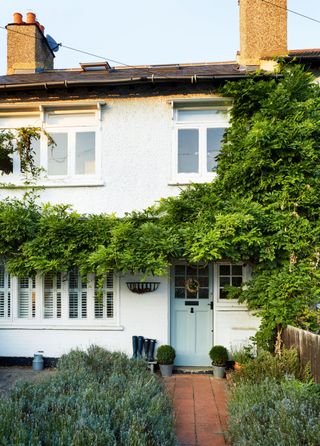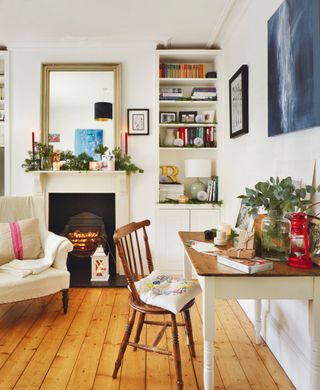 Completing the project
The couple hired Danny Bowell of Building Services, Harrow to complete the work, after inspecting several of his previous building projects, and used the company's recommended architect to help guide them through the planning process.
'The scaffolding went up at the front of the house, and inside there was hardly any mess or inconvenience to us living here while the work took place' says Jo. 'Danny was fantastic and finished the job in six weeks. One of his best achievements was matching the original balustrades on the new staircase leading up to the loft space – it's totally seamless.'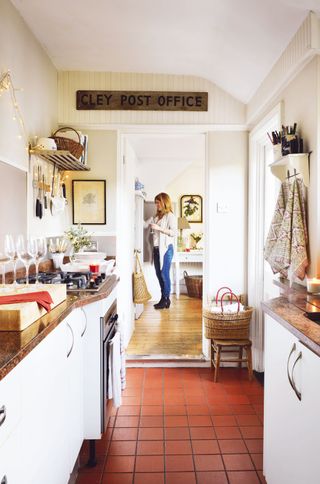 A new master bedroom
The master bedroom is a tranquil space with powder-blue painted walls and built-in floor-to-ceiling cupboards, which are neatly hidden from view behind the door. 'I didn't want to see rows of wardrobes,' says Jo, 'and sometimes I do wonder if I should paint the old mahogany chest of drawers, but it really stands out against the blue walls and white-painted wood.
'I'm constantly moving furniture, objects and artwork around and I find it easier to live with neutral backgrounds and allow colour to come from accessories. I'm drawn to pale, soft blues, earthy greens and muted greys, which I find particularly calming colours to live with.'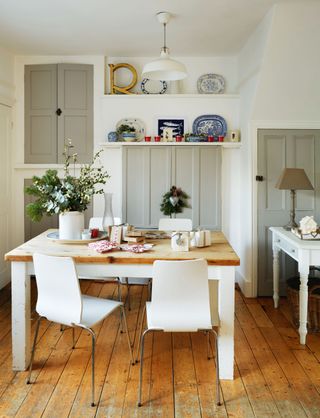 Decorating the interior
For the family bathroom, Jo and Simon have chosen green tiles as a contrast to the traditional white ceramic and chrome-finish fixtures and fittings, and the practical black slate flooring.
Thanks to Jo's eye for antiques and bargains, the cottage has interesting touches in every corner, complemented by colourful abstract paintings by her sister-in-law, artist Philly Rutt.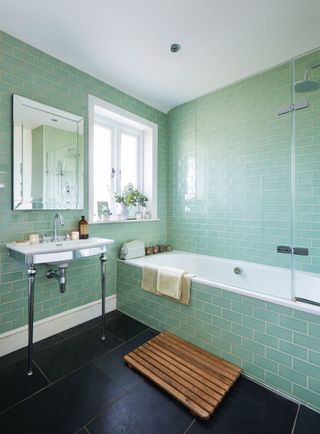 Future plans
Now the loft conversion is finished, Jo and Simon hope to turn their attention to the kitchen. 'I still see the house as evolving, so it's very much a work in progress,' says Jo. 'We recently saw the extended space in our neighbour's home, which is amazing, so now we want to do the same and open up the back of the house to enlarge the kitchen.'
This Christmas will be a real family affair spent at Simon's father's country home, lovingly known to all the family as 'Rutt HQ'. 'We have quite a large family, so Christmas time is always busy, with lots of fun to be had,' says Jo. 'Simon's stepmother is an incredible cook and the days are filled with good food, champagne, games and plenty of festive cheer and laughter. The cottage will be the perfect place to unwind afterwards.'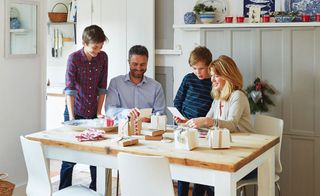 Project Notes
Follow Jo Rutt's advice to help with your own home renovation.
What I've learnt
'Never cut corners, and always get the best tradespeople for the job to avoid costly mistakes. Tiles are all-important for a good finish in a bathroom, so make sure you choose an experienced tiler.'
My top tip
'It's important to do your homework and really think about what you want so that you're organised when your builder arrives on site.'
If I could change one thing…
'…I would have liked to have planned in more cupboards for the eaves in our bedroom, to maximise storage.'
What inspires me
'Favourite books I constantly use for reference are: Thrifty Chic by Liz Bauwens/Alexandra Campbell (£14.99, Cico); Bazaar Style by Selina Lake/Joanna Simmons (£18.99, Ryland Peters & Small); Farrow & Ball Living with Colour by Ros Byam Shaw (£30, Ryland Peters & Small) and Vintage Home by Sarah Moore (£17.99, Kyle Books), as well as plenty of interiors magazines.'
My go-to stores
'Farrow & Ball paint is used in almost every room, as I'm a big fan of its classic colours. I also like Fired Earth's products so much that I've renamed its catalogue Jo's Book of Dreams.'
My favourite spot
'Our master bedroom in the loft is my retreat, where I close the door on the rest of the house. It's the perfect place to unwind and relax.'
My best buy
'I love the letter R that we discovered in Alfie's Antique Market. It formed part of the original sign for Jordans department store, which used to be on Church Street in London. The Nespresso coffee machine is another of our best ever buys. I'm also pleased with the hallway radiator; I brought it from our previous flat, as I couldn't bear to part with it.'