The ancient, coastal village of Port Isaac, situated close to the Camel Estuary in north Cornwall, is a source of endless inspiration to designer Jan Constantine, who has owned a home there, Sea Cove Cottage, since 2001.
In recent years, Port Isaac has been the main location for the television series Doc Martin, which featured Jan's cottage as the home of the character Louisa. The popularity of the series has attracted many tourists – with coffee shops and art galleries taking over from traditional food outlets and antiques stores – but Port Isaac is still an active fishing village, famed for its wonderful crab.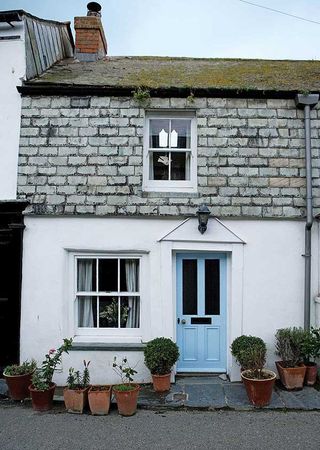 The stone core of her cottage is believed to date from the 17th century, and has provided a home for many generations of fishing families. Although the old cottage had been converted into a holiday home in the 1960s, Jan knew when she bought it that the building needed a total makeover. There was a flat-roofed, 'L'-shaped extension containing the kitchen, with a large sink blocking most of the view, and a narrow sun room on one side. 'It all had to go!' recalls Jan.
A full-width living room was added at the back and an open-plan kitchen area was set into the middle of the house. 'It took a lot of time and patience but eventually we got permission to extend the building, lifting the roof to create a more interesting apex with exposed beams,' she says.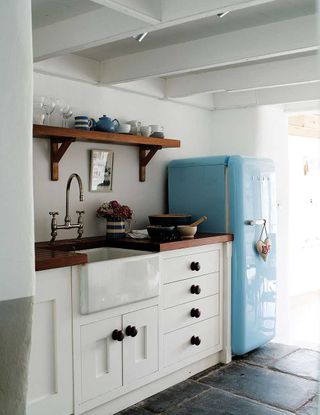 It was important to Jan and her husband David to retain the integrity of the building, so new flagstones were sourced to match the original flooring, and oak floors were laid elsewhere. A wooden bunk was built over the stairway to provide additional sleeping space, and the original wooden panelling that survived in the back bedroom was repaired and later replicated in other rooms up to dado height.
The interior decoration has been kept very simple, with plenty of white paint and touches of duck egg blue. Many of the curtains are made of mattress ticking, but Jan used some of her embroidered seaside fabrics for curtains and blinds on the smaller windows. Most of the nautical artefacts on display in the cottage were found in local junk shops.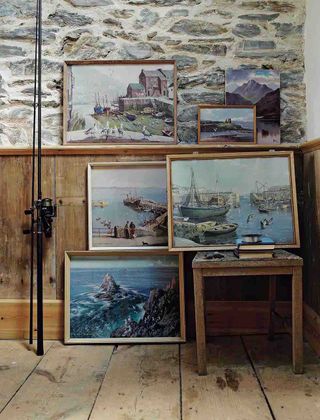 The textural contrast of roughly hewn stone and smooth wood panelling makes this wall an appealing backdrop for a collection of Cornish coastal scenes and Lakeland images.
When the structural alterations were complete, Jan and her family began to spend as much time as they could at the cottage. In 2002, Jan set up a textile design business, which soon began to flourish, with homeware products including cushions featuring seaside motifs.
Over the years Jan has created an exquisite collection of hand-embroidered textiles inspired by vintage and rural themes and her favourite things, including Union Flag designs. Her soft furnishings range from the eye-catching bright colours of her Love collection to the more delicate traditional embroidery of hearts and flowers.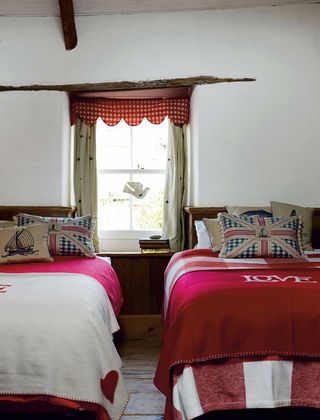 Although Jan's main home is nearly 270 miles to the north near Crewe, she still escapes to Cornwall whenever she can, especially during the quieter winter months. 'Life in Port Isaac is simple and relaxing,' she says. 'Some of my best designs come to me at the seaside. Whenever I'm away, I can't wait to get back to the place.'
This is an edited extract from Coastal Living by Henrietta Heald
(£25, Ryland Peters & Small)