Sometimes you only know what you want when you see it, and that was exactly the case for Charley when she found a new family home for her husband, Adam, and their two young children. Although the house was a bit of a mismatch and looked like nothing had been done to it for a couple of decades, it had beautiful features such as stained glass, parquet flooring and fireplaces – all elements that helped seal the deal. Charley knew they'd build a beautiful new extension to replace a conservatory that was on its last legs – and now, with the project completed, she tells us how she did it.
Looking for more house extension inspiration? Our gallery has plenty of ideas to get those creative juices flowing.
The before
Profile
The owners Charley Smith (@thetreehouse_onthehill), who works in asset management, her husband Adam, who works in advertising, and their children, Esmeralda, five, and Ruben, two
The property A five-bedroom 1920s house in Forest Hill
Project cost £180,000 (for the kitchen extension and garden)
'The house needed a bit more TLC than we thought,' says Charley. 'The windows were single glazed and the panes were cracked, so we needed to replace them, then other things cropped up that we didn't think we'd have to do. The foundations needed to be deeper as the soil has a high water content and we're on a hill. The floor was a beautiful mosaic, but was all cracked and needed to be replaced. We moved in December 2019 and started on the windows, then Covid happened and we had to stop with half the windows done. We got the building works completed between lockdowns one and two. We lived here during the build, but fortunately it was summer, so it wasn't too cold.'
Building progress
'We converted the original kitchen into a hallway and utility room, knocked down the old conservatory and built out and across. The former kitchen had a galley layout and a huge Aga, but we wanted something that was open plan and connected to the living area and playroom, and for us to be able to get out to the garden. We used a building firm that did a pre-planning package and knew what was allowed in terms of planning permissions. We had one pushback, which was that they wanted us to drop down the roof height once we reached the border of the neighbours. We wanted it to be as high as planning would allow so the room would feel more spacious and bring in lots of light.'
Compromise is key
'We would have loved a deVOL kitchen, but it was out of budget. A friend recommended Naked and we found it to be a really good middle ground in terms of design and quality versus price. We did a lot of the planning ourselves and really led the project, telling them we wanted a bank of units along the wall, an island and a dresser. We went against advice for the distance between the island and wall units and brought the island out further to make the kitchen more spacious. We wanted a style in keeping with the period of the house and chose frameless Shaker doors that are a bit more modern – I'd say what we have now is a mix of the old and new.'
Personal touches
'Originally our architect designed the extension with a whole wall of glass at the end, but I wanted some sort of separation between the kitchen and the dining area, so we have two sets of doors with a little wall in between. I think it actually makes the space feel bigger.
'I ordered almost all the possible paint samples as I love colour, but we ended up choosing an emerald green I came across on social media – I really love it. We were originally looking at dark colours that would match the Crittall-style doors. I always wanted this style; it's in keeping with the property and matches the stained glass windows, which are leaded.'
Smart buys
'We had a budget to stick to but because we were thrifty, we didn't have to scrimp on anything. I searched high and low to get the Buster & Punch-style handles that I loved. I found the ones we used via Plank Hardware. I'd definitely recommend asking for a discount on every single purchase you make: you don't always get one, but most people will be willing to give you something.
'My other tip is to stay focused. You can get really distracted with Pinterest and Instagram and can get decision fatigue when doing a big project. Stick to what you love and go with your gut.'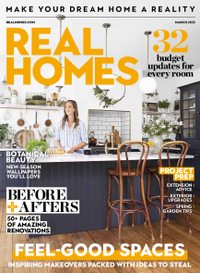 Subscribe to Real Homes magazine
Want even more great ideas for your home from the expert team at Real Homes magazine? Subscribe to Real Homes magazine and get great content delivered straight to your door. From inspiring completed projects to the latest decorating trends and expert advice, you'll find everything you need to create your dream home inside each issue.