Luise and Ben Brown worked tirelessly on the renovation of their Grade II-listed former Victorian pump house – all while planning a wedding and welcoming two little ones into the world. This year marks their fourth at their quirky south-east London home, which they've decorated with natural leafy accessories, candles and pretty lights to welcome the festive season.
First to view the detached single-storey property, the couple instantly fell in love. Built around 1840, the building supplied and maintained pressure for the hot-water system to the former Brook General Hospital in Greenwich.
Scroll down to take a tour of their home, then check out more real home transformations to inspire you.
Project notes
The owners Luise Brown and her husband, Ben, global partnership lead at Spotify, live here with children Matilda, two, and Linus, eight months, and their dog, Oscar.
The property A three-bedroom Grade II listed Victorian pump house in south-east London.
Project cost £50,000.
Today, the hospital is a collection of converted residential properties, while the water tower next door is now a luxury property rental that throws extravagant parties over each new year. It was left to Luise and Ben to transform their
new home into a place fit for family living.
As the restoration began, the couple moved in with Luise's parents and relied on the help of highly skilled tradesmen to guide them through the project, including a specialist stonemason. Alongside the electrics and plumbing to be done, their biggest job was reconfiguring the layout. Functionality was especially important, as they both treasure spending downtime at home with family. Luise and Ben share the trials, tribulations and funny moments that came as part and parcel of their new home…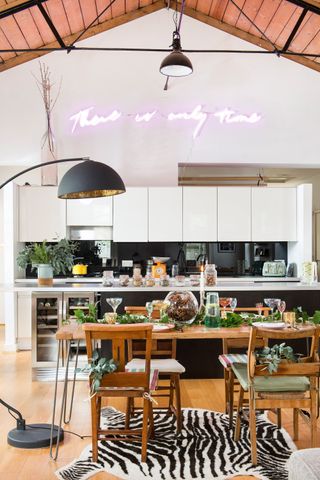 Luise says…
'Before moving here, we rented a beautiful flat in Southwark close to amazing cultural icons like the Old Vic and Tate Modern. I wanted a unique property instead of the usual two-up two-down. Although this place was unloved and grubby, it was a rare find in a great location. The garden was like wild scrubland and the stonework and external materials had to be completely repointed and new drainage added at the foundations – a major part of the renovation. We also renewed the electrics, boiler, central heating, radiators and plumbing, which meant we weren't able to buy furniture straight away. We took great photos of the two of us sitting on the floor in a corner eating fish and chips with a cardboard box table when we moved in, toasting with a glass of Champagne!'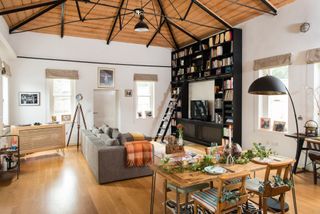 'As much as I loved the huge open space, it reminded me of a village hall. My task was to create cosy niches for living, dining and chilling out with a home office, play area and storage space. I love to mix modern elements with upcycled furniture. Tracey Emin's "I want my time with you" neon light installation at St Pancras station inspired me to create my own. "There is only time" resonates with having a young family; time is so precious with little ones and I want to be reminded of that. I love the cheerful yellow, the colour of my childhood bedroom.
'We found tradesmen who could adapt to different situations – the five-metre-high ceiling caused issues for our electrician, and the lack of proper access to the loft almost put Ben in hospital when he fell off a ladder! We love the warehouse vibe and all the freedom that open living offers. The space has great versatility, from hosting parties to snuggling up on a winter's evening.'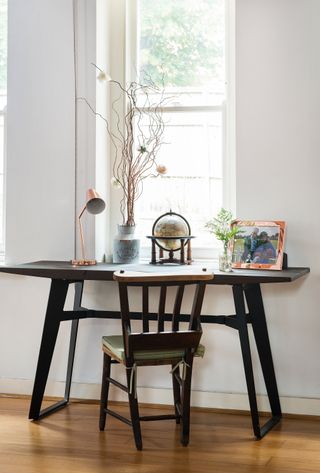 And Ben says…
'Despite our parents' gentle questioning of our logic, we saw the building's potential straight away. We took a leap of faith when we bought the house, and it was immensely stressful; it took months of negotiations with solicitors and conveyances. The property's dark, dingy state left a lot to be desired – it lacked basic facilities and the previous tenant was evidently a heavy smoker with an allergy to daylight and a penchant for feeding urban foxes. You had to look beyond the grime to see the light.'
More from Real Homes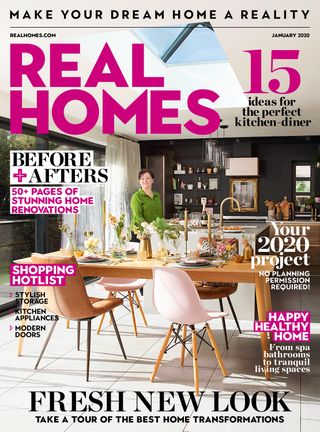 Love your daily dose of Real Homes? Then why not subscribe to our magazine? Packed with fabulous readers' homes, trend features, project advice and easy updates, you'll wonder how you ever lived without it.
'Because the stonework had been maintained incorrectly, I found a lime mortar specialist, Sean Hawkins, who'd worked on high-profile landmarks like the Tower of London, Buckingham Palace and the Royal Opera House. He repointed the entire building and introduced us to a brilliant tiler for the bathroom, which we designed in keeping with the building's history.
'We put in a row of floor-to-ceiling units behind the kitchen for a hidden utility with a fridge, washer and dryer. It splits the kitchen in half nicely. One side is for cooking and hosting, and the other is more functional with plenty of storage and a place for the noisy washing machine.
'We sent bespoke furniture makers The Restoration sketches of two statement furniture pieces: the floor-to-ceiling bookcase with a sliding ladder for our large book and record collection, and a made-to-measure desk unit for my turntables. We love the company so much that we had our wedding gift list there – which was a huge help with the finishing touches!'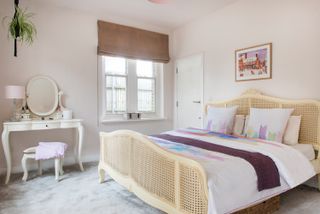 'The house is a work in progress, and we knew it would take time to complete. We've changed jobs, got married and had two babies since moving here. In the future, we might create a first floor by investigating the huge untouched loft space, building a modern glass extension to capitalise on the spectacular rooftop views across London.'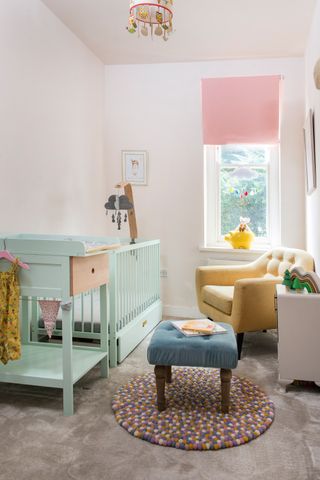 But for now, we're content watching Matilda and Linus grow up and play in the green open spaces nearby. I'm into underground club music and often DJ nearby and Luise loves her art, so living here we get the best of both worlds; rural space and
all the cultural splendour of London.'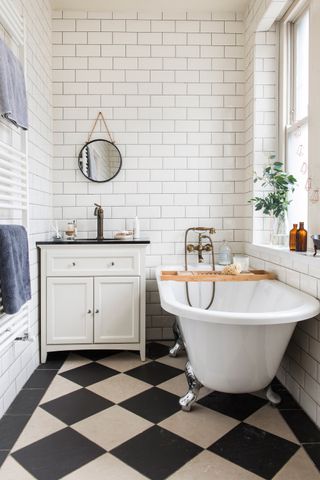 Contacts
Builder: Sean Hawkins of Hawkins Restoration
Bespoke furniture: The Restoration