When Laura and Mark Stubbs first viewed a dilapidated 17th-century mill house and barn, it had been on the market for six years and the one-acre garden was so overgrown they couldn't even access it. Having just developed a 1930s detached house, they were up for the challenge.

'We knew we could transform it into something special but the vendors weren't willing to negotiate on the price,' says Laura. 'In the end we loved the house so much we were willing to pay slightly over the odds as my husband is a builder so the work wouldn't cost us as much as other buyers.'
Inspired to try converting a period property? See more all our real home transformations for inspiration.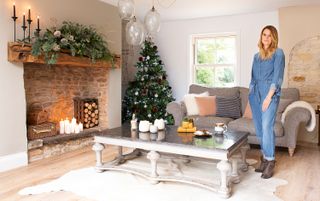 Profile
The owners Laura Stubbs, who runs Epitome Styling (epitomestyling.co.uk), an interior design company, her husband, Mark, a construction company director, and their young children, Charlotte and Jack.
The property A five-bedroom semi-detached mill house with adjoining barn dating to the late 17th century.
Project cost £100,000.
They rented for three months while the first phase of the mammoth 18-month project began. Rethinking the long and thin layout to make it work better for family life was key, along with ensuring light would flood into every room. 'We did have plans for a totally open-plan redesign, but in the end felt it wasn't right for the home as there were original stone walls which we wanted to keep,' says Laura.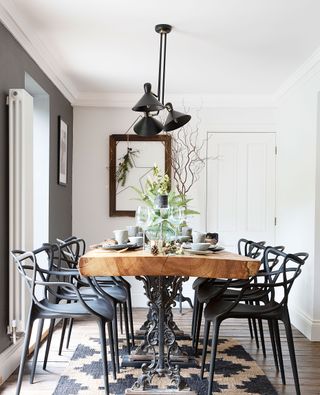 The couple took a phased approach. As the front door went straight into the living room, Laura and Mark created a separate front hallway, moved the kitchen to the front of the house, opening up to a dining room. The conservatory was knocked down and three outbuildings incorporated into the layout to create a larger living room and rear hall leading to a playroom, office and garage. Now the rooms
flow naturally into each other without corridors in between.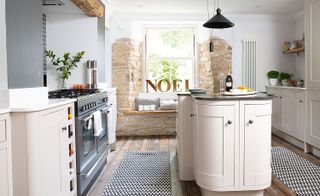 Gutting and renovating the original three-bedroom house was particularly tough as Laura was pregnant and had to look after daughter Charlotte. However, the family managed to make the place habitable just before Christmas in 2015. 'The range cooker was delivered on 14 December and we managed to host 15 family members for dinner that year,' recalls Laura. 'It was utter chaos but good fun.'
Subscribe to Real Homes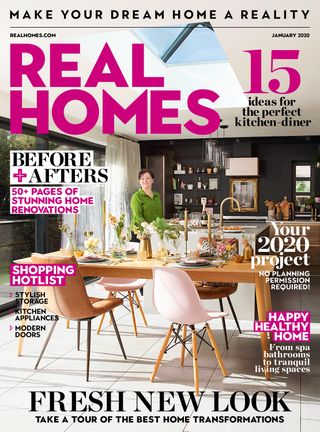 Get more ideas, expert advice and a look at the hottest trends every month with a subscription
Luckily, the couple worked well together. 'It was totally consuming and a lot of pressure, but we're both pretty laid back so it wasn't too bad,' Laura says. 'We each have slightly different approaches; Mark is more conventional and traditional while I'm a bit more daring and can visualise things easier, but we always reach a compromise.'
The second six-month phase, which involved converting the barn and creating a first-floor extension over the garage for two extra bedrooms and bathrooms, was completed just in time for the arrival of baby Jack. After a brief respite to gather ideas and finances, the final phase got underway, which involved creating a master bedroom in the loft above the end barn with en suite shower room next door.
'Finding a way to enter bedroom five was quite a challenge in order to get the head height for the doorway,' says Laura. 'We added a corridor to reach the bedroom, which meant incorporating part of the landing into the new en suite. This is now my favourite room in the house – the glazed gable end gives fantastic views over the garden.'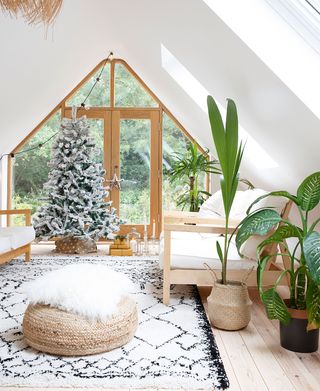 With three bathrooms to design, Laura has enjoyed giving each a different feel with a feature focal point, adapting secondhand console tables to create sink units. 'I like to mix styles to create something unique and personal,' she adds.
With the major works completed, this year they can enjoy a more relaxed Christmas. 'Now we have the little ones, the delights of big Christmas Eve nights out have been swapped for scattering reindeer food on the lawn and nibbling on raw carrots at midnight,' says Laura. 'On Christmas Day it's an open-house invite for the day, and our siblings and their families come and go to suit them.'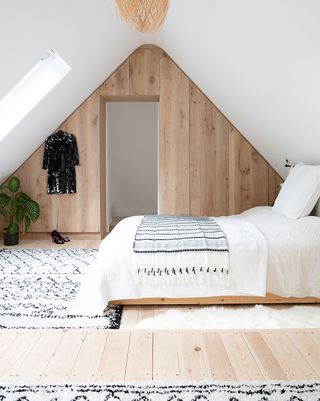 Although they may have compromised to stay on budget by foregoing the marble tiles Laura wanted in the bathrooms and not installing high-end kitchen appliances, the couple are delighted they've achieved so much in just 18 months. 'Our spend was probably 40 per cent of what it should have cost as we did a lot of work ourselves and called in many favours from other trades we'd helped out in the past,' Laura says.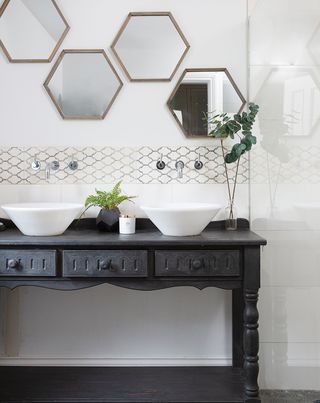 Next they'd love to develop the garden further, as well as adding a garage extension to create a proper studio for Laura's business with play space above for the children. 'It'll never be finished though,' she says. 'It's always evolving.'