After trying country living, the Dean family realised they were Glasgow city dwellers at heart, where they have created a beautiful family home in their four-bedroom Edwardian house
For some people a rural retreat is their idea of the perfect home, while others prefer the hustle and bustle of urban living. When the Dean family moved out of Glasgow seven years ago, they quickly realised that country living was not for them, so they soon returned to the area they know and love.
'We used to live parallel to this street, so our children have grown up in the area,' explains Mary. 'We made a mistake and moved away from the city to a country location, but we preferred the convenience and buzz of town and so 14 months later we moved back; that was five years ago.'
While their two sons have now flown the family nest, their daughter, Charlotte, still lives with Mary and her husband Peter, 'and she can be completely independent, which is great,' explains Mary.
Key facts
Location: Glasgow
Period: Edwardian, built in 1908
Size: Four double bedrooms and three reception rooms
Owners: Mary Dean, a teacher, her husband Peter, a company director, and their daughter Charlotte, 17. It is also home to their two sons Patrick, 26, who is studying in Rome and Laurence, 23, who is currently working in London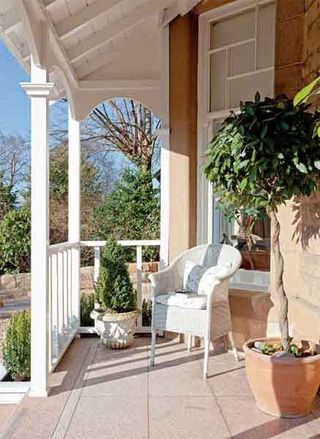 The property
Their detached Edwardian house, with its slightly secluded air situated in an elevated position, instantly felt like home. 'The colonial-style verandah, which I think was added in the 1930s, was a big attraction, so pretty and welcoming, but inside the house had a lovely, familiar feel to it. I think it was the wood panelling in the hall that did it. It's restored now, but even in poor condition it was irresistible to me.'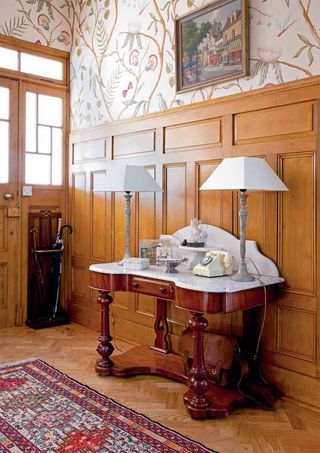 The renovation
The house needed extensive work to become family-friendly again, however. 'We lived in a building site for six months,' recalls Mary. 'We started with the basics: electrics and plumbing to get the fabric of the building correct. Then we tackled the fireplaces, which were either Sixties in style or bad reproductions. We replaced these with designs appropriate to the Georgian period of the house, either with originals where we could, or good reproductions.'
The original wooden floors, some of which were covered by carpet, were also revealed, stripped back and varnished. 'We used a company called PineStrip (pinestrip.co.uk) in Glasgow who we've known for about 20 years and have used them several times in different houses. Restoring the beautiful wood panelling in the hall was defi nitely the messiest job and the most expensive, which is why we waited a few years to do the kitchen,' Mary explains.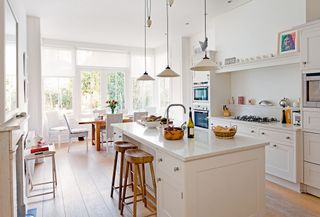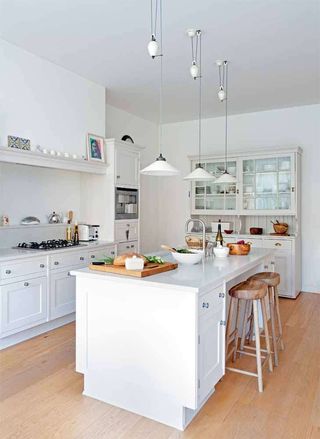 The kitchen
The kitchen was worth the wait, however, as this time Mary knew the family would not be moving again. 'In previous homes there had always been a compromise on this as it is such an expensive purchase, but this time we knew we would be staying so we decided to invest in a really good kitchen,' she explains.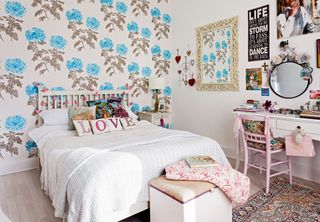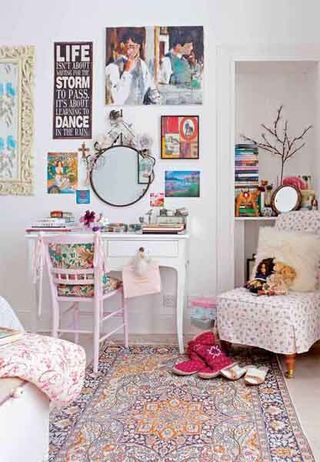 The extension
Before it could be installed though, there was an extension to build. As a former structural engineer, Mary designed the space to her specifications working alongside architect Maurice Hickie (inkdesign.co.uk) and Queens Park Builders (queensparkbuilders.com). 'I find it easy to visualise a space and I knew that a big extension off the kitchen wouldn't look quite right. In essence what we have done is pushed the building out so that we can accommodate a large dining room table. The original kitchen only had one tiny window so all of the new glazing makes a huge difference to the space and light.'
The house was also very straight in its elevation at the rear, which the engineer in Mary was keen to rectify. 'The box-style extension breaks the monotony of the straight lines at the back and it has actually added interest in the garden, too. For me the extension benefits have been three-fold: it works from a space point of view internally, it connects the house to the garden and externally, it has made the house look nicer.'
The two rooms off the kitchen have also been refurbished, retaining one as a utility room and creating a walk-in pantry from the former study. 'Both work superbly so that the kitchen never gets cluttered, and the white palette ensures that this space is always serene.'
Upstairs, the structural changes have been minimal, with only the dressing room converted into a shower room to give the house a useful second bathroom.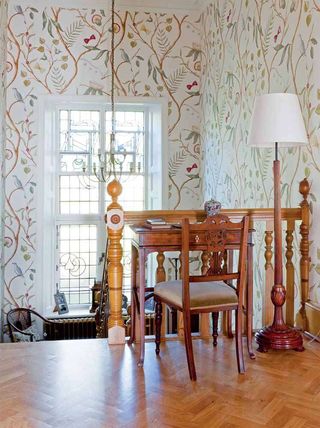 Interior design
Although confident in the structural alterations, Mary opted to have a little help from designer Catherine Henderson (catherinehenderson.com) for the decoration. 'I've used Catherine for about 12 years and she is really great with colour. She also takes on board each clients' tastes. This was a big project and while I have decorated houses myself before, like most people, I've made some expensive mistakes, with wallpaper particularly!'
While Mary had a clear idea of the decorative scheme she wanted for some rooms, with others 'it was really enjoyable and much nicer to let the rooms evolve.' It was not all plain sailing, however, and Mary admits some mistakes were still made. 'I got the study wrong initially, before Catherine's help, and decorated it in a very light paper because it was north facing but it just didn't work – I was fighting against the natural light. It was actually better going snug. The result is really opulent and cosy and is now a favourite retreat for my husband.'
With Catherine's guidance, Mary agreed to a bold wallpaper pattern for the hall, stairs and landing, 'but I chose something more restrained and pretty for the sitting room. I have made that room quite feminine,' Mary explains. Now close friends, she and Catherine will get together over coffee and bounce ideas around, exploring colours agreement on what will work.
Mary's furniture collection, which has been put together over a number of years and the course of several different houses, complements the elegant decorating choices. 'I would always prefer to buy something old rather than something new,' she admits. 'I just think the skill and craftsmanship that has gone into old pieces is greater than what is available today. I love the fact that we are building up a picture of our family history with the furniture that we have collected over the years. I can't do minimal, I'm always collecting, although I do try and rein myself back,' she adds with a smile.
Now that the house is almost complete, Mary plans to concentrate on the garden. 'The extension has made the garden a much more usable space, so I will enjoy pottering about and developing it; I will find that really satisfying,' she says, before adding, 'however, I'm not sure I will ever be quite finished with the house!'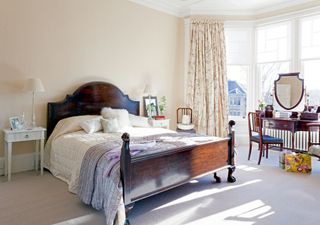 My advice
Mary shares her thoughts on mixing old and new to create a successful scheme.
'Don't be afraid to experiment with old pieces and give them a new lease of life. The dresser in the kitchen was left in the house by the previous owner and is actually more than 100 years old. I had it painted to match the new kitchen and nobody now realises that it isn't new.
Stylist: Alison Gibb