Stunning from the outside, this 16th-century timber framed country home was in need of renovation when Kerrie Griffin-Rogers and her daughters moved in.
Project notes
Owner: Kerrie Griffin-Rogers, who lives here with her 14-year-old daughter Jasmin. Kerrie's 20-year-old daughter Hannah is currently studying in America. Kerrie runs three businesses: The Interior Co, fashion company Feathers of Italy, and Turtledove Hide Away, a luxury holiday cottage for two
Property: A 500-year-old brick and oak-frame country cottage in Shropshire, with some later additions. The property is not listed
Essential repairs: The cottage had been mostly well maintained when Kerrie moved in, although the décor was dated
Layout: Kerrie has completely reconfigured the downstairs layout, moving the staircase, front door and kitchen to improve the flow
The whole house seemed to be facing the wrong way, with the front door, strangely, positioned at the side of the house. The utility room was bigger than the kitchen, and the kitchen was dark and dated with a serving hatch into the dining room.
So the layout was reworked, the kitchen repositioned centrally at the heart of the house, the stairs were relocated, and a partition wall was knocked down to make the kitchen open plan to a light and spacious garden room.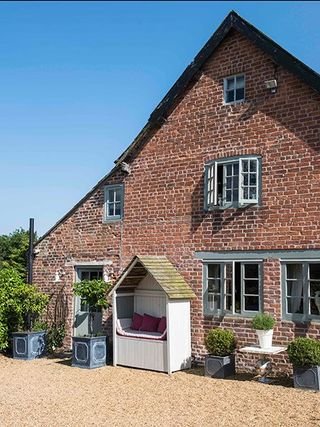 This was the view of the country house that Kerrie first saw and fell in love with. The front door has been moved to this side of the house and Kerrie made the garden seat herself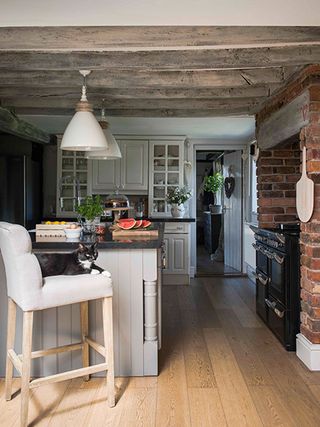 Felicity the cat makes herself comfortable on a bar stool from The Interior Co. The dresser on the back wall came from local firm Tudor Griffiths. To bring in more light, Kerrie painted the beams and fitted engineered oak flooring from Quick-Step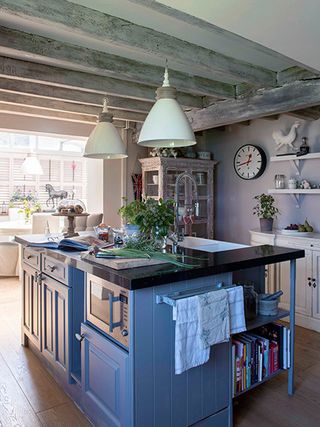 Kerrie pieced this island together using a selection of cabinets and a dresser passed on from a friend, finishing it off with a Carron sink and tap, and a coat of Farrow & Ball's Mole's Breath Estate eggshell. The enamel pendant lights are from The Interior Co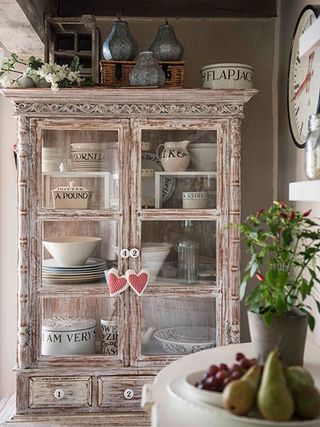 This pretty cabinet was originally in Kerrie's living room, but now comes in handy to store her collection of Emma Bridgewater crockery. Cabinet from The Interior Co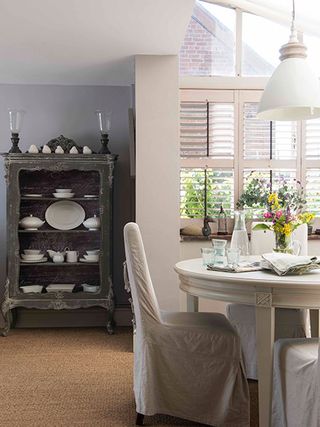 An open-fronted cabinet from The Interior Co provides stylish storage Kerrie's treasured collection of Wedgewoodwhite porcelain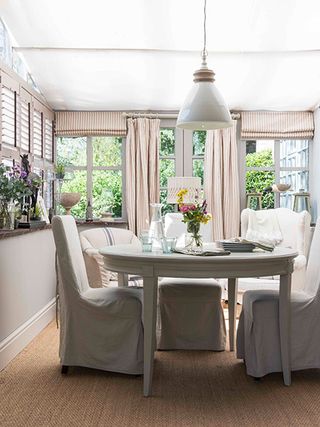 The garden room was the front entrance to the house before Kerrie reconfigured the layout. The seagrass flooring is from Crucial Trading and the walls are painted in Little Greene's French Grey. The cushions, small dining table, covered chairs and enamel pendant light are all from The Interior Co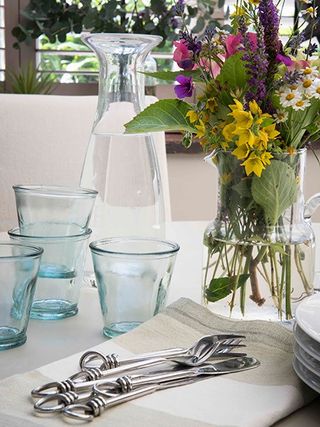 A simple garden posy, in keeping with the relaxed garden room, which Kerrie uses in the summer. The blue glasses and cutlery are from TK Maxx. Carafe and striped linen from The Interior Co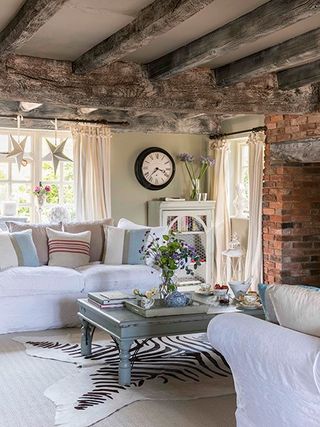 The sisal flooring gets a modern twist with a hide rug from The Interior Co. Kerrie upcycled the table with grey-blue eggshell and replaced the cabinet's broken glass with chicken wire for a country look. The sofas are old favourites from Tetrad, dressed with cushions by Biggie Best. All flowers are from Little Green Flowers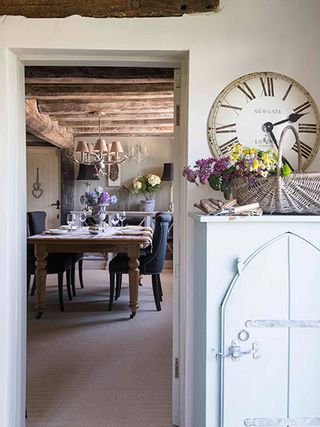 Kerrie's new hallway leads to a cosy living/dining room which Kerrie uses as her winter sitting room and for more formal dinner parties. The hall cupboard was an antique centre find. Dining furniture from The Interior Co. Sisal flooring by Crucial Trading. Walls painted in Farrow & Ball French Gray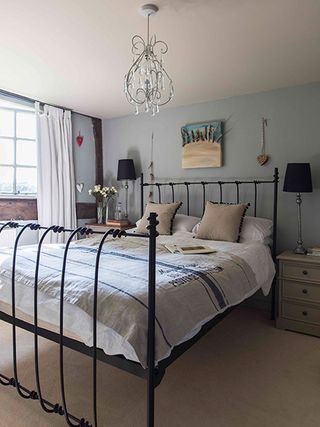 Pale blue walls and sand-coloured carpet from Crown Carpets create a coastal feel in the guest bedroom, This used to be one of the B&B rooms with one of Kerrie's seascape collage paintings above the bed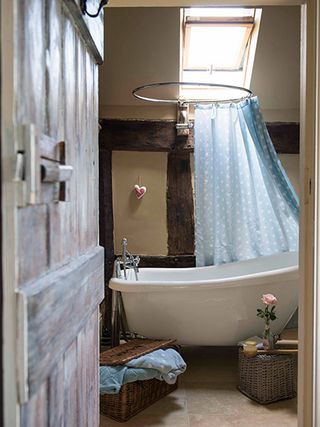 Showcasing the 500-year-old timbers, Jasmin's en suite under the eaves features a roll-top from Victoria Plum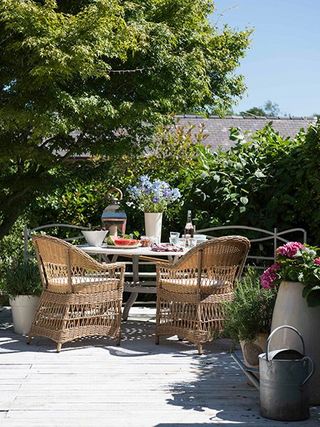 Kerrie painted the wooden decking in off-white masonry paint, and the wicker chairs are from Homesense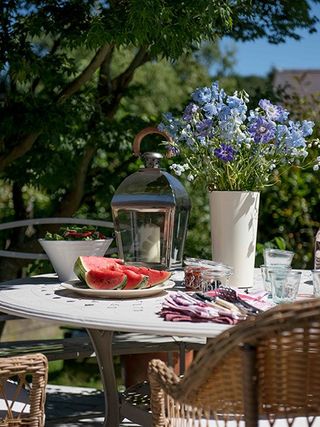 All set for a summer lunch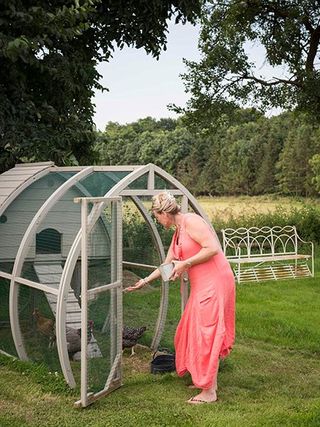 Kerrie feeds the chickens in a shady corner of the garden. The hen house is from Framebow