Rowing machines – or indoor rowers, or ergometers, or even just "ergs" – offer the closest thing to the fabled full-body workout that it's possible to get from a single machine, so if you're looking to invest in one piece of home fitness equipment, this might just be the one. We've rounded up the best rowing machines out there in this buying guide, so keep scrolling to find the best model for your home gym.
What to consider when buying a rowing machine
Initially introduced as military training devices, rowing ergometers mimic the motion of – you guessed it – rowing a boat in water. But these days, you'll no doubt be pleased to hear, they're less about figuring out the proper technique and timing for escaping a sinking ship, and more about working your key muscle groups with maximum efficiency.
Targeting the muscles in the back, legs and arms, as well as fulfilling your cardio quota, using a rowing machine is a great way to tone up, lose weight, and increase endurance. Plus, it's one of the lowest-impact ways to an aerobic workout, meaning you can work on your fitness without putting undue strain on your joints, as many other workouts are guilty of doing. This is especially great news if you're at the beginning of a weight loss journey, or suffer with joint pain. We're convinced! But which one do you go for?
The main difference between machines that may not be immediately obvious (excluding things like size and weight which will be dependent on your own space) is the type of resistance they utilise. Air resistance rowing machines are the most common — they generate resistance using the onboard flywheel, and while they feel authentic and are good for all fitness levels, they can be noisier than other types; magnetic resistance gives a similar feel, but tends to be much quieter.
For budgets and small spaces, we recommend a hydraulic machine that uses pistons for its resistance, as these tend to be more affordable and compact. Finally – and a bit of a wildcard – there's water. While offering the most realistic rowing experience, these machines are noisy and usually very expensive, but by far the best for experienced rowers.
1. WaterRower Oxbridge
This wooden water resistance rower has got collegiate cool down to a T
Specifications
Best for: Water resistance
Resistance: Water
Levels: N/A
Reasons to buy
+ Beautiful and useful + Very sturdy and easy to use
Reasons to avoid
- Enormously pricey
This indoor rower has a grand design to match its grand name. All sustainable solid cherry wood and matte black accents, it's a very fine piece that looks surprisingly comfortable in the home – but it's not just about the looks. It's the only rower on our list which uses water for resistance, for the most authentic experience this side of the boating lake, and its adjustable footrests and non-slip handle make for a comfortable workout. On the off chance that you don't want to show it off, it can be moved via the dolly wheels and stored upright until it's next needed. For its sturdy and beautiful construction, and ease of use and storage, it takes our number one spot.
2. Concept 2 Model D
The original rowing machine remains a solid choice for amateurs and professionals alike
Specifications
Best for: The gold standard
Resistance: Air
Levels: N/A
Reasons to buy
+ Very smooth to use + Easy to tailor to different users
Reasons to avoid
- Takes up a lot of space
If you're looking for a rower the whole family can use, consider this Concept2 model: the footrests are easy to adjust to each new user's height, and after watching their metrics tick along on the LCD display, they can pop a USB stick into the port and upload their individual workout data to a computer. More than that, it's easy to see how the world's best-selling indoor rower has earned that accolade, offering a supremely smooth ride and a handle comfortable enough to hold through even the longest workouts. If you're not seduced by the unusual looks of the Oxbridge (or are, but can't quite stretch to it), this is a very worthy runner-up.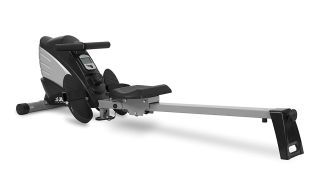 3. JLL R200
A budget home exercise machine that's great for beginners
Specifications
Best for: Budget
Resistance: Magnetic
Levels: 10
Reasons to buy
+ Very inexpensive + Sturdy and comfortable
Reasons to avoid
- Not many features (understandably)
Coming in at under £200, the JLL R200 is far and away our best budget model. It's sturdier and considerably more solid than most machines at this end of the price range, but is still easy to fold down or move using the wheels at the base if space is too limited to have it out permanently, and the pedals and foam-filled padded seat are comfortable enough to use for long periods of time. The ten levels of magnetic resistance may not be enough for more experienced rowers — for that matter, if you are an experienced rower, you'll wish to go for something with more frills — but if you're just starting out or won't be in your home gym all day every day, it's a superb buy.
4. JTX Freedom Air Rower
Compact and foldable, this rower is great for small spaces and tracks your every move
Specifications
Best for: Monitoring your workout
Resistance: Air
Levels: 16
Reasons to buy
+ Small and light to move + Great value versatility
Reasons to avoid
- Doesn't have the most functions
The JTX Freedom's name is a big giveaway – it has a small footprint and a light, foldable frame, giving you the freedom to move around, and an impressive eight different training programmes for the freedom to own your own workout, no PT required. The display offers lots of options for tracking your exercise, including speed, stroke, revolutions, and even, thanks to the included chest strap, heart rate. Hundreds of pounds cheaper than the WaterRower Oxbridge or Concept2 Model D, it understandably doesn't boast quite as much functionality as a higher-end rower, but for a great value, smooth and versatile machine, the Air Rower can't be beat.
5. Skandika SF-1150 Regatta
Get the most out of your investment with this rower and resistance machine
Reasons to buy
+ Work individual muscle groups or all together + Low-noise and easy to fold and store
Reasons to avoid
- Resistance may be too light for some
If you're worried about investing in a rowing machine that could turn out to be a one-trick pony, or think you might grow tired of a single-purpose tool over time, then consider this marvellous multi-purpose machine. You can use it as a regular rower or at two different angles while standing to work out your back or arms, great news if you prefer to focus on individual muscle groups on some days. While you work, the low-noise pulling system ensures you won't disturb anyone, a good antidote to louder flywheel machines for small flats – and the compact foldable design helps, too.
Want more advice on kitting out your home gym?