For healthy meals, an electric grill is the perfect buy. Typically, they feature a slanted grill surface that siphons off the fat so the meat doesn't reabsorb it. Alternatively, they're great for making the perfect panini, while some, like the George Foreman indoor and outdoor grill, can convert into a BBQ for convenient cooking in your back garden.
Sage by Heston Blumenthal is the range to rely on if you're looking for the best electric grill, or any kitchen gadget for that matter. While the appliances are expensive (our top pick, Sage by Heston Blumenthal the Smart Grill Pro is no exception), they offer you that bit more when it comes to functionality and finesse.
When you're looking out for the best electric grill for you, it's worth noting that electric grills are designed to be either open (flat and BBQ-esque) or contact (they open and close to cook meat from both sides). The only electric grill that comes under both categories is the Smart Grill Pro, which can easily convert between the two designs. If all you want is an electric grill that gets the job done, you can't go wrong with George Foreman.
1. Sage by Heston Blumenthal the Smart Grill Pro
Cook steaks, burgers and other meats to perfection with this snazzy electric grill
Specifications
Power watt: 2400W
Grease drip catch: Yes
Dishwasher safe: Plates only
Reasons to buy
+ Integrated temperature probe + 5 meat settings for cooking from rare to well done
For tender, juicy steaks, even when you prefer yours well done, this electric grill designed by wacky chef Heston Blumenthal shouldn't let you down. It features five settings for cooking rare to well done and all levels in between. Use the probe to test whether your meat is at the right temperature for resting so the residual heat doesn't overcook your steak, and thanks to its fast searing capabilities, the grill locks in all the juice for a piece of meat full of flavour.
2. Tefal Optigrill+ Grill
For perfect cooking, no matter the size or thickness of the meats on the grill, choose the Tefal
Specifications
Power watt: 2000W
Grease drip catch: Yes
Dishwasher safe: Cooking plates and drip tray
Reasons to buy
+ Cooking sensor automatically adapts cooking temperature + 6 automated cooking programmes for popular grilling ingredients
Coming in much cheaper than the Sage electric grill, this alternative by Tefal also delivers on the technology front. From a sensor that detects the thickness of the meat and automatically adjusts the temperature, to the cooking level indicator which lets you know when your meat has been cooked to your liking, there's plenty of factors that make this electric grill worthy of our top 5. Perhaps its most favourable function is its six automatic cooking functions, which enable you to cook burgers, sausages, poultry and fish to perfection.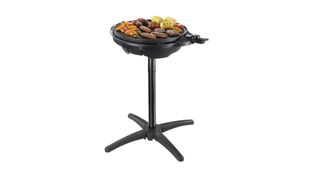 3. George Foreman Indoor and Outdoor Grill
Perfect for your winter health kick and summer indulgences
Specifications
Power watt: 2400W
Grease drip catch: Yes
Dishwasher safe: No- plates are non stick for easy wiping
Reasons to buy
+ Includes a stand for indoor and outdoor conversion + Large enough to cook up to 15 pieces of meat
If you like to be savvy with your money, this electric grill can double up as table top cooker and BBQ. Whether you're taking on the cooking responsibilities at a summer BBQ or cooking a healthy mid-week dinner for the family, this trusty George Foreman should enable you to do it with ease. You can easily control the temperature of the electric grill so it provides the right amount heat for cooking different meats or fish. The outside temperature gauge will enable you to keep an eye on the temperature inside, too.
4. Cuisinart Griddle & Grill
From pancakes to paninis, cook up a storm with Cuisinart Griddle & Grill
Specifications
Power watt: 1600W
Grease drip catch: Yes
Dishwasher safe: Cooking plates
Reasons to buy
+ Reversible cooking plates, flat and ridged + Open fully if cooking for large groups
If you're looking to get plenty of use out of your electric grill, go for a great all-rounder. It features double sided plates; ridged for steaks and panini and flat for pancakes. If you love toasting panini for lunch, the floating hinge adjusts to administer the right amount of pressure. There's also 5 heat settings which will ensure perfect cooking for all ingredient types, whether it's meat, fish or vegetables.
5. George Foreman 4-Portion Family Grill and Melt
A multi-functional grill that doesn't cost an arm and a leg
Specifications
Power watt: 1500W
Grease drip catch: Yes
Dishwasher safe: Grill plates
Reasons to buy
+Great for family meals+Handy 'melt' mode
With the capacity to cook up to four portions, this is the ideal electric grill for families. It features the classic George Foreman slope design which drains off as much fat as possible and non stick plates which remove the need for you to use oil or butter when cooking. You can use the 'melt' function to create the perfect cheese toastie or garlic bread, while the floating hinge allows you to place thick panini or pieces of meat on the grill.
Read more
Like the sound of cooking al fresco, a la the George Foreman Indoor Outdoor grill? Take a look at our favourite chimeneas with built-in grills and pizza ovens to up your barbecue game.