There are almost as many types of people who enjoy yoga as there are poses — and trust us, that's a lot. With that in mind, it's no wonder that finding the best mat for your home gym can be a bit of a minefield. But fear not, because we're here as your own personal gurus to help you find the yoga mat that'll keep your warrior pose strong and your scorpion fearsome.
What to consider when choosing a yoga mat
For those with painful knees or sensitive feet, a mat with extra padding (think 5 or 6mm thickness) is a must for keeping comfortable through long practices. If you're young and sprightly (you lucky thing) you can get away with anything from around 3mm thick.
PVC and rubber are common materials for yoga mats to be made from, and are what you'll most often find hanging in the racks at the gym, and with good reason — they tend to provide excellent grip and a non-stick finish, so you won't go flying out of crow pose, or slipping around while you're channeling the cobra.
There are other options, however, if rubber doesn't float your boat. In our buying guide, you'll also find a yoga-mat-meets-towel for the ultimate exercise in packing light, an absorbent option that's perfect for sweaty hot yoga or other high-intensity classes; and a natural slubby linen option that looks elegant for yogis and yoginis alike.
1. Yogi-Bare 4mm Professional Studio Yoga Mat
A bare necessity for the beginner yoga enthusiast
Specifications
Best for: Non-slip
Materials: Rubber and polyurethane
Mat thickness: 4mm
Dimensions: 180cm x 66cm
Reasons to buy
+ Very grippy + High-end feel for a reasonable price
Reasons to avoid
- A little narrower than the average
This non-slip, ultra-grip yoga mat is ideal for beginners trying out trickier poses, staying put no matter what you throw at it. This user-friendly feature is also what makes it great for hot yoga, making sure there are no sweaty palm-related incidents or potentially injurious slippage. At 4.2mm it's thick enough not to irritate sensitive joints, but not so thick that it'll hinder your flow. Great all round, if perhaps a little pricey for first-timers.
2. Yoga Design Lab The Combo Mat
Stand out in the studio with one of these eye-catching mats
Specifications
Best for: Design
Materials: Biodegradable tree rubber, microfibre
Mat thickness: 3.5mm
Dimensions: 178cm x 61cm
Reasons to buy
+ Good-looking range of designs + Mat and towel in one
Reasons to avoid
- On the heavier side
For funky yoginis, this is the statement-making mat to get. From on-trend aztec prints to pretty mandalas, ultra-cool geometric designs to calming sea scenes, there's something for all tastes. Even better, it's low-key functional, with its absorbent quick-dry construction acting as a mat and towel in one. After any particularly sweaty practice, just throw it in the washing machine. Pretty and practical.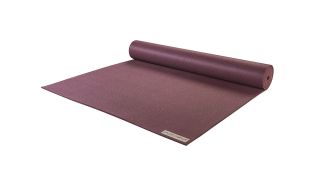 3. Jade Harmony Professional Mat
An eco-friendly mat for the earth-conscious yogi
Specifications
Best for: Grip
Materials: Rubber
Mat thickness: 6mm
Dimensions: 183cm x 61cm
Reasons to buy
+ Great grip + Eco-friendly policy
With its open-cell rubber construction, this mat is the grippiest on our list, perfect if you often find yourself upside down or practicing challenging core-strengthening poses. While the solid colour design isn't the most inspiring on our list, there's a nice range of shades to choose from, and the performance speaks for itself. Good news for tree-huggers, too: for every one of these mats sold, Jade Harmony plants a tree. Everybody wins!
4. Yoga Mad Warrior Plus (6mm)
Sensitive yoga enthusiasts are sure to love this super-squidgy mat
Specifications
Best for: Cushioned comfort
Materials: PVC
Mat thickness: 6mm
Dimensions: 183cm x 61cm
Reasons to buy
+ Great for painful joints + Very reasonable
Reasons to avoid
- Doesn't offer great grip
Building on the success of the Warrior mat, the Warrior Plus from Yoga Mad is another great budget buy, this time focusing on those of us with injured, painful or sensitive joints. With an impressive thickness of 6mm, it packs extra cushioning for maximum comfort during practice. It isn't the best non-slip offering though, so for hot yoga or tricky inversions, consider something with a slightly grippier surface.
5. PrAna E.C.O Yoga Mat
Get your om on in the great outdoors with this weather-proof mat
Specifications
Best for: Outdoors
Materials: Thermoplastic elastomer
Mat thickness: 5mm
Dimensions: 186cm x 61cm
Reasons to buy
+ Textured for great grip + Cushioned but lightweight
Reasons to avoid
- Only two shades
If you like to get back to nature by doing your practice out in the open, whether it's as part of a group in the park or in the privacy of your own back garden, make this outdoor yoga mat your go-to. It's durable and double-sided, and UV-treated to keep the colour from fading, with a lightweight construction that means you can take it anywhere. Plus, the textured thermoplastic keeps everything where it should be, including your hands and feet.
Looking for more home gym inspiration?