Wireless keyboards have long been the reserve of the commuter, the student (well, the kind that actually takes notes, anyway) and other diligent sorts who tend to do most of their working on the fly. But have you ever considered them as a home office accessory? Well, we have, and if you're willing to buck convention a little, we think they can really help free things up. After all, a desk without wires is an uncluttered joy, so whether you're in the process of cultivating that perfect, Instagram-ready minimalist aesthetic, or you just can't be doing with cables all over the place, picking up one of our best wireless keyboards might just be the way to go.
Even if you don't have a dedicated desk (actually, especially if you don't) a wireless keyboard can prove a good investment. So long as you stay within range to avoid the connection getting wobbly, you're untethered from your device, so you can prop your iPad up on the coffee table while comfortably typing from your lap on the sofa, or make more space for two collaborating across the kitchen table.
Typically, a wireless keyboard works with Bluetooth to pair up with your desktop computer, your tablet, or even your smartphone. While pretty much everything comes equipped with Bluetooth these days, if you scroll through our list and have your heart set on one in particular, it's a good idea to check out the manufacturer's website to make sure it's compatible with the device you already own. Others, such as our two picks from Microsoft below, use a dongle (not as rude as it sounds), a wireless transmitter that plugs into one of your computer's USB ports, which is all very well and good so long as — and this is very important — you don't lose it.
Not just looking to go wireless? See our pick of the best keyboards.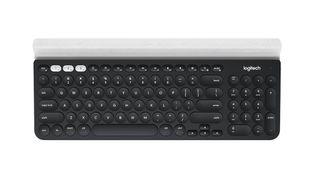 If you have more devices than you know what to do with and can barely keep track of which document lives where, Logitech have come up with what might just be the ideal solution. The K780 is a multi-device keyboard that allows you to switch, with the touch of a button, between up to three devices at once, and it's that versatility that ultimately earns it the highest spot in our list. A great alternative to a permanent setup for a smaller or office-less home, its rubber cradle holds your device upright on any surface, and its distinctive round keys are designed to be whisper-quiet so as not to disturb disgruntled family members, even if you're working in the same room as they're relaxing.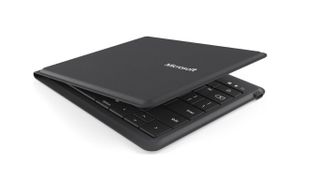 Don't have a permanent setup or dedicated office space? If you find yourself working from the kitchen table or coffee table, and balk at the idea of finding somewhere to store a full-sized keyboard, this foldable version from Microsoft is a clever option. It folds down to just 5mm thick and some reviewers have even slipped it into their pocket for work on the go, so stowing it in the sideboard or stuff drawer shouldn't be a problem. It's also universal, meaning it works with the major operating systems, including mobile, so if your household is a split of Android and Apple, there's no need to choose a side, it works for all!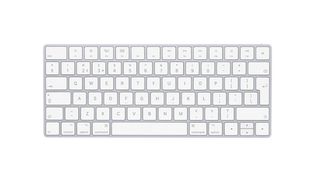 If you're a first-time Mac buyer and you're a little alarmed by the set-up costs, trust us, we get it. But if there's room left in the budget, there's really nothing better than an official Apple keyboard to go with it. The Magic Keyboard pairs instantly with iMacs and Macbooks, meaning no faffing around with drivers, and frankly, it just looks so much more cohesive than something in chunky black plastic. It's slim and streamlined, with low-profile keys that take very little pressure to register, and this newer version comes with a built-in, long-lasting rechargeable battery, a big improvement on the older double AA-eaters.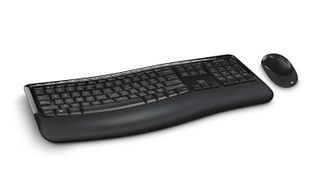 Ergonomic keyboards may not be few and far between anymore, but they can sometimes look a bit bulky and unwieldy on the desktop. Microsoft have overcome that with the Wireless Comfort Desktop, with its sleek curved palm rest and relatively low profile meaning your wrists won't be held up a foot in the air, but you'll still be supported by the ergonomist-approved design — yes, that's a thing! Reviewers found it to be comfortable, which is obviously its main selling point, but with customisable shortcut keys and an ambidextrous wireless mouse included, it also looks to be a pretty good all-rounder.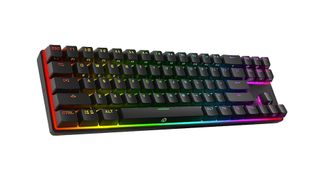 Without going too deep into the associated jargon (NKRO, anyone?) all signs point to this high-tech, high-spec keyboard being a winning buy for PC gamers. In a nutshell, the best gaming keyboards should have customisable backlighting, to keep your most-used keys in sight during an intense all-nighter, and the ability to register as many keys as you can physically hold down at once, ideal for super-fast typers — and as luck would have it, the DREVO Calibur has both. Reviewers were really impressed with the quality of this mechanical keyboard, especially for the price, we're particularly taken with the fact that you can choose between seven different lighting effects for added ambience during late-night play.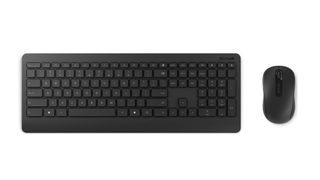 It might be slightly lower-end than its ergonomic cousin, but if you're simply in the market for a good mid-range wireless keyboard — and included wireless mouse, to boot — it may well be all you need. Microsoft promise a "serene typing experience" courtesy of the keyboard's quiet-touch keys, and it boasts a slim, sleek, low-profile design, so if you appreciate the shared modern aesthetic and lack of clickety-clack, this could be a good PC-friendly alternative to the Apple Magic Keyboard.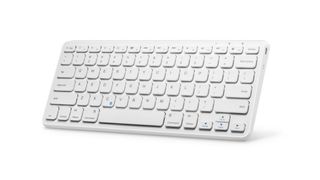 The most versatile keyboard on our list, this universal wireless keyboard from Anker plays nicely with pretty much every device and desktop. It's compatible with the big four operating systems, namely iOS, Android, Mac OS and Windows, so whether you're surgically attached to your iPad or constantly tapping away on a Samsung Galaxy, Anker assure us that setup will be frustration free. It's also very compact, taking up two thirds of the space that a traditional keyboard does, so if you don't have much surface to play with, this makes a good space-saving option.