With one of the best multigym for home machines, you will be progressing with your fitness journey more consistently than ever, and feeling better than ever as summer rounds the corner. Great for toning all areas of the body, from legs to arms, these machines mean that you don't need to waste any motivation getting to and from the gym.
The size, price and capabilities of the multigym for home machine that you opt for are all crucial to consider as you begin your journey to fuss-free workouts at home. Be sure to factor in how much space you have to spare, and the kind of features you want built-in, like a hip abductor or shoulder press, so that you can really excel in the types of workouts that you like.
The top-rated options when it comes to the best multigyms are a sure-fire way to squeeze more workouts in, especially if you're still WFH and can get your exercise done within your lunch break. For more solutions to help you work out at home, check out our buying guide to the best home gym equipment.
---
The best multigyms for home use 2022
Why you can trust Real Homes Our expert reviewers spend hours testing and comparing products and services so you can choose the best for you. Find out more about how we test.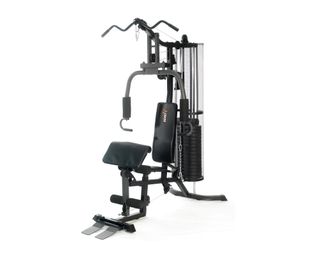 We love the DKN Studio 7400 as it's both affordable and versatile, making it the ideal choice if you want to keep up with your goals at home, but aren't looking to spend a fortune in the process. With a weight stack of 80kg and the variation needed to perform training on all aspects of the body, with this home multigym you'll be beating your fitness targets in no time at all.
What reviewers love
Those who have used the DKN Studio 7400 are impressed with the sturdy, solid design as well as the high overall quality of the materials and finish. It's also a winner with users due to the wide range of exercises possible, which gives plenty of variation to workouts and allows you to keep on progressing.
Design specs
The multi-position seat of this multigym allows for the user to move around and adapt their workout with ease, while also providing extra padding for support. In essence, you can use this machine to do everything from arm curls to pull-ups, shoulder presses, hip abductors and more, so that you'll be feeling stronger and more confident in no time. It comes with a high and low pulley too and has a maximum user weight of 150kg.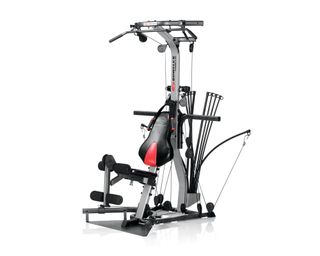 This is the best multigym for those who don't have much space in their home. It's also super lightweight which makes it easy to manoeuvre into your desired position, and compact enough so that it can be stored in a smaller room or a tiny home gym or garage.
What reviewers love
There are copious impressed comments on this multigym's compact nature making it an excellent choice for your home if you don't have tonnes of spare space. That being said, what it lacks in size it definitely makes up for in features, as reviewers are super happy with how versatile it is. All in all, it can be used for 70 different exercises! Its sturdiness is also raved about, as is the fact it's apparently easy to assemble.
Design features
The Bowflex Xtreme 2 SE Home Gym works via resistance rather than a weight stack. While some people may prefer this, others may not as it can feel a lot different to free weights. If you suffer from joint pain, the resistance method is designed to give you the same workout as free weights, without the strain on your joints. And, the chair is fully adjustable and ergonomic in order to reduce the risk of injury. It also comes with a polyurethane cushion for added back and knee support.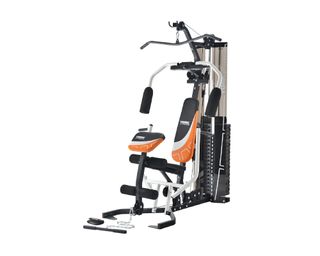 If you're looking to make one of the best multigym purchases, then this option from York Fitness is an affordable and effective place to start. With a 100kg weight stack and the opportunity to work your chest, legs and arms there is plenty of versatility to be found in this machine, and an opportunity to get motivated with all of your fitness goals. With this not too expensive investment, working out at home can be easier than ever.
What reviewers love
This multi gym has earned praise for its weight range which allows users to build on their hard work week-on-week. It's also a compact addition to your home, meaning it won't have too much impact on your aesthetically laid-out spare room, and even less on your garage where you can stash it away.
Design features
For those new to weight training, the max weight of 100kg may be a little too much, but those used to using this sort of equipment in the gym will be grateful for the chance to progress at home. This multi gym also promises a smooth workout thanks to its design, with sealed bearings and a Y-frame for sturdiness. As with any home workout equipment, the compact design of the York Multi Gym is a huge plus too and means you can really separate out your relaxing and exercising spaces.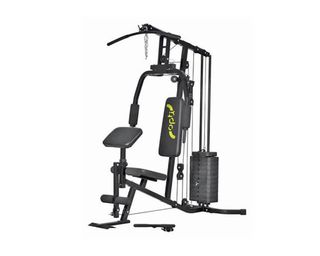 Ideal for beginners and frequent gym-goers alike, this multigym features a range of exercise options all at a very affordable price. It also comes in 50kg, 70kg and 100kg options.
What reviewers love
With a particular nod to its more affordable price, this multigym is much loved by reviewers. It's apparently surprisingly easy to build, and it's said to cover all your exercising needs – you can definitely use it for a full body workout. Though labelled sturdy, some say that it's ideal for amateurs.
Design features
The Opti 50kg Home Multi Gym lets users do everything from front press and butterfly to low rowing, triceps press, ab crunches, leg extension and much more. Its weight stacks are filled with 50kg of cement providing 65kg maximum resistance. Not only is this machine easy to assemble once it arrives at your front door, but it's also less bulky than other machines making it an ideal piece of kit to have in your spare room.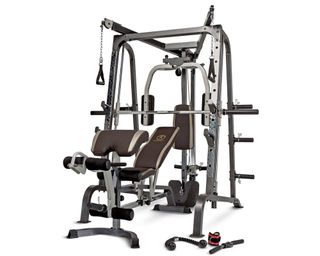 If you want a multi gym that will be worth your time and money, then this is it. Why? We think it's the best multigym on the market for working out every part of the body. Hence its large size and somewhat large price tag.
What reviewers say
Those who have this machine say it is very sturdy and smooth to use, and it's great for both beginners and more advanced training. Since it's pretty large, you'll need a lot of space to enjoy it. Though some reviewers do say that it's just as good as you would find in your gym. It's worth noting that the 272kg weight stacks don't come included, though.
Design features
Although this Marcy model is a single station machine, it can be used as a smith machine, power rack and cable gym all in one. Be aware that the weight stack plates for this multigym are sold separately – but on the bright side, this does mean you have more control over how much weight you add to your machine. This means you can train any and every muscle you have on this one machine. Understandably, it's rather large so you will need a fair bit of room to accommodate it.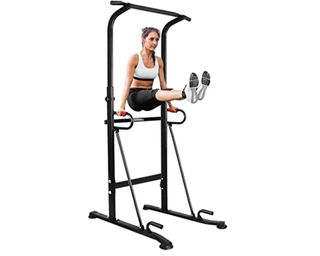 The ONETWOFIT Power Tower is great for those with a small budget and an even smaller amount of space. It doesn't come with any weights – you can use yourself as a weight – and on this workout station, you can find three levels of height adjustment from 202cm to 220cm.
What reviewers love
With lots of comments from reviewers that this multi gym is easy to assemble and great value for money, it's also reportedly surprisingly sturdy.
Design features
It's made from heavy-duty metal so it can withstand up to 330lbs at any one time, while it boasts a stable base that's adjustable. Use it for pull ups, chin ups, dips, vertical knee raises, push ups and more. With a thick backrest and armrest that are both made from PU leather, this basic multigym is comfortable and non-slip, so it's safe to use. It has a U-shaped frame base also, while the assembly is easy. Though it's not a multi-gym in the way the others on this list are, it can still be used for doing multiple exercises so it fits the bill.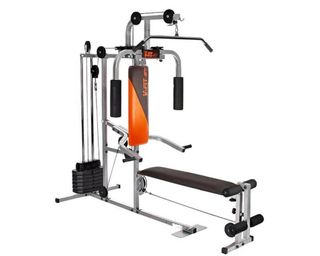 Those who still aren't convinced whether to buy their own multigym may want to try this one out for size. It's entry-level and also one of the most affordable recommendations on this list.
Whats reviewers say
Several users found it to be surprisingly impressive for the cost. One feature particularly boasted about was its fold-away bench. This helps keep your room looking neat and tidy when the machine isn't in use. While it does take a little while to put together (apparently the tools that come included aren't very good), once up it's reportedly strong and sturdy.
Design features
Also, since it provides up to 64kg of resistance, it can be assembled or moved to almost anywhere in your home without the worry of damaging your floor. While all our other options feature an upright seat, this model features a traditional lay-flat bench press design for those who like to work out their chest and tricep areas. If you have older children who'd like to use the machine, it has an adjustable seat to adapt to different users, and weights are included. It's also fuss-free when it comes to cable changes.
---
What to look for in the best multigym for home
The first thing to consider when buying the best multigym is which fitness goals you want to achieve with its help. If you want to focus on your core strength, then a pull up station might be a more affordable place to begin, and let you use your bodyweight to work up a sweat. If you know you want to start weight training, then factor this into the type of machine you choose, as well as ensuring there's enough of a range of weights so that you're testing yourself far into the future.
It's also great if you can find a multigym that has good portability, including wheels, so that you can reclaim back your home gym space when you have guests. If you're on a budget, then make sure you're actually going to use all the features you're paying for. One good tactic is to first write down all of the features that you want, and then to begin your search, rather than allowing yourself to be distracted by other perks as you shop.
How we chose the best multigym for home
Though we haven't had a chance to test out these multigym machines just yet, there was a number of extremely important criteria that we covered as we put together this list of the top-rated options. From checking different user reviews, as well as ensuring the quality of the materials, we formed a picture of what really is the best out there, and then ranked them depending on what shoppers might be searching for – such as more affordable models.
More fitness deals
Buying a load of home gym equipment? Whether you are building your own home gym or you just want to invest in a few of the basics, such as the best treadmills or the best cross trainers, you can find lots of home gym and fitness offers below.