Spotting wildlife in the garden can be one of the biggest thrills for gardeners, whether it's a snuffling hedgehog, a curious fox, or everyone's favourite, garden birds. The best way to get the latter into your garden, aside from providing some juicy mealworms or high-energy suet balls, is to give them shelter, which is why we've rounded up the best bird houses for gardens – and visitors – of all sizes.
When you've chosen the perfect bird house, head to our sourcebook of top garden retailers for more garden-related shopping. Find out too how to create a wildlife garden in our guide.
What is the best bird house?
Why you can trust Real Homes Our expert reviewers spend hours testing and comparing products and services so you can choose the best for you. Find out more about how we test.
Our best bird house is the Posh Totty Designs Interiors Colourful Caravan Bird House – it's colourful and fun, but also spacious and suitable for all kinds of birds that come to visit the garden. For the design conscious, the Hanging Bird Box by Roost is a great option.
How to buy the best bird house
Best places to buy bird houses
Of course, garden birds come in lots of different shapes and sizes, from golf ball-sized blue tits to proud starlings. As a general guideline, according to the RSPB, you'll need a bird box with a 25mm hole for blue, coal and marsh tits; 28mm for larger great tits, tree sparrows and pied flycatchers; 32mm for house sparrows and nuthatches; and 45mm for starlings.
Once you've chosen the size, consider the position. Make sure that you place your bird box somewhere out of the strongest sunlight and wind, and that your guests will have a clear flight path to the box without any obstacles.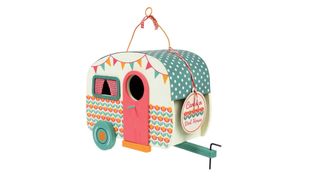 Avid caravanners are sure to adore this vintage-style caravan birdhouse, but its bright colours, retro patterns and overall appeal are set to be a hit with anyone with an eye for the undeniably cute. Every detail is thought through, from the gingham curtains in the window to the trompe l'oeil bunting, and the bright pink, yellow and blue colour scheme means you'll always be able to keep an eye on it, and its lodgers, from the house. Reviewers loved the quality construction as well as the design, saying it makes a wonderful gift.
Shop more bird houses at Not On The High Street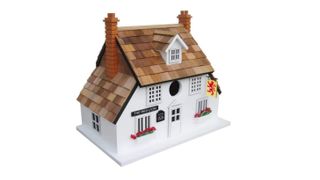 Rustic wooden bird boxes are rightly popular and widely available, but if you really want to go the extra mile, a novelty bird box like this one by Garden Bazaar may be just the ticket. Styled after a country inn, it's delightfully realistic in its little details like roof shingles, window boxes, brick chimneys and Red Lion swinging sign. Some reviewers did find that these details could make the bird house a little delicate compared to more rustic options, so it's recommended you find a sheltered spot for it to maximise the joy and longevity.
Shop more bird houses at Amazon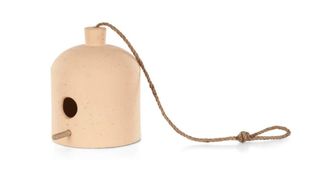 This earthenware bird box is one of the most minimal options out there, making it ideal for avid ornithologists who don't want to give over their carefully curated aesthetic to something that'll stick out like a sore thumb. Its curved, clean lines and speckled sand colour, a little like an eggshell, give off a distinct Mediterranean vibe, while the small protruding dowel gives prospective tenants a place to perch, and the small hole keeps chicks out of sight of predators on the ground.
Shop more bird boxes at Made.com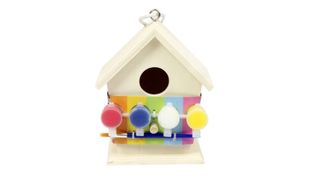 As a gift for kids who love wildlife, or for anyone who loves getting a bit arty with their homewares, this paint-your-own wooden birdhouse is just the thing for getting creative and giving nature a home in one fell swoop. The solid wood birdhouse has a short perch for small birds and a high-up entry hole that ensures nothing gets its sights on chicks or food inside. Reviewers found it was solidly made, especially for the bargain price, and while the included acrylic paint may suffer a little in the British weather, a coat of varnish comes recommended for longevity.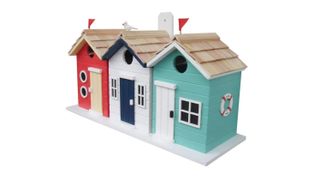 Whether or not you live near the coast, you can bring a beachy air to your garden with this fun nautical-themed birdhouse. In actual fact, it's more of a terrace, with three distinct beach huts, each with their own personality, set into a common base, and three front doors. These are ideal for colonial nesters like tree sparrows and house martins, although if they're not particularly territorial and there's an abundance of natural food in your garden, you may be lucky enough to have a range of species moving in.
Shop more bird houses at Wayfair
Read more: