Need the best yoga mat to stop your hands from slipping when in downward dog? Perhaps you'd like one to soften the blow on your elbows when planking? We can advise you on the top yoga mats to spend your money on. Whether for home use – in your living room or bedroom – or to take back to the gym (hopefully soon). Maybe, you'll roll out your new mat in your home gym – lucky you!
We've handpicked the very best yoga mats on the web, some of which are eco-friendly, others are super portable and selected buys are super thick for those with hard floors or sensitive joints. We've chosen these exercise mats based on their online reviews, from people (including us!) who have tried, tested and loved them.
For more top buys for working out from home, check out our best home gym equipment guide.
---
The best yoga mats
Why you can trust Real Homes Our expert reviewers spend hours testing and comparing products and services so you can choose the best for you. Find out more about how we test.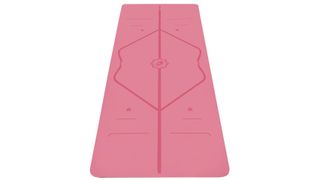 Comfortable, practical and super grippy, this Liforme Yoga Mat is the best you can buy – for home and in the studio. Not only is it the perfect thickness, but it features incredible non-stick properties and it's eco-friendly. That and so much more...
What reviewers love
We're yet to try out this Liforme yoga mat, though we've only ever heard good things about it. Notably that it's worth every penny, it's simply amazing for doing downward dog (no slipping hands!) and it really is designed to stay just in place. Unsurprisingly, lots of reviewers claim that it's also great for correcting alignment issues.
Design features
This mat has boasts the ultimate non-slip – it's made from ground-breaking "GripForMe" material, after all. PVC-free, biodegradable (within one to five years) and non-toxic, it ticks all our boxes. It even has alignment markers to prevent injuries, and to help you excel at yoga from home.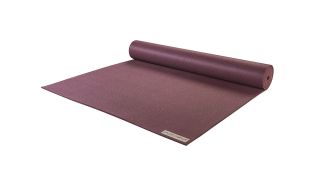 With its open-cell rubber construction, this yoga mat is the grippiest on our list. It's the best yoga mat if you often find yourself upside down or practising challenging core-strengthening poses, in our opinion.
What reviewers love
This yoga mat is rated our best non-slip option because reviewers rave about this feature. Even when practising hot yoga, it does the job! It's also super durable (although it is biodegradable) as some people claim to have been using it for years and years, on a regular basis. According to most people, you need to break this mat in – don't judge it on first use.
Design features
While the solid colour design isn't the most inspiring on our list, there's a nice range of shades to choose from, and the performance speaks for itself. Good news for tree-huggers, too: for every one of these mats sold, Jade Harmony plants a tree. Everybody wins!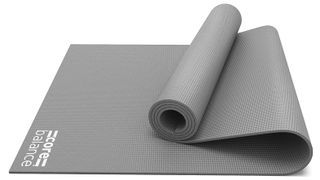 What this Core Balance yoga mat lacks in price it definitely makes up for in features. A total bargain, we've tried, tested and we love it. And for under £15, you can't go wrong.
What we love
We've been using this yoga mat for a while now, and so far we have no complaints. It's great for yoga and to use during an exercise class. You'll notice the thickness when you are on your knees, hands or elbows for a long. Talking of thickness, it's great for use on hard flooring – specifically laminite. And, it rolls away to be stored after use. It's easy to wipe clean, it's super sticky and it's foamy so bounces back after use. It also comes with a strap for carrying, whether you want to take it outside or not.
Design features
This great yoga mat is 6mm thick, it's super dense and it has superior stickiness. It comes with a carry strap and it's easy to clean – just wipe if needed. It comes in five different colour options. Basic, yet it definitely does the job.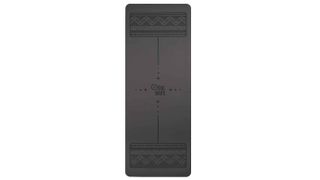 The Yogi Bare PAWS Yoga Exercise Mat ticks all our boxes. It's particularly great for beginners, though long-term yogis will love it too. This mat features alignment markers to see where to put your hands and feet when in a pose.
What reviewers love
We're yet to get our hands on this yoga mat to test it ourselves, but reviewers rave about its non-stick finish – even when sweaty the mat won't slide around your hard floor. As for carpet? Movement is minimal when in use. The mat should be rolled up after each use – no strap or bag required as it'll stay rolled on its own – as folding may damage it. Lots of people who have tried (and loved) this mat rave about its markers, particularly the centre one which is handy for making sure your hands and feet are aligned.
Design features
This mat comes in a range of colours and sizes, while it's made from 100 per cent natural PU rubber which is both biodegradable and recyclable. Colour-wise, only natural plant-based dyes were used in the making process – no toxic inks. It's also easy to clean using lemon juice and water. It measures 4mm thick so if you are using it for more than yoga – planking, sit ups, crunches.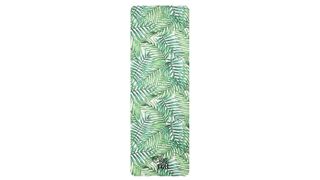 This non-slip, ultra-grip yoga mat is ideal for beginners trying out trickier poses, as it promises to stay put no matter what. This user-friendly feature is also what makes it great for hot yoga or Bikram, making sure there are no sweaty palm-related incidents or potentially injurious slippage. Rest assured it won't hinder your flow.
What reviewers love
We're yet to try out the Yoga Bare Teddy matt, but reviewers who have given it a go say that it's great if you get super sweaty palms and feet while doing yoga – hot or normal. It's quite thin so depending on your preference, you may prefer to use it on top of another yoga mat. You can fold it or roll it away, but it doesn't come with a carry strap or bag, just something to bear in mind.
Design features
With a sweat adaptive highly absorbent microfibre towel surface, it actually becomes grippier the more you sweat. With a 100 per cent natural rubber base, it's also eco-friendly and free from PVC and toxic dyes. At 2mm it's happily lightweight and it can be washed in the machine after use. Great all-round, if perhaps a little pricey for first-timers, however, it more than deserves our top spot as the best yoga mat for practising hot yoga.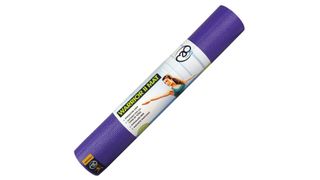 The Warrior Mat Plus is a great budget buy, and it can be bought from Amazon. Who is it best for? Those with injured, painful, or sensitive joints – this is thanks to its impressive thickness of 6mm.
What reviewers love
The Warrior yoga mat is loved by online reviewers, with some claiming it's particularly impressive for the low price. Its thickness is mentioned a lot in reviews, especially by those who get sore knees when doing yoga. In relation to it being non-stick, reviews are mixed – some praise it, others say it takes time, few say it's not there.
Design features
This yoga mat packs extra cushioning for maximum comfort during practice. It isn't the best non-slip offering though, so for hot yoga or tricky inversions, consider something with a slightly grippier surface.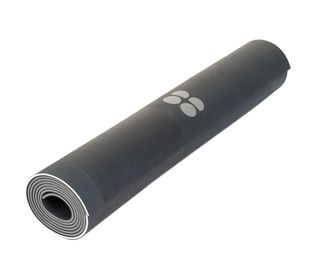 If you've been practicing yoga for a while and fancy upgrading your mat to something more high-end, then this Sweaty Betty mat is the perfect splurge for you. Made with premium biodegradable materials, this mat prides itself on having super grip powers and comes in three shades.
What reviewers love
Users love how grippy and spongy this mat is, with one user saying they felt totally comfortable upside-down balancing on it. This mat has earned plenty of five-star reviews for living up to the promises in its name, as well as the genera high-quality feel of it.
Design features
This mat is sustainably made and has a high-end non slip design, making the extra few pounds money well spent. We love the cornflower blue shade that's available, as well as the fact that it's really lightweight, making it perfect for carrying around as you do your errands before your session.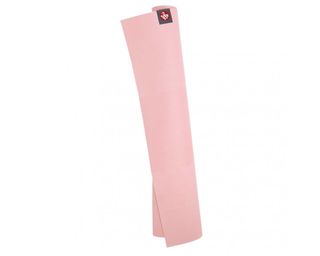 This PVC-free yoga mat is the portable choice you need for when you're on the go, weighing in at just 1kg. It's also anti-slip and made from 100% natural rubber, so you can rest easy in the knowledge that you're shopping sustainably. Simply slip this mat into your handbag or suitcase, and retreat to your yoga practice whenever you need to.
What reviewers love
With a wide collection of five-star reviews on Amazon, it's easy to see why users love this yoga mat for when they're on the go. Users love being able to fit this mat in their suitcase when they take a holiday, as well as using it over mats in gyms to get that essential extra grip. It's also well-loved for the fact that's easy to bend and squeeze into carry-on bags and cases, so even if you pack a little more than you need, you can still fit this mat in.
Design features
If you're super conscious of what your workout equipment is made of, then you'll be glad to hear that this mat has no PVC, toxic plasticizers or harmful dyes within its design. It has an orange peel surface texture for excellent grip, and won't absorb any sweat, dirt or bacteria into its core. Most importantly, you can fold it over rather than rolling it, making it absolutely perfect to fit into your bags.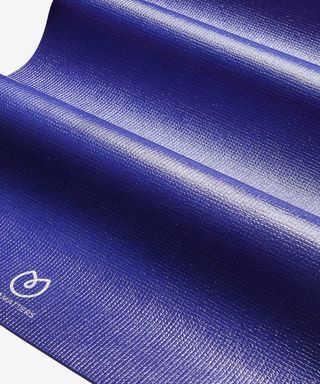 Making sustainable purchases is more important than ever right now, and with this mat, you can rest comfortably knowing that it's made from recycled materials that would have otherwise gone to waste. It's also perfect for taller yogis, who might traditionally struggle to find a mat long enough for them, at 190cm in length. This innovative design means you can feel proud of your purchase as you practice, making for good vibes all around.
What reviewers love
Users love the sustainable credentials of this mat, as well as the fact that it remains super sticky beyond the first few uses. One reviewer said it was great for staying grounded in standing poses, and the vibrant colours on offer are also a total hit.
Design features
Available in two different shades of blue, this mat excels when it comes to sustainability. Half of the materials are made from excess manufacturing materials that would usually just be thrown out, yet the quality of this mat is amazing, with the same high quality as the brand's leading product. Plus, as it's non-toxic and latex-free, this is the perfect addition to any eco-conscious yogi's house.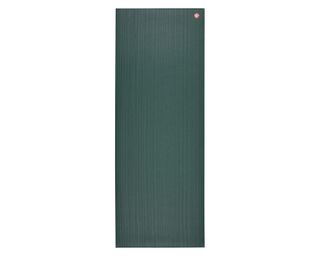 This Manduka Pro yoga mat is the dream for anyone who wants to reap the rewards of spending a little more when it comes to their setup. With a lifetime guarantee against peeling, flaking or fading, this mat is the perfect purchase if you want to just buy once and never again. We love the fact that the grip on this mat only improves with use, and the eight shades available to buy it in.
What the users say
This mat has rave reviews, especially from users who found their practices easier when using it. One review said that they could sink deeper into a pose than ever before, and has an ideal balance between cushioning and support. What more can you wish for?
Design features
This mat is pretty clever in a lot of ways, with technology that means sweat and dirt can't break the surface and ruin your hard-earned purchase. It also has ultra-dense cushioning, so you can get a world of stretches and poses.
---
How to choose the right yoga mat
Material
PVC and rubber are common materials for yoga mats to be made from and are what you'll most often find hanging in the racks at the gym, and with good reason — they tend to provide excellent grip and a non-stick finish, so you won't go flying out of crow pose, or slipping around while you're channelling the cobra. You can also opt for a yoga-mat-meets-towel for the ultimate exercise in packing light – an absorbent option that's perfect for sweaty hot yoga or other high-intensity classes.
Thickness
For those with painful knees or sensitive feet, a mat with extra padding (think 5mm or 6mm thickness) is a must for keeping comfortable through long practices. If you're young and sprightly (you lucky thing) you should be able to get away with anything from around 3mm thick.
Size
It's a smart idea to consider your height when choosing a yoga mat. The majority of them are around 180cm long by 60cm wide. Oh, and be sure to check whether they are foldable or rollable, or storing will be a nightmare.