Looking for the best water bottle to help keep you hydrated at all times? Whether it's to ensure you have water on tap during your home workouts, if you need something compact to take with you on a run, if you want something to encourage you to drink more water throughout the day or if you're trying to be more eco-friendly – we have you covered.
We have rounded up six great picks to suit all different levels of hydration (and personal style) needs. All of these can be delivered right to your door, so there's no need to leave the house unnecessarily, and if you're after more motivation and ways to keep fit during this bizarre period, check out our guide to the best home gym equipment to get you moving.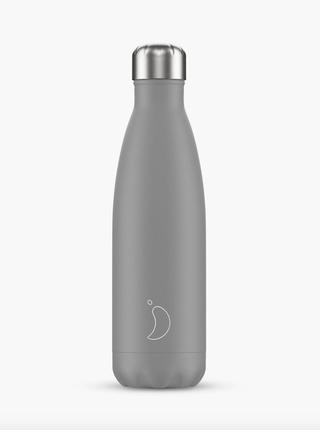 Our top pick of the best water bottles is the Chilly's Vacuum Insulated Leak-Proof Drinks Bottle. If you haven't heard of this brand they are top of their game when it comes to water bottles. A lot of the Real Homes team have one (cute we know) and swear by them and them for keeping your drinks cold or even your coffee or tea warm. Cold drinks will stay icy for 24 hours! And your hot drinks will stay warm for 12 hours. Amazing.
It's also totally leak proof and there are loads of different styles and colours too so you can pick one to suit your style, or match your workout gear.
Shop Chilly's Vacuum Insulated Leak-Proof Drinks Bottle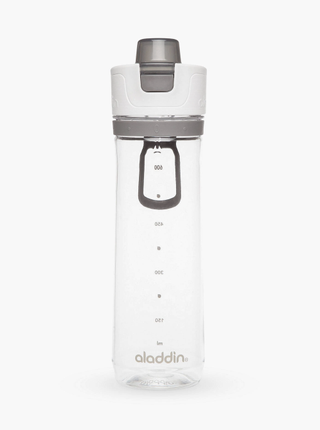 If you are after the best water bottle to encourage you to drink more water or track how much water you are drinking, this is a great option. Down the side it shows how many millilitres you have drunk and, top tip, you can add times on with a permanent marker to ensure you are drinking consistently throughout the day.
It's not the most stylish looking water bottle, but its really practical, totally leak-proof, stain, odour and shatter-resistant plus it's dishwasher safe. It's got a push-button lid which we think is the best option if you are using it while out running because you don't have to stop and unscrew a lid.
Shop Aladdin Active Hydration Tracker Water Bottle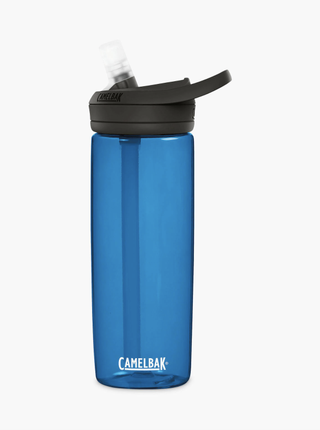 Designed to be used when out walking, Camelbak water bottles are perfect for throwing in your bag or taking out with you when exercising. They are totally leak proof so great for on the go and there is no tipping required so you can easily get a drink while you are on a run. We personally like the bite valve design but we know it won't be for everyone, it does take some getting used to and can be a bit of a faff to clean. You can buy replacement straws and valves though so rather than having to buy a whole new bottle you can just replace those and it's good as new again.
Shop the CamelBak Eddy Drinks Bottle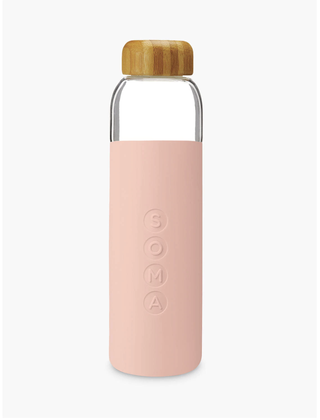 If you are after a super stylish water bottle to sit on your bedside table, this Somo bottle is the best looking water bottle we have ever seen! It's shatter-resistant glass too, so while you obviously can't go throwing it around, it will survive being dropped. The silicone sleeve means it easy to grip too and the size is perfect for putting in a handbag for when you are on the go.
Soma Glass Drinks Bottle with Bamboo Lid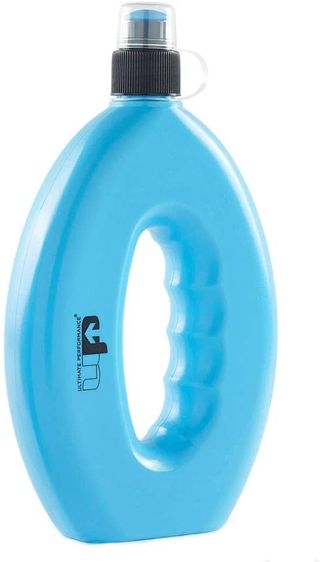 Getting into running and after a water bottle you can take with you? This shape is perfect. You can hold it comfortably as you run, it's not too bulky and easy to drink from quickly without getting it all over your face and top (we've all been there). There's an extra cap that stops any leaks so would also be fine to pop in your handbag or gym bag too and it's not going to spill. This water bottle is also really affordable too and has loads of raving reviews.
Ultimate Performance Runners Bottle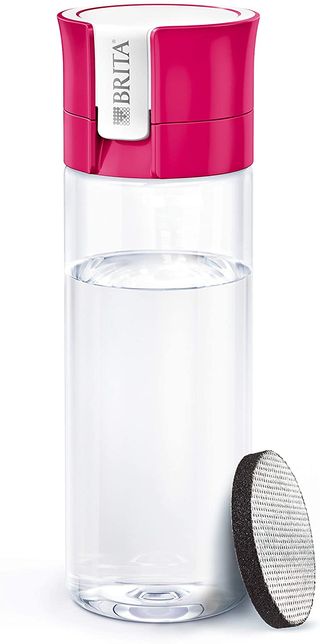 This reusable water bottle filters tap water as you drink so if you prefer to drink filtered water this would be the best water bottle for you. The lid has a MicroDisc that contains compressed natural carbon from coconut shells which reduces chlorine, organic impurities, hormones, pesticides, herbicides and microplastics but you still get all the key minerals you find in water. You will have to replace the disks but they last four weeks and are really cheap buy separately. The bottle itself is really easy to use, leak proof and dishwasher safe.
Shop BRITA Fill & Go Vital Water Filter Bottle
How to choose the best water bottle
Why you can trust Real Homes Our expert reviewers spend hours testing and comparing products and services so you can choose the best for you. Find out more about how we test.
Water bottles: Quick links
If you are after more options, have a browse through these top retailers to find the best water bottle for you:
John Lewis – loads of options for great brands
Amazon – fab budget-friendly picks
Sports Direct – plenty of styles to choose from here
The best water bottles on the market have different features depending on your requirements. Some can keep your drink cool for up to 24 hours, so are great for travelling and days out. Others are designed to be easy to drink while on the go, offering a pop up straw for quick sips. Then you might be looking for something that is ergonomically designed to fit your grip as your run – wrist straps and finger shaped moulding are the things to look for here.
You should also think about the following:
Insulated water bottles
There are plenty of insulated water bottles to choose from. They are an upgrade from the chunky flasks we remember our dads filling before heading off on a hike, with a more streamlined design and bottle shaped to be drunk out of directly – no pouring into a little cup that then dribbles into your bag. Look for those which offer long term insulation as not only will they keep a drink ice cold for ages, they can also be used for hot drinks which will stay hot for up to 12 hours in most cases.
Filter water bottles
If you hate the taste of tap water, these are perfect. They filter the water as you drink. Just fill up and go and you can enjoy fresh tasting water wherever you are. Remember that some will need the filter replacing at various intervals, so factor the filter cost in when you buy as it will be a cost you have to address every time you need a replacement.
Water bottle straws
A straw makes taking a swig much easier and means you aren't at risk of putting the cap down and losing it whenever you have a swig. However, if not cared for properly, these straws can get really gross. Find one that comes with good cleaning instructions or one that can be taken apart for cleaning. A small bottle brush and some sterilisation tablets will make it easier to keep your bottle and straw clean.
Is it leakproof?
We like bottles that promise to be leakproof so we can fling them in our bag and not worry about everything getting soaked. A good quality rubber seal is needed for this and you will need to make sure that is kept clean to ensure it works effectively.
Read more: