Trying to find the best tablets for kids now that homeschooling has become a difficult reality? A tablet is a great way to not only keep kids of all ages entertained while they're stuck in the house, but also to continue their education while schools are closed. And, let's face it, getting one might mean you can get on with work without them trying to access your computer (or just ask you constant questions). In other words, they might just keep the household mood light during the next few weeks (months).
We've rounded up the best tablets for kids so you can go back to more important things, like reminding them to wash their hands.
Tech is a great way to keep the family busy and connected to the outside world – check out The Hub for more great home tech deals and advice.
The best tablets for kids
Why you can trust Real Homes Our expert reviewers spend hours testing and comparing products and services so you can choose the best for you. Find out more about how we test.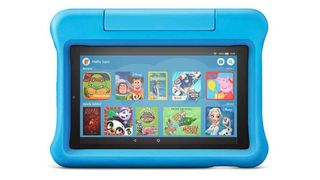 The smart Amazon Fire 7 Kids Edition includes a one-year subscription to Fire for Kids Unlimited, giving kids access to thousands of popular apps, games, videos, books and Audible audiobooks, including content from Disney, Nickelodeon and Sesame Street.
Features
This seven-inch tablet is a brilliant option for entertaining children of all ages and features a kid-proof case (in a choice of three colours), a year's subscription to Fire for Kids Unlimited, a 32GB SD card and a microSD slot that allows up to 512GB of extra storage.
Parental Controls
For your peace of mind, there are easy-to-use parental controls that customise your child's experience and a kid-safe browser. Add in bedtime curfews, screen-time limits and parental approvals to make sure your little one stays safe while surfing the web. Oh, and the battery lasts up to eight hours.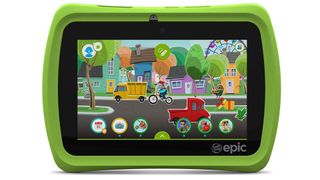 Looking for the best tablet to help kids learn? The LeapFrog EPIC Tablet is it. Powered by Android, this tablet offers the perfect balance of learning and playing inside one device.
Features
With a seven-inch touch screen, a 1.3GHz Quad core processor and 16GB of memory, this kids tablet is as good as any other option. Battery life lasts quite a while – depending on what they're doing – and it features a front and back camera, as well the ability to record video. Not only is this tablet compatible with exclusive LeapFrog content, but it can also download handpicked Android apps. And it works with both the Netflix and CBeebies app.
Kid-friendly
One LeapFrog Epic Tablet can serve three different profiles, meaning you can buy one device to entertain three children. Adults can manage what, when and how long each child plays and learns. Inside the device lives 20+ apps and games as well as a kid-friendly browser, LeapSearch. All content and games feature Just for Me Learning technology to adapt and personalise the content based on curriculum while remembering your child's progress. It'll challenge them. Let's talk about the home screen – it's the first of its kind since it's interactive so will expand their imagination. They can create their own town, add animated characters and watch as the city goes from day to night in real-time. It's here that the kids can learn the time, see the weather and they even have a mailbox to open for a surprise new word every day. Each special word fits into a sentence, which, at the end of the week comes together to form a story.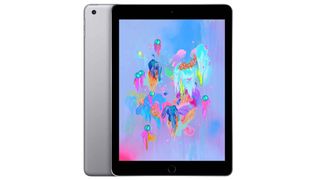 Offering a host of features with an eye-catching design, the Apple iPad 6th Gen certainly packs a punch. If you've got older kids or teenagers, then they're bound to want an iPad. Why? It's powered by a 2.03 GHz Apple A10 Fusion processor and running on iOS operating system, it adapts to your needs with maximum performance, has enhanced battery life and an unparalleled visual experience. Well, that and the fact they're seen as cool.
Features
Apple's family sharing makes it really simple to manage kids' apps and subscriptions, and the iPad has the bonus of an 8MP camera, 32GB of memory and up to 10 hours' battery life. While it doesn't offer any special safety features like the Amazon Fire 7, we think this iPad is more suited to older kids or teenagers who can be trusted on the internet and to turn the device off every once in a while.
Kid-friendly
The 6th generation version is perfect for homework and entertainment, although it's nowhere near as durable as purpose-built tablets for kids, so make sure you get it a shatter-proof case and screen protector. If it is going to be used for homework purposes, it's worth us noting that it is compatible with Keynote, Pages and Numbers – these are Apple's versions of Microsoft Word, Excel and Powerpoint. Also, let's not forget Siri: this smart assistant is at hand to read aloud, explain, answer and help.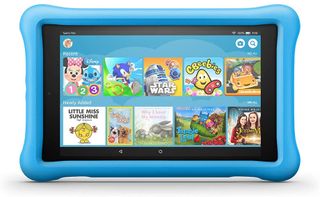 Amazon's hugely popular tablet for kids – the Amazon Fire 7 – has had an upgrade. Enter: the Fire HD 8 Kids Edition. It's faster, bigger and better in every way. With the exception of the larger price tag that comes with, which is why it's not our top choice. No one wants to spend £130 on a kids tablet if they don't have to, so instead, this is our pick of the best premium tablet for kids.
Features
The eight-inch screen is an inch larger diagonally than its predecessor, and it doubles the internal storage to 32GB, ups the speakers and gets another four hours of battery life, taking the total to an impressive 12 hours.
Kid-friendly
Specifically built for small hands, the device has a kid-proof case and it comes with a free one-year subscription to Amazon Fire for Kids Unlimited, which lets them access thousands of books, movies, TV shows, educational apps and games. Parental controls are the same on the 8 as they are on the 7.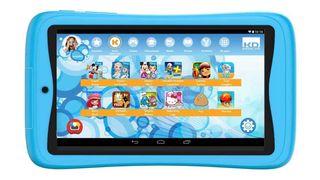 The Kurio Advance is a great option if you're after a kid-friendly tablet with a purse-friendly price tag. This Android tablet is tucked inside a kid-friendly bumper to protect it from falls, spills and more. In fact, it reminds us of the Fire 8 Kids Edition without the Fire OS technology, of course.
Features
With 16GB of memory and one year's free access to the weekly delivered education system STEM, this tablet has seven hours battery life and comes complete with 40+ preloaded apps. It can also access Google Play and is compatible with Netflix, NowTV and more.
Parental Controls
Parents can manage and access web filters through the programme Kurio Genius. This programme filters over 18 billion websites so the kids can safely surf the web. Simply input your child's age and it'll filter content itself, otherwise, feel free to create your own personal lists of approved and blocked websites. You can also decide which apps, e-books and kid-friendly content your little ones can see through the app's management system. And, there's the added bonus that you can also control screen time. You can set maximum limits for each day as well as playtime and rest sessions. It automatically shuts down!
Check out these related articles: