Whether you're looking to lose weight or tone up, the best spin bike is a great addition to any home gym. Unlike other gym equipment, they're usually quite compact and can slip into a corner and remain relatively unnoticed. They don't necessarily have to scream out '1980s disco-themed gym class', and you can get hold of a super-sleek spin bike that could look as elegant in your open plan floor area as a slim television or speaker unit.
Here's our pick of the best spin bikes so you can create a home gym; find the best home gym equipment picks in our buyer's guide. Head over to our home gym hub page where you'll find design ideas and equipment recommendations aplenty.
THINGS TO CONSIDER BEFORE BUYING A SPIN BIKE
Ease of movement
If you're new to the spin bike scene, you'll need some knowledge on the kind of features that you need to look out for. For example, the case for most spin bikes is the heavier the flywheel, the smoother the motion. Whether you're looking to get your head down in your home gym or push out a couple of miles while catching up with Corrie, ease of movement is important for keeping you in the flow.
Control system
Seasoned spin bikers may want to check out the bike's control system. Your basic home spin bike may use fabric or leather pads to control the resistance throughout your workout, while other upmarket bikes use electromagnets which are incredibly powerful and precise.
Drive system
Whether the bike has a belt or chain drive system will make a difference to its overall performance too.
The console
For novices, amateurs and experienced exercisers alike, there's one feature of the spin bike that you should carefully consider before handing over any money – the console. Whether you exercise by calories or kilojoules, you'll need to make sure that the bike displays all the information you want to see. Some bikes will even display your heart rate and record your distance covered in various measurements.
Whatever you require from your home spin bike, you'll find that our list covers some of the best on the market right now.
THE BEST SPIN BIKES
1. Kettler Racer 9 Indoor Cycle
The highest calibre home spin bike
Specifications
Best for: Top of the range
Flywheel weight: 18kg
Monitor: LCD display with 7 functions
Resistance: Electromagnetic
Reasons to buy
+ Electronic handlebar gear shifters+ Unbeaten durability
Reasons to avoid
- Very expensive
The Kettler Racer 9 ergometer bike is the best spin bike for a truly realistic cycle in the comfort of your own home. If you're an athlete who is looking to train at home, you'll be able to make the most of this bike with its virtual training software that allows you to use your GPS to cycle any route in the world - perfect for getting ready for that big trip you've got planned. The bike is completely adjustable with triathalon handlebars that make for a comfortable cycle whether long or short, and users love how the gear shifters simulate real-world cycling. If you're looking to invest in a high-end piece of kit for your home gym, the Kettler Racer 9 will not let you down.
2. NordicTrack GX 5.1 Indoor Cycle
A sturdy, well built bike
Specifications
Best for: Sturdiness
Flywheel weight: 20kg
Monitor: RPM, kcal, heart rate, resistance, distance
Resistance: Manual screw
Reasons to buy
+ 20kg flywheel to simulate steep climbs + Durable and anti-corrosive
Reasons to avoid
- Experienced riders may want to play around with the pedal fittings
If you're looking for a decent low/mid range spin bike, this one should be a solid purchase. Made from durable and anti-corrosive materials, it's been built to last and should manage in damp environments such as conservatories and garages without forming any ailments. Reviewers commend its sturdiness, while the heavy flywheel allows you to power away at the steepest of climbs. With additional features including an LCD backlit display and a bottle holder, this bike has everything you need. Fairly bulky compared to the Keiser, this could be one for the gym room or garage.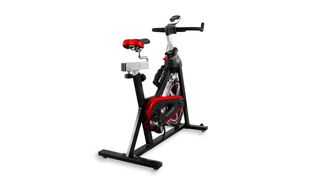 3. We R Sports RevXtreme Indoor Cycle S1000
A cheap and cheerful bike with some great features
Specifications
Best for: Budget
Flywheel weight: 13kg
Monitor: RPM, kcal, resistance, distance
Resistance: Manual screw
Reasons to buy
+ Inexpensive + Stylish
If you're still uncertain whether an indoor spin bike will work for you, why not have a look at this inexpensive one? While not anti-corrosive, the frame is still robust and adjustable, so you should be able to feel confident in the bike and comfortable at the same time. As we mentioned above, the heavier the flywheel, the better. This one only has a 13kg flywheel, which reviewers say does a good job of simulating a push bike but don't expect the same level of resistance as more expensive models. Another comment is the noisiness - fine for use if you're working out upstairs or in the gym room, but probably too distracting to be positioned in the lounge. The best spin bike if you're on a budget, we think.
4. Sole Fitness SB700 Exercise Bike
A great mid-range bike for easy-goers and extremers
Specifications
Best for: Resistance
Flywheel weight: 22kg
Monitor: RPM, kcal, heart rate, resistance, distance
Resistance: Manual screw
Reasons to buy
+ Built to accommodate pro cyclists + Pulse sensor and heart rate monitor compatibility
Reasons to avoid
- Still only manual resistance
If you can't stretch to the top product in the list, this comes in at a close second for those after a bike that offers enough technical ability to stretch even the most experienced cyclists. This is down to the 22kg flywheel, which should give people that gym-bike feel at home. It's also down to the bike's adjustment systems which Sole promises will give you a quiet and smooth workout - great if you're looking to work out in the lounge while someone else watches the television. This spin bike is also compatible with a chest strap, so you can monitor your heart rate while training.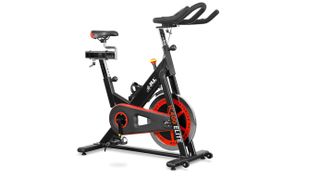 5. JLL® IC400 ELITE
A compact bike to fill that last little space
Specifications
Best for: Compact
Flywheel weight: 20kg
Monitor: RPM, kcal, heart rate, resistance, pulse, distance
Resistance: Manual
Reasons to buy
+ Belt driven + Replicates a mountain bike
Reasons to avoid
- Not for smaller riders
If you're after a quiet spin bike with high resistance levels, this bike provides both, thanks to the belt-driven 20kg flywheel. In addition to noting down the usual statistics, this bike can hook up to a heart monitor so you can keep a closer eye on your training progress. While the handlebar and the seat are adjustable, shorter reviewers seem to have a problem with finding a comfortable riding position. While not the sleekest to look at, it'll fit in fine with any home gym and it's compact enough for you to easily move it if required. We think it's the best spin bike if you're after something compact.
Check out more of our expert buying guides: