Searching for the best smart plug? Smart thinking. An ingenious gadget for your house, the humble smart plug allows you to do things like schedule the length of time an appliance in your home runs, saving you money and the planet energy. In short, it comes in pretty handy.
Let's face it, we often leave our phones and laptops on charge for far longer than necessary. Likewise, printers and scanners can spend months left on standby, clocking up a hefty electric bill. Plus, there's nothing worse than realizing your curlers have been on all day – eek! But with a smart plug, these nightmares are no more. You can set a time to switch off in advance or perhaps at your leisure from a smartphone.
Why not go all out and create your very own smart home? For your home office needs, there are the best Wi-Fi extenders, to boost the reach of your home internet. Read on to see how the best smart plugs can also help manage life and work.
The best smart plugs in 2022
Why you can trust Real Homes Our expert reviewers spend hours testing and comparing products and services so you can choose the best for you. Find out more about how we test.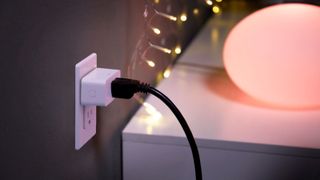 While the Philips Hue branding is most often associated with smart bulbs, rather than plugs, the company has expanded its range to allow previously 'dumb' lighting to join the party.
What we liked
We tested the Philips Hue smart plug alongside corresponding smart bulbs, integrating them into our existing routines set by a Google Assistant speaker. Once the Hue Bridge was set up, adding both devices to the app was incredibly simple, and we were able to add them to our Google Home profile.
Keeping with the lighting theme, we replaced an existing smart plug used to control a set of curtain lights in our bedroom with the Hue plug, and it worked brilliantly over the course of several weeks. This included switching on with our morning alarm (through the Google Home Mini), switching off with our night routine, and detecting when we left the house and came home.
It's also worth noting that - despite very patchy WiFi in our home - the Philips Hue placed at the back of the ground floor (connected to our router via Ethernet) had no trouble communicating with the plug in our first-floor bedroom.
What could be better
We mentioned the Hue Bridge, which is required for many of the features - such as geofencing - that you'll want from the Hue plug. Ours was sent with the bulbs, so you may need to purchase this separately in order to use the device to its full potential. It's an additional expense that many people may not be expecting.
The Philips Hue smart bulb also lacks energy monitoring, which is a useful feature for those using smart home devices to decrease their energy wastage.
Real Homes rating: 4 out of 5 stars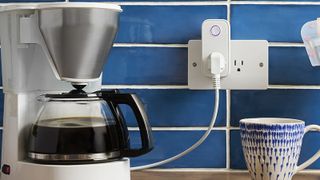 The only-just-second-best smart plug you can buy, there are a lot of reasons why we rate the Hive Active Smart Plug so highly.
Whether you want the option to turn off lights, fans, electric heaters, and more without having to get out of bed; or want to be able to check – wherever you are – that you did in fact turn off your hair straighteners, iron, or whatever else, the ability to control a smart plug from your smartphone is a super handy feature. Thanks to the ease of the Hive system, this is easier than you might imagine.
Perfect for those looking for easy ways to increase their home security, the Hive Smart Active Plug allows users to schedule up to six separate time slots, daily, making it easier than ever to give burglars the impression that someone's home (even if they're not). Or, perhaps you want the slow cooker to turn on (or off) while you're at work, so dinner's ready when you get home? Or the coffee machine to make a brew just as your alarm goes off in the morning? Scheduling sorts it.
Forming part of the wider – and equally recommended – Hive Smart Home System, makes opting for a smart plug from Hive the easiest option if you're looking to build your home set-up and want the guaranteed ease of committing to one, specific brand where quality and functionality is guaranteed. While this isn't essential – most smart product brands are inter-connectable – we understand the desire of many to minimize hassle through brand loyalty.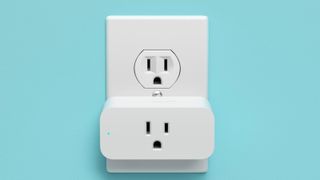 If you're an Alexa user who's on a budget, the Amazon Smart Plug could be just what you've been looking for. While it may not come with all the bells and whistles of its competitors, this is a handy piece of kit that's perfect for those just beginning to break out into the world of smart home tech.
Perfect for those already operating on the Amazon Alexa system, it's super simple to control your smart plugs via the Alexa app. Unlike other systems, there's no need for any extra apps to clutter up your phone.
On top of this, the fact that this smart plug model was designed, in-house, by Amazon, means it's unlikely that you'll be met with any difficulties when connecting to your wider Amazon smart home system.
Much like many of the other smart plugs mentioned in this buying guide, it's super easy to schedule when your smart plugs turn devices on and off. That's your home security and hard-to-reach plug socket dilemmas solved.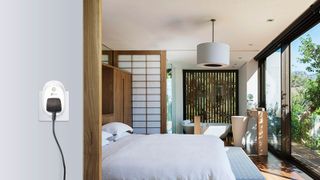 Interested in using smart plugs to monitor your energy usage? The TP-Link WiFi Smart Plug with Energy Monitoring could be the option for you.
Providing weekly and monthly feedback, as well as real-time stats, this model is perfect for those looking to keep track of their energy usage. They say knowledge is power and once you know exactly how much energy each of your devices is using, it'll make it all the easier to look for ways to reduce it. Good for the planet and good for your pocket, this feature is a real winner.
Providing peace of mind for those who *sometimes* forget to turn off their appliances, this option from TP-Link comes complete with a countdown timer feature, which switches off running household appliances, automatically, if you have set a time limit prior to use.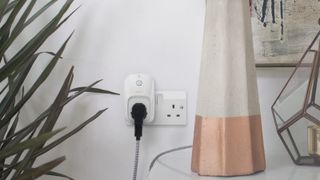 The Belkin WeMo Insight Switch is the best all-around smart plug. While it's not the most affordable option available, it's more than worth the investment if you're serious about having a smart plug that does everything you'd expect it to, and more.
The main draw of a smart plug for many is the ability to control electronic devices from afar. So, whether you're keen to maintain some control over the kids' TV watching schedule – even when you're not there – or want to put your mind at ease, safe in the knowledge that you did turn off the iron, this model from Belkin covers the basics.
A step up from simply being able to control your appliances from afar, the WeMo Insight Switch allows you to set schedules. Perfect for helping reduce your energy usage – you can schedule all non-essential electronics to turn off when you leave the house, and turn back on when you return – schedules can also be used to enhance your home security by using smart plugs on lamps, giving the appearance that someone's home, even when they're not.
Plus, for the more tech-savvy among us, there's the option to connect the WeMo to an external automation tool, such as IFTTT (If This Then That) which allows for more complex commands.
While, admittedly, you're not going to single-handedly save the planet by switching your appliances off at the socket when you're not using them, there is something to be said for being more conscious of your energy usage. With this in mind, the WeMo Insight Switch can help users identify where they're wasting the most energy and make changes, accordingly.
Compatible with Amazon, Apple, and Google, the WeMo Smart Plug should slip, seamlessly, into a wider smart home system.
Choosing the best smart plug for your home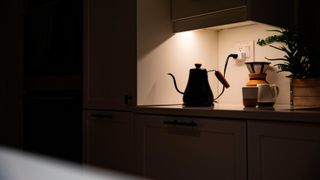 When it comes to buying the best smart plug, it's easy to assume that all models offer an almost identical function, but that's not quite true. In order to find a model that best suits your needs, there are a few factors worth considering – all of which we've factored into our reviewing process. These include:
Wi-Fi or Bluetooth connectivity
Most smart plugs operate via Wi-Fi, but there are a few instances in which you'll need to connect via Bluetooth instead. While Wi-Fi is the best option, if you live in an area with particularly awful WiFi speeds, you may benefit from opting for a Bluetooth model.
Zoning
If you're planning on investing in a number of smart plugs to streamline your use of energy, it's worth considering whether the model you're considering offers a zoning function. As the term suggests, this allows you to create handy plug 'zones,' which can be turned off, or scheduled, collectively. Think all living room table lamps within one zone, for example.
Scheduling
If you're planning on using your smart plug to aid your home security set up – in most cases this will mean programming lights to come on, intermittently, while you're away from home – you'll need to ensure you're opting for a model that offers a scheduling function.
While, of course, you can turn lights on and off, manually, via your smartphone if you opt for a model without a scheduling function, we imagine that a few days into your holiday, you'd rather focus your attention on downing Sangria than sorting out your home security.
Compatibility
The final consideration comes down to whether you're running the rest of your smart home system on Android (Alexa or Google Assistant) or iOS (Siri). In order to connect everything together, effectively, you'll need to ensure you opt for a compatible device.
You've reached the end of the page. Jump back up to the top ^