Whether you're tired of losing your keys, you're already in the process of automating your home, or you're setting up a B&B, a vital part of the process is choosing a smart lock that fits your needs. There are plenty of different smart locks to choose from, each with their own unique abilities. However, we recommend the August Smart Lock Pro for most people since it's super easy to set up and comes with everything you need.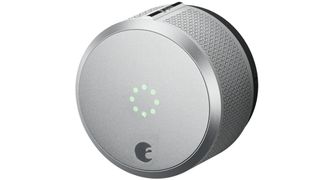 The August Smart Lock Pro is for anyone looking to simplify the process of entering and leaving their home.
If you get tired of fumbling with keys, worrying about whether you locked the door when you left the house, buying new spare keys for your children, or precariously placing a spare key in one of those entirely unsafe fake rocks, this smart lock is for you. August lets you create virtual keys for friends and family staying at your place. It also keeps tabs on the comings and goings of your household using a built-in 24/7 activity log.
Its appearance is immediately striking and will give any door a futuristic look, with your choice of dark gray or silver finishes. You can use your smartphone to unlock or lock your door remotely. Or you can set up a proximity lock: Your entry will unlock when you approach with your phone and lock when you move away.
The August Smart Lock requires no wiring and installs using an existing deadbolt. It also works with HomeKit, Alexa, and Google Assistant, so you can control it with Siri and the Home app for iOS and just about every other smart device you own.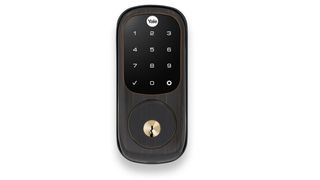 The Nest × Yale Lock supports notifications, letting you know when someone operates the lock. You can set up passcodes that expire after a period of time if you plan on having guests or need a maintenance person to gain temporary access to your home. What's more, the lock uses geofencing tools to automatically lock when you're not around — no more forgotten doors.
The lock replaces your deadbolt, offering a tamper-proof and secure solution to keep your door locked up tight. If the lock ever senses tampering, it will send you a notification. There's also a handy feature I'm particularly excited about: If your lock ever loses power, you can use a 9-volt battery to quickly charge and unlock the door.
The Nest × Yale Lock is perfect for anyone that has Nest products in their home, and while it may not work with HomeKit, it will work with other accessories like Google Home. It's built to integrate with the system and requires the Nest Connect or Nest Guard to interface with the rest of your Nest system and connect with the Nest app.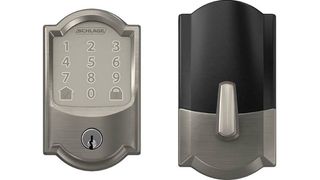 If you enjoy receiving up-to-the-minute information about the activity in your home and want a lock that matches your home, have a look at the Schlage Encode. This advanced smart lock has a touchscreen keypad for entering your entry code and works effortlessly with Amazon Alexa while remote access allows you to unlock your front door with just a tap on your smartphone. No hub is needed and you can lock or unlock your door from anywhere in the world on your smartphone. You can set it to lock automatically after a set time span of inactivity.
The Schlage Encode boasts the highest safety rating possible, a built-in alarm ready to sound just in case anyone is tampering with your locks. Another terrific feature this smart lock has is the ability to add in temporary codes, so if you go away on holidays and a neighbor needs to look after your plants or pet, you can add in a code for them, and delete it when you get back home, so they no longer have access to your house.
The two-piece system is available in aged bronze, matte black, or a satin nickel finish in two different styles to suit your home's decor. The only downside is that it isn't compatible with HomeKit.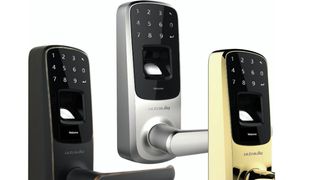 The Ultraloq UL3 is a 5-in-1 keyless smart lock that's a great fit for indoor and outdoor smart lock installation.
It works with your iPhone, allowing you keyless entry, the ability to see who's coming in and out of a specific door, a log record of all visitors, and the ability to clone and transfer your information to a new lock if you choose to buy another.
The Ultraloq UL3 isn't just a keypad lock — it also comes with a fingerprint scanner, so if you need that extra level of security, this smart lock has you covered. You can add up to 95 fingerprints to your Ultraloq UL3.
The coolest part about the Ultraloq UL3: If you knock on your iPhone four times, even if it's in your pocket, you can open up your door. It's as simple as that.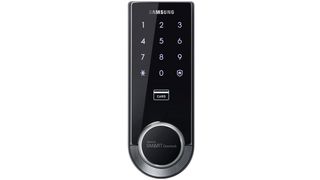 The Samsung SHS-3321 is a reliable, sleek-looking, and an easy-to-use smart lock that's battery operated with an emergency power connect in case the batteries die.
The lock is designed without a keyhole, making it accessible via touch-pad, while a magnetic sensor automatically locks the door behind you when you leave. If you're away for a long time, the lock even has an Away mode that can be activated to monitor and track movement, kind of like a home alarm system.
The Samsung SHS-3321 is both affordable and sharp looking, making it ideal for putting on several different doors around your home — not just your front door. Silent mode means that you can put this lock on the door of your baby's room and not worry about sounds waking them up in the middle of the night.
Lock it down
Why you can trust Real Homes Our expert reviewers spend hours testing and comparing products and services so you can choose the best for you. Find out more about how we test.
The August Smart Lock Pro provides the most functionality for most people. It's Alexa-compatible. You can monitor, lock/unlock your door, control keyless access, and track who comes and goes from anywhere in the world using your smartphone. DoorSense tells you if your door is securely closed and locked uptight. A 24/7 activity feed keeps you updated on anything that happens near your door. Attach it to your current deadbolt so you can continue using your current keys. Set it to lock automatically when you leave and unlock automatically when you come near.
The August Smart Lock Pro is incredibly easy to install with 10 minutes and a screwdriver. Purchasing it opens you up to August's entire line of smart home products — including a smart keypad and doorbell camera. It's reliable, it's stylish, and it's perfect for anyone looking to add smart, wireless access to their home.