When it comes to finding the best robot vacuum, there are a lot of factors to consider. Price is a major one, because while most robot vacuums look pretty similar, they range from under £200 to over £600 in price.
They won't replace the best vacuum cleaner for picking up every last piece of dirt, but the best robot vacuum will give you a well-earned break in sweeping the kitchen floors and picking up day-to-day grime on your carpets.
Our top 6 robot vacuum picks come from top brands like Dyson, iRobot Roomba, Ecovacs, Neabot, and Proscenic, and we've also included models that can mop and self-empty their dustbins, too.
Here are the best robot vacuums
Why you can trust Real Homes Our expert reviewers spend hours testing and comparing products and services so you can choose the best for you. Find out more about how we test.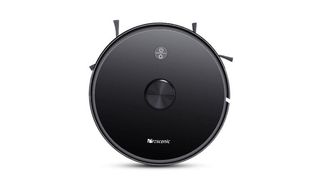 Setting up the Proscenic M7 Pro was very straightforward, we just needed a WiFi connection and a space to dock. The docking station needs to be flat, with 0.5m on either side of the unit and 1.2m in front.
Detection
The sensors are able to detect corners and obstacles well so that it aims to gently glide past them without causing any damage to your furniture. Ith as 24 sensors in total, which helps to avoid collisions and drops.
Mapping
It takes a few tries to settle in, but your Proscenic M7 Pro will memorize your space on the app. This means you can set zones that need extra attention, or that you'd rather not clean.
What we don't like?
Self-cleaning is amazing, because your vacuum will empty itself into a pillar after use and save you the task of emptying the dustbin each time. It costs extra for this feature though, which is a shame given the already mid-tier price.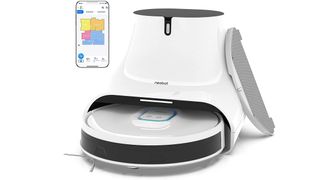 With a sleek and space-age-looking port, the Neabot NoMo Q11 impressed on both carpets and hard floors. It reports a 91% cleaning rate and we thought this was accurate throughout.
Detection
It won't avoid shoelaces or other more low-lying obstacles, and occasionally struggled to find the docking port, but the Neabot NoMo Q11 won't throw itself down the stairs. It does generally have smart detection, and the mapping function is definitely a testament to this.
Mapping
We found that the Neabot NoMo Q11 missed a couple of corners, but it mapped both floors we tried it on quickly and easily. We also found that it was easy to zone between rugs and hard floors, which came in especially useful for the mopping function.
What we don't like?
There were a few sock bobbles and bits of crumb left un-collected, but the Neabot NoMo Q11 generally did a good job of cleaning up around the house. The no-mop zone feature was a little hit and miss, and it did mop one strip of carpet until we re-set the zone on the app.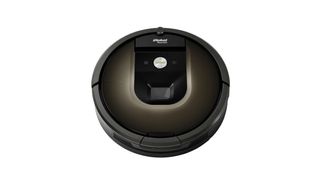 If you like the smart features of the Dyson Heurist but aren't so keen on the price tag, the iRobot Roomba can also detect a change in floor surfaces so it gets our vote for the best robot vac for multi-floor surfaces.
Multi-surface
The iRobot Roomba is one of the more efficient robot vacuum cleaners on the market with its intelligent sensor that can detect different surfaces so that it changes its cleaning method as it moves from carpet to hardwood flooring, for example.
Smart features
Similarly to the others on the list, the Roomba 980 can also be scheduled to clean from your smartphone and it is also Alexa and Google compatible for total voice control.
Battery life is pretty good, but if you've given it a big job and it doesn't have enough power to complete it, it will automatically return to the charging station for more power before resuming the task.
What don't we like?
This is a pricey choice compared to the cordless vacuum cleaner, but then Roomba has been at the cutting edge of robot vacuuming smarts for years, so expect to get plenty of features for your money including a 10 times suction boost on the last model, multiple room navigation and dust trapping down to as small as 10 microns.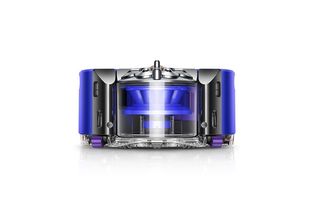 We do love the Dyson 360 Heurist but it has marginally missed out on the top spot not by lack of performance but because of the heavier price tag.
It's the new kid on the block which has replaced its predecessor, Dyson 360 Eye, and still retains the powerful suction that Dyson is known for, plus a host of gizmos and gadgets to boot.
What it's good at?
As with the rest of the Dyson range, this little robot vacuum cleaner doesn't lose suction. In fact, it has 20 percent more suction and 20 times more memory than its predecessor, the Dyson 360 Eye. It is also smaller than similar models meaning it can get into tricky areas such as between chair legs. And it won't get stuck or lost either because it has intelligent Simultaneous Localisation and Mapping (SLAM) vision system for accurate navigation
What do we like about it?
The Dyson 360 Heurist has eight advanced sensors so it can see precisely where it's going and, therefore, rarely bumps into obstacles as a result. It's full width-brush bars will also get right to the edges of rooms for excellent ground coverage.
That's one of the reasons this is a perfect robot vacuum cleaner for those with lots of furniture or units with legs. The Dyson 360 Heurist will continually learn and adapt to your home by mapping out its route so you don't have to worry about moving your house around every time the vacuuming needs doing. It also means you don't need to worry about it damaging itself or anything else in your home.
Anything else?
It can be controlled by buttons on the unit itself, or using a smart phone app that is available for both iOS and Android operating systems. You can also pair it with Amazon Alexa devices and control it by voice command.
What don't we like?
The price could put most people off, but then again it may cut the time you spend doing chores in half (or more!).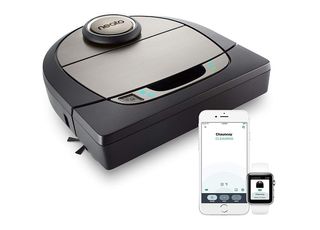 The Neato Botvac has incredible control options which can all be done using the simple app, which make it one of the best robot vacuum cleaners for smartphone control options.
Total control
The app will let you see a map to understand where the vacuum has been. This is great from those who get in from work and want to be sure every area is clean for the children to play on, for example.
You can also draw a line using the app to create boundaries for the D7. This is a revolutionary feature which will allow you to cordon off 'no-go' areas. This could be your working from home space, for example, where there's a sea of wires to get tangled in.
Design
This is a great robot vacuum for corners and tight spaces thanks to that flat edge design which many other robot vacuums don't offer.
What we don't like?
When the robot vac is busy scurrying around the home to pick up very last crumb, you may find the that bin gets full pretty quickly. And it doesn't have a 'bin full' sensor either, so you may find that you are emptying this one more often than perhaps you want to.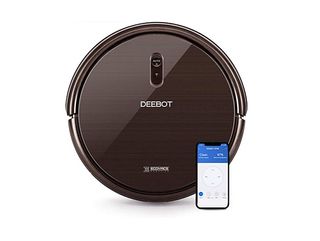 If you think the Dyson or the iRobot sounds impressive but you can't justify spending that much money on a piece of tech to clean your home, then why not try out the Ecovacs Deebot N79S? It's our best budget robot vacuum cleaner for those that want an affordable option.
Cleaning modes
This little vac has several modes to choose from (Auto mode, Edge mode and Spot cleaning), and it comes with a remote that it's quite responsive to. Yep, you can use your smartphone to choose which mode you're after, but the vacuum seems to prefer using the paired remote.
Alexa
Deebot is also compatible with Alexa, so you can set it for cleaning using just your voice.
What we don't like?
This isn't an ugly vacuum by any means, but is possibly one which is a little on the plain side if you tend to usually go for something more jazzy. The end result after a session vacuuming isn't exactly the best either, but it will suck up enough to get surface dirt and dust off of your hardwood floors and carpet.
---
How to buy the best robot vacuum cleaner
Where to buy the best robot vacuum
Now, there are certainly some downsides to these gadgets, in that they run on batteries and cannot fully replace the suction power of an upright vacuum cleaner, but they have a whole host of perks, too.
Battery life
Check the battery life of the model. The models on our list all do at least 40 minutes – that is long enough to do an average two-bed flat or the ground floor of a mid-size family home. Some models will return to their docking station to recharge when their battery gets low.
Size
A robot vacuum cleaner is low profile and can get under all of those items of furniture no amount of vacuum yoga will help you reach. You will probably leave it out and docked somewhere, but they don't take up much space when out of use.
Sensor technology
These little gadgets use unique sensor technology to move around the home, but many have remote back up for going over tough spots. Some have different settings meaning they can adapt to different floor types automatically when going from room to room.
They also come with handy accessories known as 'virtual walls' which allow your new little friend to know what areas are out of bounds, so it doesn't end up trashing the place rather than cleaning like it's supposed to.
App control
Robot vacuum cleaners can also be controlled by an app which means you can hoover your home from a remote location – cleaning the house has never been so easy! They are intelligent enough to remember a map of your home so that they can easily return to their charging station once the job is done.
Price
Although a little pricey, these smart vacuums will certainly make your life a whole lot easier, and whether you want to a budget option to see what all the fuss is about, or you're looking to adopt a robot vacuum to become a vital member of your smart home, our top five list has it all.
Which is the best robot vacuum cleaner to buy?
Just to recap...if you want to have the best robot vacuum (in our opinion) we recommend buying the iRobot Roomba 980 Robot Vacuum. It wins top spot for it's multi-surface detection, ease of use and reasonable price tag, so it is one which we're confident will quickly become a cleaning friend in the home.
You've reached the end of the page. Jump back up to the top ^