The best motion sensor lights are essential for home security and functionality. Inside, motion sensor lights can allow us to immediately see in a closet or make our way safely down the stairs at night. Outside, they provide us with a sense of security, bringing intruders into the light or brightening our path when we've returned home late at night.
If you've ever been in the lighting section of a home improvement store, then you know the options for home security lights are vast (bordering on overwhelming). To help you find the best motion sensor lights for your home, our team took a closer look at the security light category, researching things like ease of installation, range of motion detection, water resistance, and energy source. The verdict? Five top motion sensor lights made our list. Take a closer look below.
Making your home more secure? Check out our list of the best home security systems for our top picks.
The best motion sensor lights 2022
Why you can trust Real Homes Our expert reviewers spend hours testing and comparing products and services so you can choose the best for you. Find out more about how we test.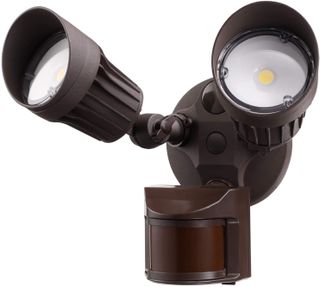 Durability and functionality are the two most important things to consider when looking for an outdoor motion sensor light. And we've found just that in the LEONLITE LED Motion Sensor Security Flood Lights. With three different lighting modes and a 20W light that's equivalent to 150W halogen lights, this outdoor motion sensor light won't let you down.
This ultra-bright motion sensor light is equipped with two light heads that you can adjust 360 degrees enabling you to brighten any dark area you so wish. And, if you can't get the right angle, you can adjust the entire base by 180 degrees to do so.
When set to Auto mode, the light picks up movement as far as 70 feet away. If you set this knob on maximum, it'll pick up motion day or night; set it on the minimum and it'll only turn on at night. The Dusk to Dawn feature makes it so the light turns on at dawn and doesn't turn off until dusk, while the On-Time mode allows you to manually turn the light off and on at your leisure.
With an IP65 waterproof rating, LEONLITE says customers can expect a 50,000-hour life span for this outdoor light that's apparently pretty easy to install if you have wiring in the right spot. Plus, the five-year warranty provides some peace of mind.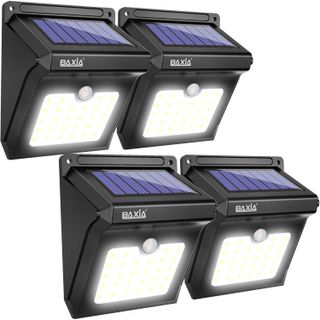 The big question when it comes to outdoor motion sensor lights is how to power them. You might as well use one of the best (and greenest) sources of energy we've got: the sun. Baxia Outdoor Solar Motion Sensor Lights pull energy from the sun during the day and power the motion sensor light at night. There's no need for wires, outlets, or batteries, making it one of the most convenient motion sensor lights on the market.
The solar panels are placed on the top of the light, which means you'll need to mount the light where the panels can be exposed to sunlight for eight hours during the day to ensure it works throughout the night. The 120-degree angle of the light allows for the 28 LED lights to properly brighten a large area for about 30 seconds upon detection of movement 10 to 16 feet away.

With features that make it both heat and water-resistant, you can trust this motion sensor light to hold up in any kind of weather and illuminate your outdoor patio, garden, driveway, and fence when necessary.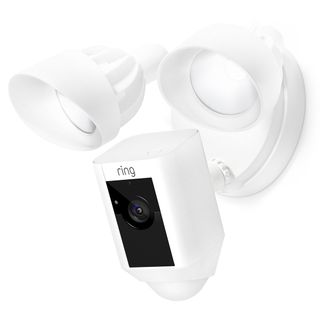 Take your motion sensor light game to the next level with the Ring Floodlight Camera Motion-Activated Light. This light is for the security-minded dweller who doesn't mind shucking out a bit of cash for a product that combines a floodlight with a camera and other high-tech features.
This ultra-bright floodlight will turn on upon sensing motion 30 feet away. With a 1,800-lumen bulb, that might be enough to freak out any intruder. But if you are dealing with a bold one, you'll be happy to know that this light automatically sends a notification to your phone that movement has been detected outside your home.
Using the app, you'll be able to see who or what is near your home thanks to an HD camera. You can choose to scare off an intruder with the built-in siren or through a two-way talk feature on the light's built-in microphone.
Like the Baxia light, the Ring needs to be connected to electrical wires, and Wi-Fi, of course, if you want to utilize the camera and talk features. You're able to connect this light to Alexa, too.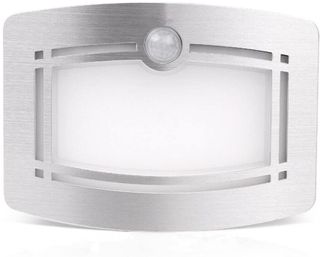 Motion sensor lights aren't just for the outdoors – they come in handy inside your home, too. Whether you want some illumination when you walk to the bathroom at night or need automatic light when you open your closet door, OxyLED Motion Sensor Wall lights are easy-peasy to install. Plus, the white exterior color and stylish design make certain that the light won't be an eyesore in your home.
The OxyLED picks up motion and heat up to 10 feet within a 100-degree range. From there, 60LM lights will turn on making it easy to see in darkened garages, stairways, sheds, or hallways. These lights are convenient and affordable, meaning you don't have to worry about finding the light switch or carrying a flashlight around your home.

Perhaps the best feature of this motion sensor light is the fact that it only requires 4 AA batteries, so you don't have to mess with wires. All you'll need to get set up is a screwdriver to mount the light wherever you see fit.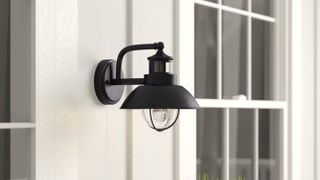 Outdoor motion sensor lights are convenient – they light up pathways, deter intruders, or provide a bit of illumination on your outdoor patio when you're enjoying a late-night hang. That said, these outdoor lights don't have to be practical and boring in design. They can be stylish, too. Just consider the Archibald 1 Barn Light.
The Archibald 1 is designed like a vintage barn light and comes in three colors: burnished bronze, textured black, or textured gray. As the sky darkens, the waterproof Archibald 1 emits a soft light until dawn. However, if motion is detected at any time during the night by the motion sensor, the light will brighten considerably.
One of the most difficult things about buying an outdoor motion sensor light is having to find a replacement bulb if one goes out. Another great thing about the Archibald 1 is that it takes any medium incandescent or halogen bulb and most dimmable LED bulb models.
What is the best motion sensor light?
The LEONLITE LED Security Outdoor Motion Sensor Light is the best motion sensor light overall because it offers a wide range of lighting features and picks up motion outdoors consistently. However, for those in need of an indoor motion sensor light, then we'd have to say the OxyLED Wall Light is the way to go. It's stylish, battery-operated, and picks up both motion and heat.
How to choose the best motion sensor light
Buying a motion sensor light seems like an easy task until you start looking at the features. We've written a little guide to help you determine which motion sensor light is the right one for you.
Motion sensor
Motion sensor lights pick up movement, but you don't want your light to turn on because a tree limb swayed in the wind or a tiny bug flew by. Keep an eye out for motion sensor lights that pick up body heat through infrared rays – this will ensure your light only turns on when a human body or animal comes into range.
Distance
Whether you're looking for an indoor or outdoor motion sensor light, you'll want to take into consideration the distance at which a motion sensor can pick up movement. Is it two feet or 80 feet?
Range
The range at which a motion sensor light can pick up motion is an important feature as it will determine just how effective the motion sensor is. The closer the range is to 180-degrees, the better, as that means the light will pick up movement more efficiently. You may want to consider light heads that can be adjusted.
Power
Motion sensor lights can be powered by three things: wires, batteries, or solar power. Solar power and batteries make setting up a motion sensor light easy, but batteries can go bad and if it's a particularly cloudy day, it might not provide enough solar energy to juice the light. Wired motion sensor lights ensure you'll always have electricity, but you'll need to make sure there are wires where you want the light to be placed.
Lighting Options
The "dusk to dawn" feature found on some motion sensor lights is a great addition. It turns on the lights at sunset and turns off the lights when the sunrises, so that you have 24-hour lighting on your property.
Replacement
Not all motion sensor lights are easy to replace if a bulb goes out. Some don't offer replacement bulbs, while others make it easy to buy a bulb from your local store.
Style
You'd be surprised by how many stylish motion sensor lights there exist. Places like Wayfair and Home Depot offer an attractive selection of motion sensor lights that will fit in well with your interior and exterior design.