Treating yourself to the best hair dryer in 2021? Smart idea, especially since hair salons are closed for the foreseeable. We've done a lot of research to find the very top hair dryers in 2020, for home use (obviously). So, whether you prefer the finish of blow-dried hair, you dislike sleeping with wet hair, or, perhaps you have extensions so shouldn't leave your hair to dry naturally, we can help you spend your money on the right product.
In our search, we found everything from the top hair dryer for thick hair, a great hair dryer brush, the best hair dryer for afro hair, and, we've even listed a budget-friendly option. We have also tried and tested a few options ourselves – and we've been pleasantly surprised with the results. Buy a new hair dryer now and your hair will thank you later!
When you are finished, have a look at the best hair straighteners in our buyer's guide, should you be looking for another new hair tool.
What is the best hair dryer?
Why you can trust Real Homes Our expert reviewers spend hours testing and comparing products and services so you can choose the best for you. Find out more about how we test.
Our top-rated hair dryer and the best hair dryer money can buy is the GHD Helios. We've tried it and we love it. It gets the job done fast, it's within a sensible budget and it helps tame frizz, it's easy to use and it's good looking.
Alternatively, if you're after a professional hair dryer and don't mind spending more money, the Dyson Supersonic hair dryer is a great pick. It dries hair quick and helps prevent damage as it won't overheat your hair. In fact, it can help your locks look shinier and healthier after only a few uses.
Click to shop the GHD Helios.
Click to shop the Dyson Supersonic Hair Dryer.
Best hair dryers 2021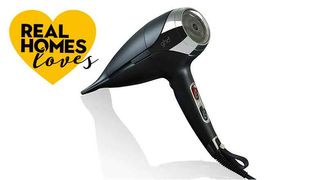 The GHD Helios is our top pick of the best hair dryer money can buy. It's the best all-round option when looking at performance, price and design. It's also GHD's newest creation and in our opinion, it's their most advance hair dryer yet.
What we loved when testing
When this hair dryer was first released in spring last year we couldn't wait to get our hands on it, and it on our hair. The hair dryer arrived in a rather lovely box which would make a great gift, and took just a matter of moments to set up since it all slots together nicely, so it was already off to a really good start. I loved just how quick it was to heat up, blow (and dry) my long, thick hair without causing any frizz. Plus how nice it looked out of the box, as well as in the box. What I'm not too fond of, however, is how surprisingly loud the GHD Helios is when in use across all temperatures and controls. And the weight of it is pretty top heavy, which isn't a problem just not what I was expecting when compared to my previous hair dryer.
The important stuff
With Aeroprecis technology built inside – this technology channels airflow through its DC motor at a whopping 120kmh – this hair dryer does a very fast job. The GHD Helios has three temperature levels, one of which is a cool shot, as well as two speed settings. Normally, hair dryers aren't judged based on their design. But, when you're given four different colour options and it's finished in matte, it's hard not to see this hair dryer in all its beauty. In the box comes a bespoke contoured nozzle for this hair dryer. Simply just push it on to reap the benefits. This nozzle gives more control when it comes to styling and it helps de-frizz otherwise untameable hair. It also makes the hair dryer easier to use.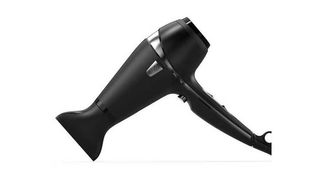 The GHD Air is the best hair dryer for those with curly locks, in our eyes, and it was the first professional hair dryer from GHD. This powerful hair dryer has advanced ionic technology inside to ensure even the most untamable hair follicles behave. In other words, no matter how curly your hair is, this hair dryer should be able to tackle the job. This technology also works to lock in moisture for softer and shinier results. This way, your blow dry will stay looking salon-fresh for days.
What reviewers love
This hair dryer is raved about by reviewers, not just for the fact it's great for curly hair, but those who have used it say that it works so fast. It's also easy to hold, it leaves your hair looking super shiny and straight – some users say it rid the need of them going over their hair with straighteners.
The important stuff
The GHD Air features a cool function to set your style in place, as well as two other heat settings. Whether you're left or right-handed, the GHD Air can be used by anyone no matter the hand you favour. It also features a 3m long cable in case your mirror isn't close to a plug socket. And it comes with two hair clips in the box for easy sectioning, as well as a concentrator nozzle.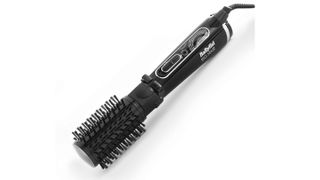 Hate blow drying your hair but love the look of a bouncy blow dry? The BaByliss Big Hair Styler is the hair tool for you: it dries damp hair whilst brushing it through to give a bouncy effect. It's also incredibly easy to use since it rotates on its own and works wonders on frizz.
What reviewers love
This hair dryer brush can be used on wet or dry hair – it's great for those who would rather not use direct heat on their head. It also makes a salon-worthy bouncy blowdry so easy to achieve, no matter how good you are at styling hair. Also, according to lots of reviewers, the effect stays in so long (sometimes until your next wash!). Its big barrel is harder to use on shorter hair – just something to bear in mind.
The important stuff
The magic behind this device comes from its super ionic generator. This sends a stream of negative ions which neutralise static charges as your hair dries. Let's just say that it's a lot easier than sporting rollers for hours on end (we've all been there). With three settings to choose from including a cool option to set your style, this hair dryer brush can be used by anyone. With a large 50mm barrel, your blow dry will be bouncier than ever. Simply use it as you would a rounded brush while blow drying your hair as normal, and as the barrel rotates (more on that below), the bristles will dry your hair into style.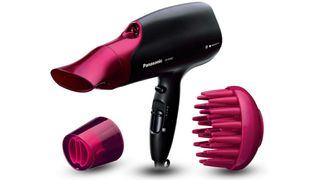 Looking to buy a hair dryer with a diffuser included? The Panasonic EH-NA65 is your best bet. Built-in Nanoe Technology makes this hair dryer a saviour for dry and damaged hair. How? It helps your hair retain approximately 1,000 times more moisture than when using a regular hair dryer – and while it's drying, it keeps your cuticle in good condition, too. Hair dryers with diffusers are great for naturally curly hair types, to help
What reviewers love
Reviewers who have used this hair dryer along with the diffuser attachment say it's great since it has a large surface area for longer hair. It's also great for thick hair types, and it does the job surprisingly fast. According to reviewers, it leaves your hair looking so natural, yet with added volume. Though it's apparently quite heavy with the attachment on – something to be mindful of if you'll spend a while using it.
The important stuff
This hair dryer features a healthy mode for those worried about damaging their hair. Select this option to be blasted with air at the temperature of 50ºC. What's more? There are also three speed modes and three temperature modes to choose from, as well as a Cool Shot function to set your hairdo in place. The Panasonic EH-NA65 comes with three attachments: a quick dry nozzle for rapid drying; a standard nozzle for everyday use and of course, a diffuser nozzle to enhance natural curls.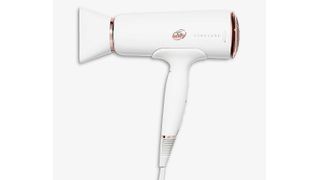 Looking for a hair dryer for thicker hair? The high-performing T3 Cura Luxe can tackle all hair types, leaving your locks dry, shiny and tamed.
What reviewers love
This hair dryer works incredibly fast to give great results. After using, you'll be left with smooth, silky and straight thick hair. The most mentioned and praised features by reviewers are that it turns off when you put it down, the Cool Shot button is on/off instead of having to press and hold, and it works wonders on frizz – no flyaways! Though it is said to be quite heavy when in use. The majority of users claim that it's super for reducing breakages – it works at a lower speed overall, but can do the job in the same amount of time.
The important stuff
Not only does this hair dryer offer five heat and two speed settings, but it has a Volume Booster Switch to add texture and volume to your hair. It does the job quick, too, while it has a Cool Shot button to lock in your style, and IonAir technology helps add a shine to your finished look. What else? An Auto Pause Sensor stops airflow when the handle is released. With these added features doesn't come extra weight, too – this hair dryer is lightweight and quiet. It comes with a drying concentrator and a styling concentrator, as well as a 2.7metre cord. What's not to love?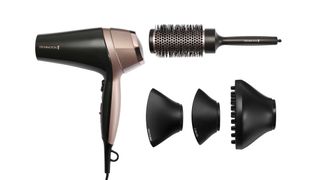 Save on trips to the hairdresser thanks to the Remington Curl & Straight Confidence Hair Dryer. An Ionic conditioning feature can be found on many dryers in the top price bracket, and it means that it helps to control frizz, giving you a smooth, shiny finish. And its 2200W motor gives fast, powerful drying results every time.
What reviewers love
Lots of reviewers love this hair dryer simply because it comes with so many attachments – especially the curling one. The curling attachment adds volume and bounce to otherwise flat and fine hair. It's also apparently lightweight and it adds shine to hair – not to mention it's raved about for being quieter than other models.
The important stuff
It comes with its own styling accessories for you to recreate your perfect hairstyle from the comfort of your own home. The barrel brush that comes with it is the perfect size for creating both volume and curls while the curling nozzle is so handy for everyday use. There's even a slim smoothing nozzle and diffuser attachment, too.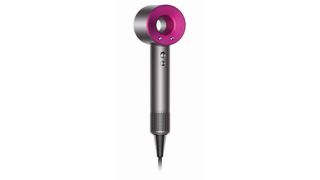 Available in black and nickel, silver and grey or pink, this state-of-the-art Dyson Supersonic is said to help maintain healthy, shiny hair. Not only that but its acoustically tuned to make less noise whilst in operation. Basically, it won't vibrate as much as other models which in turn makes it sound less abrasive and noisy. Thanks to an air volume of 41 litres per second, this dryer will have your hair finished in no time – perfect if you're always in a hurry.
What reviewers love
Many users of this model love the fact that it makes their hair look and feel shinier from first use, and we agree (we're currently testing this hair dryer). It's also lightweight, easy to use and quiet when turned on – according to happy reviewers. It's also better when used on the lowest setting as it gets quite hot. As for frizz and flyaways? Say no more.
The important stuff
The Dyson Supersonic maintains consistent, controlled temperatures to prevent overheating and damage to your locks. The smoothing nozzle and accessories that come with it can be used to gently dry and style simultaneously. It comes with a smoothing nozzle, concentrator and diffuser, as well as the gentle air attachment and a wide-tooth comb. It has four heat settings, making it a really versatile option that should suit most buyers who have a larger budget to spend.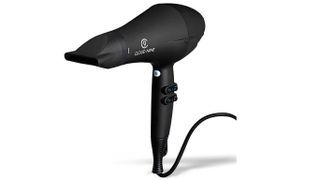 Got frizz? You need the Cloud Nine Airshot in your life: thanks to the Airshot's vitamin-infused ceramic heating elements, your hair will be taken good care of whilst drying – that's peace of mind right there. Anti-static technology diminishes negatively charged particles to reduce frizz and add shine. In other words, the effect of your blow dry will last longer, and if you've frizzy hair, this is the hair dryer to tackle it.
What reviewers love
Powerful, efficient and not too heavy to hold, this hair dryer is praised for being able to reduce frizz in otherwise fluffy hair types. After using, it makes a noticeable difference in texture and style. All the while ensuring not to dry your hair out – reviewers even say it works to get the job done fast, too.
The important stuff
This hair dryer features two different heat settings and two different speed settings – there's also a Cool Shot button to blast your blow dry into place, hence the name! Complete with two nozzles, the Cloud Nine Airshot is a great pick no matter your hair length and thickness. Use the 60mm nozzle on fringes and frizzy or curly hair, and the 75mm nozzle on longer, thicker locks.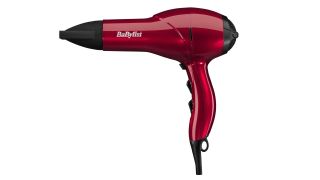 An attractive looking dryer at a great price, the Babyliss Salon AC Hair Dryer comes with ionic and ceramic heating technology as well as two speeds and three heat settings including a cool shot and turbo button.
What reviewers love
As well as being super affordable, reviewers noted that this hair dryer is also powerful and it works to dry hair fast. Also, although cheaper than other models it doesn't skimp on features – a range of heat settings are available, and it's easy to use. That being said, it is said to be quite heavy so check this out before buying.
The important stuff
Ceramic technology gives you high power airflow for quick drying; ideal if you have long, thick hair or for those who are always in a hurry. Ionic frizz control means that as you dry your hair, the built-in ironic system releases a stream of balancing ions to make your hair smoother and shinier by smoothing down the cuticles on each strand. A 3m cable is salon-style and allows you to plug in and move around with ease, great if your mirror is situated at the other end of the room. Extra features include a removable filter and ultra slim nozzle, so you can achieve your desired style quickly and easily without fuss.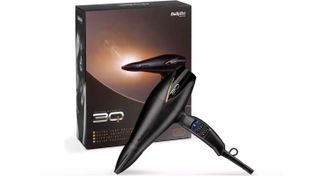 The BaByliss 3Q Hair Dryer is the best hair dryer for men. It offers the ultimate drying experience with a 2,200 watt motor behind it and two speed and three temperature settings. Adapt it to your specific hair needs for ultimate control.
What reviewers love
Sturdy and professional with a long cord, this hair dryer has a Cool Shot button, which, as confirmed by reviewers, blows out actually cold air unlike other hair dryers. While it's not the best for adding volume, it's great at reducing frizz. It has a small and narrow nozzle that's ideal for styling fringes, too.
The important stuff
With iconic technology built inside, this hair dryer locks in moisture to leave your moisturised and frizz-free. Not only that but it has a three-meter long cord so that no matter how far away your plug socket is from your mirror, you should be able to reach. Weighing only 0.47kg, it's happily lightweight and it has a professional long-life AC motor. It even comes with a 10-year warranty and a concentrator nozzle for your long hairs. A super reliable, fast to use and inexpensive pick.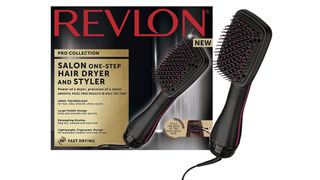 The two-in-one REVLON Pro One Step is a hair dryer and styler – with a brush head, it also works to tame afro hair, curly hair or otherwise untameable locks.
What reviewers love
Those with afro hair are pleasantly surprised with this hair dryer, and not just in the drying department as it also leaves hair looking straight. Notably, it's not as hot to use on your hair in comparison to other hair dryers, causing less damage in the long run. You'll need to towel dry (or leave to dry) your hair slightly before using, and give it a brush through with a comb or your favourite brush. Lots of reviewers praise it for being quick to use, and the fact it works with minimal hair breakage is a bonus.
The important stuff
Easy to use with a built-in brush head, this Revlon hair dryer makes life simple as you just need to use it as if you were brushing out your hair. It'll glide through your locks and not only dry them, but straighten them too. It has two heat settings plus a Cool Shot function, and it's best for use on medium to long hair. It also has a tangle free swivel cord that measures 2.5m.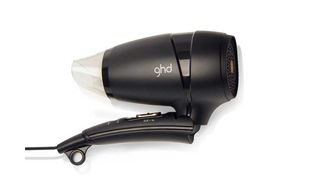 GHD's Flight travel hair dryer is an ideal option for those who frequently travel, if you're after something lightweight so easy to hold or if you have a short head of hair to dry each morning.
What reviewers love
Apart from the obvious incredible features that this hair dryer is both lightweight and compact, those who have used it praise it for being so powerful, especially considering its small size.
The important stuff
Two speed settings and a cool shot function make this the best travel hair dryer around. And it has dual voltage with options including 240V and 120V. Boasting a very handy safety feature, the GHD Flight will automatically turn off when held too close to your hair to prevent overheating. Hence the name, this hair dryer folds away for easy packing – the handle folds inwards to take up less space. It's also incredibly lightweight at just 422g including the cord and nozzle, and for easy carrying and it comes with a protective dust bag.
How to buy the best hair dryer?
Where to buy the best hair dryer?
Powerful motor
Generally, the higher the wattage, the better the heat from the dryer and in turn, the quicker it will dry your hair. The average these days tends to be around 2000W and this is perfectly fine for most hair types and styles. You do get what you pay for, so cheaper models may only have around 1500W-1800W which is better for travelling with as they are usually smaller and designed to fit into compact luggage.
Lightweight design
If you usually have to stand or sit around holding the dryer over your hair for some time, it's important to look for a lightweight model that won't give you an aching wrist after 10 minutes. This is especially true if you use the dryer to style your hair with tongs, brushes or special attachments and nozzles.
Hair types
Depending on your hair type, choose the dryer that suits your needs. It's no good splashing out on a mega-pricey model with loads of attachments if you have short hair and usually just do a quick blast after washing. For straight hair, look for a dryer that's light enough to hold comfortably for a long time; curly locks need a diffuser and different heat settings that can dry slowly to keep curls' shape, while those with frizz should choose a dryer with a narrow nozzle so you can dry hair in sections.
Cool Shot function
The majority of hair dryers benefit from having a Cool Shot function, which is, simply enough, a button that you press to blast cold air onto your hair. This helps set your style in place, and can also be used in warmer months when you don't want hot air on your face.
Heat settings
As well as a Cool Shot, it's handy if a hair dryer has other speed settings – perhaps two or three. Usually there will be a hot temperature and a medium temperature to choose from.
More on hair styling: