Treating yourself to the best Fitbit? Buying one for someone else for Christmas? Smart idea. In fact, the Fitbit is one of the best fitness trackers. How to choose one from the several models available? We can help. Your choice will depend on what you'll be using it for, and whether you want something large and easy to use or small and unobtrusive.
A Fitbit can be used for not just fitness purposes, but health reasons, too. From tracking steps to checking your heart rate, seeing calories burned, analysing your sleep and even tracking your menstrual cycle. This small piece of tech can do more than just help you exercise! And, all models are water-resistant, and some have built-in GPS so you can track walks, runs and jogs.
Whether you are a runner or you prefer swimming, you just want to track your heart rate or you'll be using a Fitbit to help you sleep better, we can help find something to you'll be happy with. See our six best Fitbit buys below for 2020.
What's the best Fitbit?
Why you can trust Real Homes Our expert reviewers spend hours testing and comparing products and services so you can choose the best for you. Find out more about how we test.
We rate the Fitbit Versa Lite as the top Fitbit you can buy as it's affordable, feature-packed and it has a large screen. Use it to track exercise, calories, sleep and more, and connect it your smartphone for notification alerts. It has a built-in GPS, too, and four-day battery life.
Click here to buy the Fitbit Versa Lite at its cheapest price on the web.
The best Fitbit fitness trackers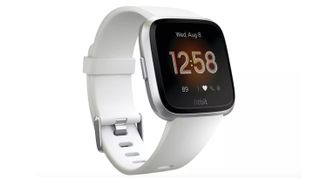 What's the best Fitbit you can buy? We rate the Fitbit Versa Lite highly as it's super affordable, feature-packed and it boasts a large screen. This screen is similar to other Versa models and the Fitbit Sense, as well as the Fitbit Ionic, although it's cheaper in price.
Boasting a slim and comfortable design, this Fitbit has a 24mm LCD screen and it boasts one-button control. Easy to use and water-resistant, it even has four-day battery life. Charging to full takes just two hours, too. Connect it to your smartphone for notification alerts, and it will automatically track workouts from walking to running, swimming and cycling. Oh, and it tracks your sleep and heart rate all of the time. Essentially, it's the best option around, especially for those on a budget – no need to skimp on the all-important features and the screen size.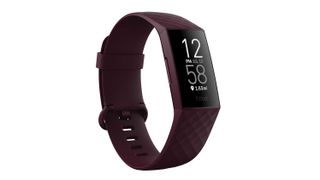 One of the latest releases from Fitbit, the Fitbit Charge 4 offers the latest in health and fitness technology. It's also stylish, is great for tracking female health and much more. We think this is the best Fitbit for women since it's thin, less of a wrist eyesore yet filled with features.
As you might expect from a fitness tracker, the Fitbit Charge 4 tracks health and fitness in a variety of ways. From providing feedback on activity levels and heart rate, to encouraging you to hit your daily step count, improve your sleep quality and still your mind through meditation, there's very little this handy device doesn't do. Like other smart watches available, it's also possible to use contactless payment via your Fitbit. This is great news if you like the idea of going out without a phone or wallet. With a battery life of up to seven days, you won't have to think about charging up your device too often. This is great news given that it's capable of helping you co-ordinate your every day.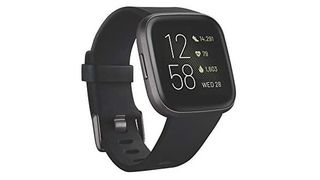 This is probably the most technical fitness tracker from our pick of the best, and it definitely has the most features. This is obviously reflected in the price, but if you are big into lots of different types of sports the Fitbit Versa 2 would be your best bet. We think it's the best Fitbit for men – due to its bulky size – but obviously, it's great for women, too.
It very accurately monitors your steps, exercise, heart rate and sleep plus it looks really stylish and isn't too bulky. But it has so many more features once you connect it to the FitBit app. There you can use it to create a completely personalised exercise and diet programme – you can set fitness goals and track calories all on your watch. This watch is also compatible with Alexa so you can check the weather, set alarms and reminders as well as ask questions. You can store songs on the watch too, up to 300, so can keep entertained as you are out exercising.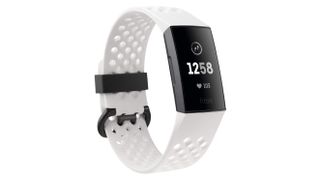 The FitBit Charge 3 is a good option if you want something slightly more advanced than the Fitbit Inspire HR, but still want to avoid wearing anything too chunky, or smart watch-like. It's also the best Fitbit for swimmers, in our opinion, as it's waterproof to 50m and it automatically recognises swimming. That and it comes with a breathable rubber strap that'll ensure your Fitbit sits securely on your wrist.
The Fitbit Charge 3 has a relatively impressive battery life of seven days and is capable of tracking exercise, as well as sleep, accurately. The screen is only slightly wider than the Inspire HR but you get a few more features. It links to your phone and keeps all your fitness apps up to date plus it can send notifications to your phone for personal reminders and you can make calls, send texts and use your apps. The FitBit Charge 3 is still an absolute bargain too.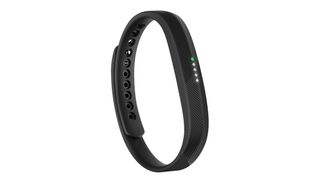 If you're looking for something super slimline, and even without a screen that could possibly wake you up at night, the FitBit Flex 2 could be the option for you. This compact fitness tracker is basic, affordable but it can definitely do the job when it comes to sleep tracking.
If you don't like the idea of wearing anything bulky while sleeping (or exercising) this super slimline design could be what you've been looking for. Designed without a screen, the Flex 2 is comparable to a rubber band, in terms of thickness. If you're a swimmer, you may also be pleased to know that this model is totally waterproof and will provide super handy feedback on your activity in the water, as well as out. You can also wear it in the shower, too. If you don't like the idea of GPS tracking and prefer to use your time exercising as an opportunity to disconnect from technology, you may be pleased to know that the Flex 2 does not connect to your mobile phone. This means you won't need to worry about texts and calls being pushed through to your Fitbit as you try to work out or sleep.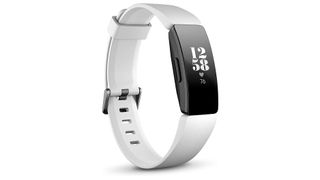 If you are buying your first fitness tracker and don't want to splash out on something really fancy just yet, the Fitbit Inspire HR would be perfect. It can offer all of the basics while being easy to use, comfortable to wear and it connects to your smartphone. Oh, and it's super affordable. Great for seniors, we think.
We love the sleek design of the Inspire HR – it just sits on your wrist nicely and isn't really bulky like most other models that scream 'Look at me I exercise!'. It still has all the features you would want from a fitness tracker – monitors your sleep, exercise, calories and more it's just pretty, which we like. It's also really affordable, one of the cheapest Fitbits available in fact. And you can get personalized straps for it.
How to buy the best Fitbit?
Where to buy the best Fitbit
Battery life
All Fitbit fitness trackers need to be charged, whether that be after three days of use or seven days of use. If you are someone who constantly forgets to charge things – such as an electric toothbrush or cordless vacuum – then be sure to look for a Fitbit that boasts a long battery life.
Heart rate monitor
Certain Fitbit devices can track your heart rate 24/7 while exercising and resting. If this is something you are interested in, then look for this feature when buying.
GPS
Particularly handy for runners, having a built-in GPS in your Fitbit means you can run and track your distance without having to carry your mobile. You can see whether you ran 5k or 15k, or even where you walked that same day.
Waterproof
Not just for swimmers to bear in mind, you'll want to ensure your Fitbit is waterproof, so that should you forget to take it off before your morning shower, it won't break.
More ways to help yourself stay active...