If you are considering spending your money on the best exercise bike around – or the best spin bike – but you are unsure of where to even start, then we are here to help. We can recommend all of the best models out there, whether you are searching for something that's foldable to hide away after use, or a permanent fixture for your home gym, garage, or even your living room.
We have tried and tested a range of exercise bikes, so that you have peace of mind when buying, that they have been used (and loved) by us. What's the difference between an exercise bike and a spin bike, you ask? An exercise bike is made for sitting cycling and freeriding, with higher handlebars – these bikes can be foldable. Spin bikes are a whole different ball game as they are designed to be used sitting or standing, so they are usually larger (and sturdier) pieces of kit with heavy flywheels and lots of levels of resistance. If you are looking for something to replicate what is in your commercial gym, choose a spin bike. If you want something to simply just move those legs of yours (without necessarily pushing yourself too hard) then choose an exercise bike.
Keep scrolling for four of the best exercise bikes you can buy, and four of the best spin bikes on the market in 2021. Use these links to jump to each section accordingly.
Find more fitness recommendations in our best home gym equipment guide.
The best exercise bikes
The upright GX 4.4 Pro proves itself as the best exercise bike around with an array of features for a smooth and comfortable workout, and a large screen for easy use. All while being impressively affordable. Though we are yet to get our hands on this exercise bike to review, here's what it can offer:
Features
With 25 levels of adjustable resistance from a 9kg magnetic flywheel, this exercise bike is said to be incredibly smooth and quiet when in operation. Use the buttons below the console to adjust resistance with ease, or It has an adjustable seat, vertically and horizontally, as well as ergonomic pedals to keep your feet securely where they should be. With built-in EKG heart rate sensors and a five-inch backlit display to show more stats – from calories to distance and rpm. It even has a built-in fan to cool you down while you work up a sweat, as well as an ideally placed water bottle holder.
Good to know
This exercise bike has a maximum user weight of 125kg. It's also on wheels for easy moving, though it's not foldable. Though it has a display, you can also use it with your tablet or phone, with the iFit app (a free subscription is included) to cycle around the world, via Google Maps, join in live classes and stream an ever-expanding workout library.
If you are searching for an exercise bike under the £500 price tag, then the ProForm CSX is the one for you. It's a budget-friendly version of our top pick, the NordicTrack GX 4.4 Pro, just with fewer features on offer. Here's everything you need to know:
Features
With a hefty 8kg flywheel, there are 20 resistance levels to use – just press the + and - buttons on the console to adjust. There are dual EKG pulse grips to read your heart rate, there's a workout fan to keep you cool, and the pedals are self-levelling and complete with straps. The LCD console displays feedback, and there's an adjustable tablet holder so that you can work out with iFit classes in your eye line. Alternatively, there are tonnes of Google Maps routes you can take advantage of.
Good to know
This bike uses Bluetooth so you can sync up your bike with your a tablet or smartphone using the iFit app, for unlimited online training options. It's also on wheels for easy moving, though it's not foldable.
Recumbent exercise bike or upright exercise bike?
Recumbent exercise bikes allow you to sit in a laid back position to provide more support for your back and are also easier for beginners. This style of exercise bike is suitable for almost all ages and fitness levels.
Upright bikes will simulate outdoor cycling and therefore will work the same muscles as if you were on a road bike. Unlike a recumbent bike, you'll get a full-body workout that will target your abs and arms as well as your glutes and legs.
This V-Fit cycle is an excellent value recumbent bike. It allows you to exercise on your desired level without putting any stress on your back or other joints such as knees and ankles. We think this bike would be ideal for someone recovering from a sports injury or looking to regain strength. We've not yet had the opportunity to place our feet in the pedals of this bike, but here's everything to know:
Features
A 65kg magnetic flywheel and eight resistance levels make this bike a great buy. Switch between resistance using the knob placed under the console. The adjustable padded seat and backrest also make it one of the best exercise bikes for seniors (or those who have bad backs). While it also has oversized pedals with adjustable foot straps. Its single-screen LCD monitor has seven functions – including measuring your heart rate thanks to pulse sensors – as well as distance, calorie burn and more.
Good to know
It has a maximum user weight of 115kg, and due to its recumbent design, it's rather large to store.
If you're on the hunt for a basic bike at an affordable price, your search ends here. This foldable option from Opti is ideal for those who want to work out without being bothered by a complicated screen or set up, and it's great for beginners, or to be used for a lighter work out. We've not (yet) tested this bike, but here's everything you need to know about it:
Features
With a light 1.6kg flywheel, you can adjust the resistance of this bike using the knob under the console. This small console can be used to track time, speed, distance, and calories, and it features hand grip pulse sensors to track your heart rate. In terms of comfort, it has an adjustable seat as well as pedals with straps. According to reviewers, it's stable when in use, and rather quiet.
Good to know
This bike is foldable to a small size for easy storing. It's pretty basic compared to the other models on our list, but that's to be expected for a price tag as decent as this. It also has a maximum user weight of 100kg, and it weighs just 13.1kg. You'll need two AAA batteries to power the console.
The best spin bikes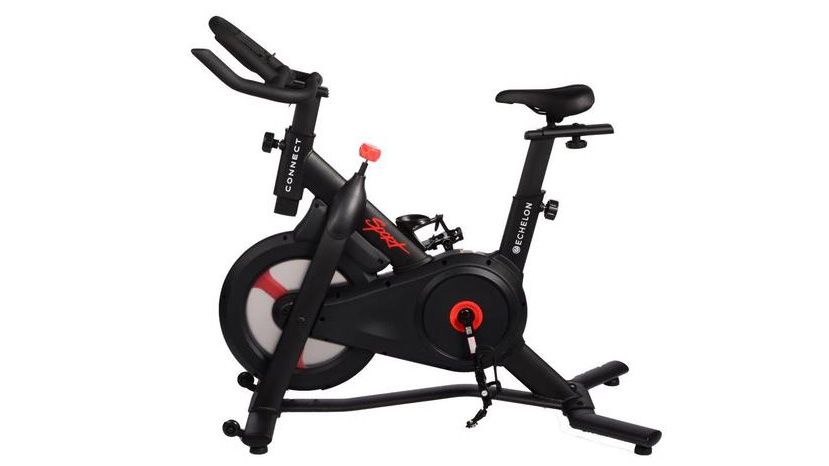 The Echelon Connect Sport bike is the best spin bike around – not only is it sturdy but it has all of the features you want (and need) in a spin bike. We think it's very similar to that of a spin bike you would find in your gym or leisure centre, making it a great addition to your own home gym if you want to spin from home.
What we loved when testing
We've been testing this Echelon bike in our home, and so far we love it. It's completely adjustable – and this is coming from someone who is only 5 foot 2-inches – and also comfortable and sturdy to use, both sitting and standing. The adjustable resistance knob sits just below the handlebars for faff-free control, and the adjustable foot straps and spiked pedals keep your feet in place, no matter how fast you are pedalling. It is also shockingly quiet when in use, so it won't bother your pets, sleeping children or neighbours. This bike is Bluetooth enabled to connect to a phone or tablet – this will act as your console so that you can see your resistance, cadence, output, calories burned and more. Take advantage of the huge range of pre-recorded and live classes on the Echelon app to make your work out fun, all of which have a leaderboard to make you feel like you are in class, competing with other spinners. Also, these classes offer more than a spin work out – think pilates, boxing, meditation and more.
The Echelon spin bike is convenient, feature-packed and comfortable – an easy way to bring your spin class home, minus the faff of getting there and the awkward small talk afterwards. It's also great for all fitness levels – from beginners to spin pros.
Features
This bike is completely adjustable – the seat moves up or down, forward or backwards and the handlebars, too. And it has floor-levelling feet so that the bike won't jolt around while you are pedalling. It has 32 levels of resistance and a 7kg magnetic flywheel. While it doesn't have a console, the idea is that you use your phone or tablet for this. Which, unfortunately, means you have to buy an Echelon subscription.
Good to know
This bike lacks just a few things, of which we consider to be minimal – and in some cases, you won't even miss them. You cannot use this bike to record your pulse, though if you wear a fitness tracker, it can do this job for you. Alternatively, you can buy one of the Echelon arm or chest band style heart rate monitors. We also found that the water bottle holder is not the best – you are best to use it with a smaller bottle to prevent it from falling out during your workout. It also needs to be plugged in while you use it, so you'll need to find space for it near a plug socket. We also think it would be an ideal permanent fixture in a home gym or dedicated workout space – it is on wheels, but it's very heavy (and tricky) to move around every day.
The Apex bike is a good looking option if you are searching for the best spin bike for home use – no matter if you are planning on using it in your home gym or in your living room. It's packed with features and the Apex Rides app is great – it can keep you motivated while the gym can't. This bike also comes in four colourways so you can match it to your decor.
What we loved when testing
We thoroughly enjoyed testing this exercise bike, and not just because it looked the part in our home. In fact, we found it both easy and comfortable to use – especially important since I am a short 5 foot 2-inches – and it's pleasant to use while both sitting and standing. The handlebars are super grippy and well-placed, and the water bottle holder sits just where you need to, in order to grab a sip of water with ease. The knob to adjust resistance sits in between your knees so you can increase the intensity at any time – this knob ticks after each level of resistance added. The Apex Rides app is filled with pre-recorded classes ranging from 15 to 60 minutes – let's just say we enjoyed every single class we took. This app is also very easy to follow since the trainers instruct you on which resistance and RPM number level they want you in between. If you are between their suggestions, these numbers will show up green. If not, they will be red.
All in all, the Apex bike is a sleek looking bike that's feature-packed with everything you need to bring spin class home. At an investment-worthy price tag, it's ideal for fitness-loving families or if you enjoy cycling at home daily.
Features
With a 4kg flywheel and 32 resistance levels, this bike is a great option for all fitness levels. In terms of features, it boasts a well-placed water bottle holder, non-slip pedals (with toe cages) and also this bike can charge your smartphone while you ride. With no console (the idea is that you use your own smartphone or tablet) this Bluetooth-connected bike works with the Apex Rides app. This does, unfortunately, mean that you will need to subscribe and prices start from £29.99/month.
Good to know
This spin/exercise bike is designed to be a permanent fixture in your home gym. While it is on wheels to be moved around with ease, it wouldn't be ideal to move it around your home every time you want to spin. It's also worth us noting that this bike has a mountain bike-style seat – this may be uncomfortable for some users at first, but you should get used to it after a few rides. Another thing we should mention is that the bike features a plastic casing to cover the flywheel (and protect your children and pets from it). While this is obviously handy, we didn't expect it to be plastic, especially when considering the price tag. We are more than aware that this bike is an investment, at £1,200, and you should also consider the fact you need an Apex rides membership to use the bike. This membership can, however, be used by up to six other people in your household.
If you want a good quality spin bike but you are on a budget, then the JLL IC400 Elite is a great option. With 10 resistance levels and a large 20kg flywheel, it's a bargain.
Features
As already mentioned, this belt-driven bike has a 20kg flywheel with 10 resistance levels – impressive, especially considering the price tag. While the handlebar and the seat are both adjustable for your comfort, and it has road pedals to make the transition between road and indoor cycling seamless. The bike has a small, LCD console for tracking your stats from distance to speed, calories and more. Also, the non-slip handlebars feature hand pulse sensors to display your heart rate as you work out.
Good to know
We think that this bike is best suited to a home gym – while it is compact and it's on wheels to easily move it if required, it is quite heavy thanks to its large flywheel. It has a 150kg maximum user weight, and it's worth us noting that it doesn't have any workout programmes – nor does it connect to fitness apps. And, it doesn't have a tablet holder, unfortunately.
If you're still uncertain whether an at-home spin bike or exercise will work for you, then have a look at the inexpensive We R Sports RevXtreme Indoor Cycle S1000. It's best suited for beginners or intermediate spinners.
Features
With a lighter, 13kg flywheel, this bike will prove the best fit for beginners or intermediate spinners. It does have adjustable resistance, but it is vague when it comes to how many levels there are, and apparently, according to reviewers, it's hard to tell which level you are at. This bike is completely adjustable – handlebars and seat, vertically and horizontally. With aluminium pedals that are caged to hold your feet in place, it's comfortable and sturdy while in use.
Good to know
This bike is on wheels so you can move it around your home with ease, though it may be heavy to do so. It has a maximum user weight of 120kg.
Exercise bike VS spin bike: what's the difference?
We've listed exercise bikes and spin bikes in our guide. Here's the difference between them.
Exercise bikes are a lot more comfortable than spin bikes thanks to the fact they usually have higher handlebars. And, when using them your spine should be straight, not bent. They are also a lot easier to store, too. The majority of exercise bikes offer a range of workout programs. When you stop pedalling on an exercise bike, everything will immediately stop.
Spin bikes offer a more realistic experience of cycling outside thanks to their fixed flywheel. This wheel is heavier than that of an exercise bike which makes pedalling a lot harder, though it can result in faster movement. That and they have a fixed gear – the flywheel is directly connected to the pedals by a chain – so even when you stop moving your legs, the wheels and pedals will keep going so as to slow down your workout gradually. It's also easier to stand and cycle on a spin bike (and to work your abdomen) due to the way they are built. Spin bikes are usually made with their flywheel shown, whereas the majority of exercise bikes have theirs hidden.
What to consider when buying an exercise bike or spin bike?
When looking for the best exercise bikes or the best spin bikes on the market, it is important to consider what your fitness goals are. This will help you decide on features such as work-out programs, resistance, and riding position. All exercise bikes are said to be easier on your joints than other equipment, but the style of bike you choose will also help you cater to any specific joint or muscle problems you may have.
Flywheel
Simply put, the heavier the flywheel, the harder and smoother the ride. From 1kg to 20kg, choose a flywheel weight based on your fitness level – the majority of bikes offer adjustable resistance, so it's not necessarily the case that a heavy flywheel means more work. It does, however, mean that the bike itself will be very heavy. Now's also a great time to consider the bike's control system. Your basic home bike may use fabric or leather pads to control the resistance throughout your workout, while other upmarket bikes use electromagnets which are incredibly powerful and precise.
Resistance
This leads us onto resistance. A good exercise bike will be adjustable in terms of resistance, whether there are 30 levels or 4 levels to choose from. This makes your work out more challenging, and there should be an easy to navigate knob, or easy to find buttons, to control this.
Adjustable?
This is a very important feature, whether you consider yourself an average height or not. A good exercise bike should have an adjustable seat – both vertically and horizontally. As for spin bikes, they should have an adjustable seat as well as handlebars.
Foldable?
Very few exercise bikes or spin bikes are foldable. If the bike you like isn't foldable but you are tight on space, then consider its size, as well as how much space you will need to use it properly and safely.
Console
For novices, amateurs, and experienced exercisers alike, there's one feature of the exercise bike that you should carefully consider before spending any money – the console. Whether you exercise by calories or kilojoules, you'll need to make sure that the bike displays all the information you want to see. Some bikes will even display your heart rate and record your distance covered in various measurements. Other bikes don't have a screen, they require a smartphone or tablet
What else?
Most bikes come with pre-set programs and a built-in monitor to track your progress, so if you're training for something specific, make sure you pick an exercise bike with your desired level of resistance. Stability is vital so make sure you check the weight limit of the bike and the weight of the bike itself in order to avoid getting a bike with an unstable frame.
Other than that it's down to personal style, budget, and whether it will fit in your home gym. There are a number of different models in this buying guide that cater to all preferences so that shopping for a bike doesn't get you in a spin.