While nobody likes washing up, owning a practical dish drainer will make this job much easier. Especially if you don't own a dishwasher, and even more so if your household tends to get through a lot of plates, pots, bowls, mugs, cutlery... and more, every single day. Dish drainers aren't just a practical kitchen buy, but they even, in some cases, can add a sense of style to your kitchen worktop. They can also make your kitchen appear neat, even when you've an entire dinner set air drying on the side.
When it comes to choosing a dish rack, there are lots of types out there, including in-sink drainers and foldable ones, that can be hidden away in a cupboard or drawer when not in use. There are even two-tier options for larger families, or you can opt for a drying mat if you wash up every now and then.
Whether you are simply after functionality, or something that matches the look of your kitchen, we have picked out the best dish drainers and dish racks to make washing up as hassle free as can be. Not to mention stylish – who said dish drainers have to be boring by default? Not us...
If you have officially had enough of doing the dishes, check out our best dishwashers guide too – owning a dishwasher won't negate the need for a dish rack, but if you have space, it will cut your time spent at the sink.
The best dish drainers and dish racks to keep your kitchen tidy
Why you can trust Real Homes Our expert reviewers spend hours testing and comparing products and services so you can choose the best for you. Find out more about how we test.
1. Joseph Joseph Connect Adjustable 3-Piece Dish Rack
Great investment dish drainer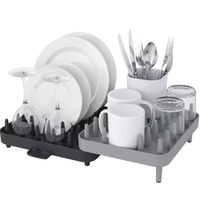 Joseph Joseph Connect Adjustable 3-Piece Dish Rack
This plastic dish rack is completely adjustable so you can shape it to your needs and make the most of the draining space you have. It has an integrated spout which is designed to drain excess water more so than other standard dish rack, and it's incredibly sturdy so you don't have to worry about loading it up with lots of dishes. It's also easy to store when not in use, and when it is beside your sink it will look smart. Though expensive, it is unlikely to wear like other plastic drainers do, meaning it's a worthwhile investment to keep your kitchen tidy.
Material: Plastic
Size: H11cmx W22cm x D27cm
2. simplywire Black Dish Drainer with Cutlery Basket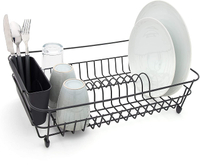 simplywire Black Dish Drainer with Cutlery Basket
This fuss-free dish drainer stands on four feet and it's made of metal, to make it look smart and be mega-practical. Plates, pots, pans, bowls and glasses fit perfectly on this rack, while there's a dedicated cutlery caddy that's removable. With a sturdy steel construction and an anti-rust finish, it should last in your kitchen for years. Not to mention it's also a bargain!
Material: Steel
Size: L44.6cm x W29.5cm x H12.5cm
3. Brabantia Compact Dish Drying Rack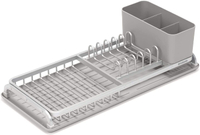 Brabantia Compact Dish Drying Rack
This compact dish rack includes a tray that will drain water into your sink, so is well suited if your sink has no draining area. It also includes a plastic cutlery holder, with holes in the bottom, and overall its capacity is great – there's space for 14 plates and a few glasses and pans. The metal is corrosion resistant so it carries a five-year guarantee, but it's not dishwasher-friendly, though this isn't really a problem. It also looks less utilitarian than some other offerings so adds a neat vibe to your worktop, and it comes in light or dark grey.
Material: Plastic and corrosion resistant metal
Size: H14.2cm x L49.2cm x D38.6cm
4. TOMORAL Dish Rack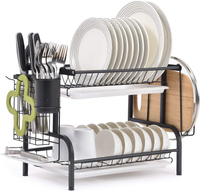 TOMORAL Dish Rack
If you are a large family with no dishwasher to help with the copious amount of plate washing (and drying), then you need this dish rack in your life: it's double-tiered so that you can use it to dry so many items at once. All of the water gets caught in the two removable trays, which means you can pop this drainer on your worktop, whatever material it may be. Use the top of this rack for drying plates and pans, and the bottom for bowls, glasses, mugs and pots. There's even space on the side for lids to dry, and on the other side you'll find a place to dry your cutlery. It comes in white, too, and it has carry handles for ease of moving. It's made of 304 stainless steel.
Material: 304 stainless steel
Size: H39cm x W25.5 x L42.5cm
5. OXO Good Grips Foldaway Dish Rack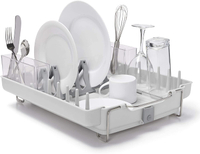 OXO Good Grips Foldaway Dish Rack
This dish rack is great for those who don't have a draining board already: it can sit on the kitchen worktop and it will collect any excess water in its self-contained tray. It's also collapsible for when you're having guests over and don't want it on show, but you'll have to drain and dry it before popping it in a cupboard. It has a section for plates, another for mugs and larger cookware and two slots for drying cutlery and utensils. It's nice and compact, so it's worth us noting it might be a tad small for households of three or more.
Material: Plastic, Metal
Size: H10.4cm x L51.3cm x D33cm
6. simplehuman Black Dishrack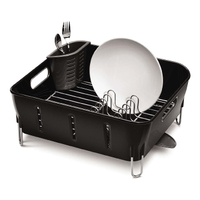 simplehuman Black Dishrack
Small kitchens don't need anything else taking up space on the worktop, which is why this simplehuman dish rack is ideal for households of one or two people. Its compact container has handles which make it easy to pick up and move around, and it's designed to fit in the kitchen sink once the washing up is done, so that all your countertops remain free from clutter. It would be enough to hold a single wash load, so if you're one to let the washing up pile up, you're unlikely to fit it all in this drainer.
Material: Plastic, steel
Size: H16.5cm x W33cm x D37cm
7. Umbra Tub Dish Drying Rack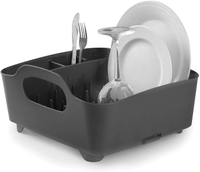 Umbra Tub Dish Drying Rack
This bargain self-contained tub keeps all of your crockery in one place and allows you to put everything away where it belongs when dry – thanks to its carry handles. It's a little narrow so it can't hold pots and pans, but it's perfect for your everyday plates and cutlery. It comes in a range of colours to suit all kitchens and it won't break the bank. It might be a tad tricky to clean as it doesn't have a draining spout, but it does fit neatly in your kitchen sink, making it the best dish rack for kitchens with limited surface space.
Material: Plastic
Size: L33cm x W37cm x H18cm
8. Lakeland Diamond Glass Drying Mat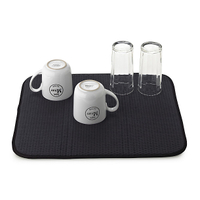 Lakeland Diamond Glass Drying Mat
If you don't like the idea of a dish rack, or you need something in addition to your dish rack, then this drying mat is the best way to drain your mugs, glasses and bowls. It can easily sit on your worktop next to the sink and is a much better way of keeping your worktop dry than using a tea towel. The only downside is users say the mat itself then gets very wet, meaning it needs to be wrung out occasionally. It is machine washable though, which stops it from gathering mildew or mould – and it'll also protect your worktop from getting chipped or scratched by the crockery.
Material: Microfibre fabric
Size: L46cm x W41cm
9. John Lewis & Partners Modern Country Beech Dish Drainer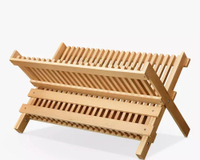 John Lewis & Partners Modern Country Beech Dish Drainer
Choose this dish rack if you have a Scandi-style kitchen – or if you're not a fan of the metal/plastic dish racks everyone tends to own. It can only really hold plates and mugs comfortably though, so you'll need to source something else to hold your cutlery while it dries. It's made of beech wood and the thing we love most about it is that it folds flat after use, so that you can store it away in a cupboard. It's ideal for occasional use, but probably wouldn't be ideal as an everyday dish drainer. Saying that, if you have a dishwasher and you want to use this for a few items here and there, it should suffice.
Material: Beech wood
Size: H27cm x W32.5cm x D49cm
10. ILO Clam Shell Small Dish Drainer Rack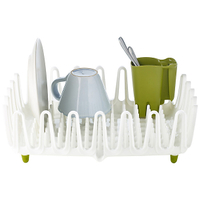 ILO Clam Shell Small Dish Drainer Rack
Well this is certainly unique! And very space-savvy if we do say so – use the pointed edges to hang your glassware to dry, the spikes in the middle of the drainer for your plates (and more) and the removable cutlery rack for your... well cutlery and utensils. You can stack dishes in either direction you like using this drainer, and it has draining spouts to let the water run straight into your sink. It also comes in grey and you can get a matching cutlery drainer and sink tidy.
Material: Plastic
Size: 31.5cm x 38.5cm x H14cm
---
What to look for when buying a dish drainer?
How much crockery can it hold?
Before you buy, bear in mind that it's not just about how your dish drainer looks – you need to think about your kitchen worktops and how much room you have. If you often have lots of washing up, then a double-tiered dish rack will save you taking up too much space. Or, if it's only mugs and glasses you need to drain, sometimes a mat can be less intrusive. If you have a dishwasher, you may only need space for anything that isn't dishwasher friendly (though it helps to have enough room for a full load when your dishwasher is already full, or if it ever breaks).
Display or put away?
For those who like to keep their kitchen looking like a showroom, then a fold away dish rack will allow you to pretend the washing up never existed once it's dried. Foldaway ones are also less likely to be susceptible to the build-up of limescale or dirt, because they are not left with stagnant water on them after the dishes have been put away, too.
Material
Metal racks are strong and usually more slimline, but look for one that won't corrode – it will have lots of water droplets on it after all. Plastic racks are very easy to clean so if you go for plastic, find a durable offering that is built to last.
Where to buy a dish drainer?
Didn't find a dish drainer that you love above? Not to worry: there are plenty more dish racks out there to browse. Just click through our list below to shop for more – by retailer.