The best decking paints will allow you to completely transform your deck in a matter of hours. Whether you like subtle pastels or want to experiment with bright colour, a decking paint is your go-to for creating a brand new style for your decking area.
The decking paints on our list offer the best coverage, value, and ease of application. The range of colours is also a factor – just like interior paint, decking paint now comes in a wide selection of trendy colours, from eggshell pastels to bold and bright shades.
Whatever final look you want to achieve, we've got the right decking paint for you, from quick drying decking paints to opaque finishes.
We also have buying guides for the best decking oils and the best decking stains should you need further advice.
The best decking paints
Why you can trust Real Homes Our expert reviewers spend hours testing and comparing products and services so you can choose the best for you. Find out more about how we test.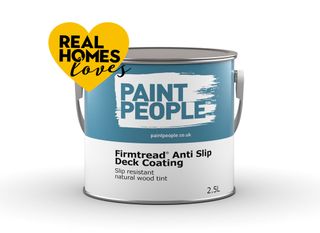 When it comes to giving your decking some attention, Firmtread is, indeed, a firm choice. There are four colours to choose from, including Silver Birch, Rick Teak and Light Oak, and there's also the option of a clear version if you're looking to give your decking's existing colour, or natural colour, a boost. All colours contain fine particles that give a surer footing, and it only requires two coats, so your new decking will look just like new in no time.
What do we like about it?
The quick drying time: at 15°C , this deck coat will dry in just two to four hours, making the whole process of painting your deck much quicker. This product is also very sympathetic to the natural grain and colour of your wood, and won't obscure it like some other products.
What does it do well?
The anti-slip particles in this product are really tiny, and you won't feel them even with bare feet. Firmtread is also economical, as you only need to apply a thin coat.
Buy Firmtread Anti Slip Coat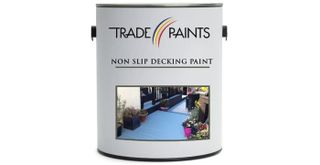 If you're looking for a quick fix with absolutely no compromise on quality, the Trade Paints decking paint is perfect. The brand promise that the paint works well as a cover up for wood of all conditions, whether your decking is brand new or showing the marks of time.
What do we like about it?
The ease of use on any type of wood, whether it's bare, previously coated, or old. This means you don't have to put in the extra work of removing your previous deck coating. And the choice of colours is amazing (we especially like the vibrant blue shades they do). We also like that the decking oil is water-based, making it more eco-friendly than many other options.
What does it do well?
Covers any deck surface very well; you won't know what's underneath.
What to watch for
If you do choose to use this product on previously treated wood, the result may not be as long-lasting as if you apply it on bare wood. The paint may peel off after a while if the surface underneath is rough or uneven.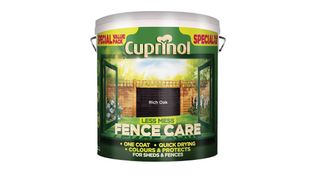 With its one-coat wonder and fast-drying properties, Cuprinol's Less Mess Fence Care is perfect for those short on time. It works best on new wood, and with Autumn Red, Rich Oak and Rustic Brown as the colours of choice, it enhances the wood's natural colours.
What do we like about it?
The more coats you apply, the darker the effect, and with such a large tin for such a great price, you can afford to paint your shed and fence, too.
What does it do well?
Exactly what it says on the tin, if we may steal that phrase. Easy, one-coat application with very little mess and great coverage, as confirmed by many happy users.
What to watch for
The colour range is limited.
Buy Cuprinol Less Mess Fence Care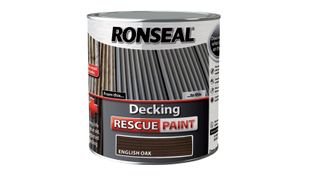 Once you've had your decking a while, it can start to appear tired and worn, but with Ronseal Decking Rescue Paint on call, you can soon have it looking like new. The paint works to fill small cracks and splinters, ensuring a smooth finish. Ronseal recommend that you apply two coats to achieve the desired effect, with the paint being both long-lasting and scuff resistant once dry.
What do we like about it?
The fact that this paint is rainproof after only 90 minutes means that you don't have to wait until the summer to use it. We also like the understated but versatile colour range.
What does it do well?
This decking paint really does make an old deck look brand new, delivering on its promise to fill in cracks and smooth over surfaces that have become uneven. As such, it will save you on labour and deck prepping products.
What to watch for
Not as long-lasting as some of the others on our list, this decking paint will need to be reapplied every other year or so.
Buy Ronseal Decking Rescue Paint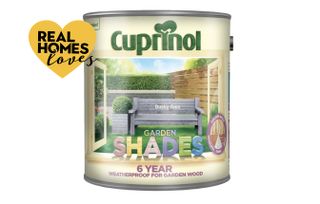 If you're looking to give your decking a personalised touch, Cuprinol's Garden Shade range is the best. There's a huge range of soft shades available, from Berry Kiss to Jungle Lagoon, allowing you complete freedom to use your artistic flair around your garden. While the paint dries opaque, it still allows the texture of the wood to show through, and once dry offers up to six years' protection.
What do we like about it?
Not only does this paint give gorgeous results, as all the best decking paints should, but it's also Eco Compliant, making it an environmentally friendlier choice. We also like the fact that a single coat is enough with this paint.
What does it do well?
You can't beat this decking paint for the quality of the colours. Users love the soft, modern shades that work particularly well in smaller garden decks.
What to watch for
Because of its eco standard, this paint is more watery than many others, so will drip. It's best to apply this one with a roller.
Buy Cuprinol Garden Shades decking paint
What is the best decking paint?
As seen above, we think the best decking paint you can buy is the Firmtread Anti Slip Coat. It's available in several different colours, features a non-slip coating, and it's touch dry within two to four hours.
How to buy the best decking paint
Quick links to buy the best decking paints
Colour choices and finish
Whether you're looking for Rich Teak or Sage Green, Firmtread Anti Slip Coat takes the top spot thanks to its ability to bring a new lease of life to an old deck; it also brings out the wood's natural grain.
For ease of use and a superior quality finish, Trade Paints is a great choice, especially if you can justify its expensive price tag, while those not too sure of the colour they want to use should look at Cuprinol 2.5 Litre Garden Shades for a huge range of ideas.
Non-slip properties
Our top pick adds a non slip coating that helps to ensure a sure foot all year round – something to look out for if your deck leads directly off your French doors or back doors.
Decking paint, decking oil, or decking stain: which do I need?
Think of decking paints as being best suited to a proper garden deck transformation: a quality deck paint will typically be quite opaque in finish, because the goal is usually to give the wood a vibrant colour. If the decking paint is semi-sheer, you'll only ever want to use natural wood-imitating colours, otherwise the effect would be quite weird.
In this case, you may be best trying a decking stain: it will subtly enhance and deepen the colour of the wood, but is likely to look more natural than a paint. Finally, if you're completely happy with the colour of your deck, but want to protect it against the elements and perhaps give it anti-slip properties, go for a decking oil.
Can I paint my deck in autumn?
Yes – there's no reason you have to paint your deck only in the summer – it's just that most people do so because summer tends to have more dry days, and you need at least 48 hours without rain to ensure your decking paint dries properly. However, September usually has at a couple of weeks of dry, sunny weather, so it's perfectly fine to paint your deck then too.
How eco-friendly is my decking paint?
If the environmental impact of your decking paint is a concern, look for a product that has low VOC (Volatile Organic Compound) content. Basically, the fewer fumes, the better. Water based paints also tend to be more eco-friendly than oil based ones, like our number five choice above.
How to prepare a deck for painting
While some products, notably the Owatrol, can be applied directly on top of old paint, you'll get a much better finish from most decking paints if you follow the following steps:
Give the deck a thorough brush to remove dust, debris, and large buildups of lichen/moss.
Use the same stiff brush, or roller, apply a decking cleaner. Make sure you cover the whole surface evenly.
Leave your cleaner on for the time specified on the cleaner packaging. For organic cleaners, this may be as long as a couple of days.
Wash off, preferably with a pressure washer. Let dry.
Sand with a sanding tool, then use primer. Let dry. Your deck is now ready for painting.
More on decking: