In the market for the best decking paint? Decks make a great garden feature, whether it's a place to relax with a book and a glass of wine or somewhere you can showcase your plant pot collection. To make a plain area of decking look amazing and fit in with your garden's colour scheme, there's a huge range of decking paints that you can use, whether a soft blue or a rich oak. Here, we review the best decking paints for your garden.
Use our handy step-by-step guide on how to install decking to create the perfect decked area in your garden; we also have buying guides to the best decking oils and the best decking stains if decking paint isn't your bag.
What is the best decking paint?
We think the best decking paint you can buy is the Firmtread Anti Slip Coat. It's available in several different colours, features a non-slip coating, and it's touch dry within two to four hours. Find out more below.
How to buy the best decking paint
Quick links to buy the best decking paints
Colour choices and finish
Whether you're looking for Rich Teak or Sage Green, Firmtread Anti Slip Coat takes the top spot thanks to its ability to bring a new lease of life to an old deck; it also brings out the wood's natural grain.
For ease of use and a superior quality finish, Owatrol Shed and Fence Paint is a great choice, especially if you can justify its expensive price tag, while those not too sure on the colour they want to use should look at Cuprinol 2.5 Litre Garden Shades for a huge range of ideas.
Non-slip properties
Our top pick adds a non slip coating that helps to ensure a sure foot all year round – something to look out for if your deck leads directly off your French doors or back doors.
THE BEST DECKING PAINTS
1. Firmtread Anti Slip Coat
Best decking paint: enjoy freshly coloured decking with all the benefits of a non-slip coating
Reasons to buy
+Small particles in the paint provide slip resistance
When it comes to giving your decking some attention, Firmtread is, indeed, a firm choice. There are four colours to choose from, including Silver Birch, Rick Teak and Light Oak, and there's also the option of a clear version if you're looking to give your decking's existing colour, or natural colour, a boost. All colours contain fine particles that give you a surer footing, and it only requires two coats, so your new decking will look just like new in no time.
2. Owatrol Shed and Fence Paint
Best decking paint for old decks: for a fantastic finish no matter the condition of your decking, choose Owatrol
Reasons to buy
+ Paint over peeling or flaking surfaces
If you're looking for a quick fix with absolutely no compromise on quality, Owatrol is perfect. The brand promise that the paint works well as a cover up for wood of all conditions, whether your decking is brand new or showing the marks of time. Thanks to the addition of the brand's own Emulsa-Bond formula, it's very adhesive, making it great for high traffic areas and, with just two coats, it is guaranteed against peeling for up to five years.
Shop more decking paints at Ebay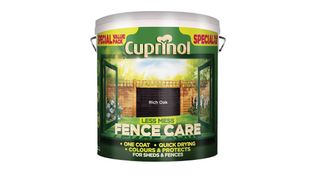 3. Cuprinol Less Mess Fence Care
Best one-coat decking paint: a cost-effective decking paint that looks great after one coat
Reasons to buy
+ Quick drying
With its one-coat wonder and fast-drying properties, those short on time should consider using Cuprinol's product. It works best on new wood, and with Autumn Red, Rich Oak and Rustic Brown as the colours of choice, it enhances the wood's natural colours. The more coats you apply, the darker the effect, and with such a large tin for such a great price, you can afford to paint your shed and fence, too.
Buy more shed and fence paint at B&Q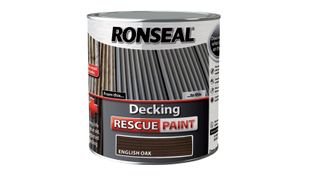 4. Ronseal Decking Rescue Paint
Best decking paint for touch-ups: make old decking look like new
Reasons to buy
+ Seals and fills
Once you've had your decking a while, it can start to appear tired and worn, but with Ronseal Rescue on call, you can soon have it looking like new. The paint works to fill small cracks and splinters, ensuring a smooth finish. Ronseal recommend that you apply two coats to achieve the desired effect, with the paint being both long-lasting and scuff resistant once dry.
Buy more decking paints at Uk Tool Centre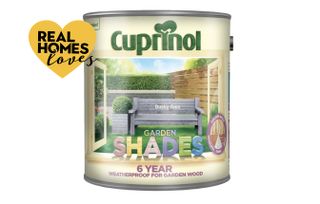 5. Cuprinol 2.5 Litre Garden Shades
Best decking paint for colour choice: apply your eye for colour outside, too
Reasons to buy
+ Over 25 colours available to buy
If you're looking to give your decking a personalised touch, Cuprinol's Garden Shade range is the best. There's a huge range of soft shades available, from Berry Kiss to Jungle Lagoon, allowing you complete freedom to use your artistic flair around your garden. While the paint dries opaque, it still allows the texture of the wood to show through, and once dry offers up to six years' protection.
Buy more wood care products at UK Tool Centre
More on painting: