With the best cross trainer for your home, you can achieve a fantastic workout any time of the day. These machines can help you get active and protect your joints against aches and pains, which is especially good if you're recovering from injury or just getting back into your fitness regime. Cross trainers are a fantastic example of a low-impact exercise machine, enabling you to lose weight (if that's what you want to do), or to feel healthier within yourself without the need for an expensive gym membership.
Like many of the best home gym equipment picks, these cross trainers offer a full-body workout to tone up various areas of the body, from the chest and shoulders to glutes. Usually less intense than a spin on one of the best exercise bikes or a treadmill, they can be helpful if you struggle to get motivated whilst exercising, allowing you to tune into your favourite TV show or podcast while training, to work on your fitness levels in a gentler way.
Within our expertly chosen lineup, you can browse cross trainers that have excellent features for portability, like wheels, as well as features such as heart-rate sensors and tablet holders, covering both health and entertainment bases.
---
The best cross trainers 2022
Why you can trust Real Homes Our expert reviewers spend hours testing and comparing products and services so you can choose the best for you. Find out more about how we test.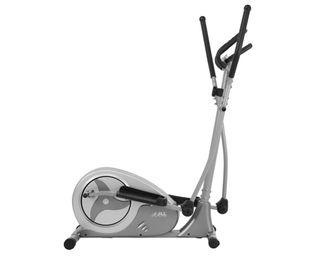 What's the best cross trainer you can buy? When considering both price and performance, we rate the JLL CT300 Elliptical Cross Trainer highly.
What reviewers loved
Apart from the fact this cross trainer is clearly good value for money, lots of reviewers praise it for being very easy to use as well as simple to assemble. Users are happy with its compact size, its sturdiness and how quiet and smooth it is while in use, too.
Design
Designed to be both durable and stylish at the same time, the JLL CT300 Elliptical Cross Trainer can simulate climbing, walking or running, all without causing excessive pressure on your joints. It's also on wheels so it can be easily moved around your home.
The important stuff
This cross trainer has a nine-function LCD display monitor that shows RPM, speed, distance, time, temperature, heart rate, calories, body fat and pulse; and its dual-action handlebars feature comfortable foam grips. It features eight levels of magnetic resistance and you can pedal forwards and backwards thanks to its 5.5kg flywheel. Our favourite part? There's a tablet holder for those who like to catch up on their favourite programme while exercising, instead of looking at the number of calories they've burned.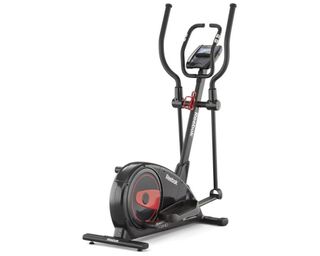 The Reebok One is a cross trainer we would be more than happy to have in our homes, whether that be in a dedicated home gym space or in a spare bedroom. Why? It's not as bulky looking as other cross trainers on the market, meaning it can be slightly hidden away if need be.
What reviewers love
This cross trainer is said to be, by those who have tried and tested it, well-built, quiet when in operation and really good value for money. Though some say it's hard to assemble, and it may develop a squeak after a lot of use – just tighten the bolts when this happens.
Design
This cross trainer is on wheels so you can move it around your home with ease, and it has a 15-inch (31.8cm) stride length, too. It has a maximum user weight of 120kg.
The important stuff
For starters, it has a 9kg rear-drive flywheel for a smooth workout. Just make sure you pop it near a plug socket though since it's mains powered – it also has floor level adjustment feet for use on uneven ground. It features 12 pre-set programmes to jazz up your workout, while there's a five-inch LCD display for tracking your stats – time, distance, calories heart rate and more.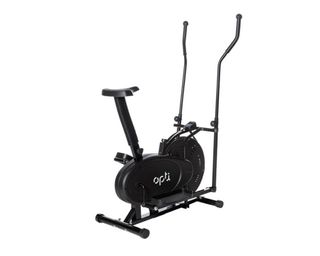 Use this 2-in-1 exercise bike and cross trainer to promote good blood circulation and increase your lung capacity – all from one machine. Use this machine sitting as an exercise bike or standing as a cross trainer, your choice. And, find the best exercise bikes in our dedicated guide.
What reviewers love
Not only is this machine convenient – as it's 2-in-1 and works your entire body – but reviewers praise it for also being super compact and easy to store. Since this machine is very affordable, it's expected for it to have a few issues – it may need tightening after every use, and it's apparently quite loud to operate.
Design
This 2-in-1 cross trainer and exercise bike is great for those with limited space. Use this machine to work your entire body at once and improve your cardiovascular fitness from home. With a 1.9kg flywheel and an 11-inch stride length, it's perfect for occasional use or beginners. It's even on wheels for easy transporting.
The important stuff
Boasting an air resistance system with free tension control, it's completely adaptable to your fitness level. Both the seat and handles are adjustable depending on the height of the user, while it boasts self-levelling pedals. While it's admittedly basic in terms of features – a lack of pre-set programmes and no incline levels – this machine does offer console feedback on everything from speed to distance and calories burned.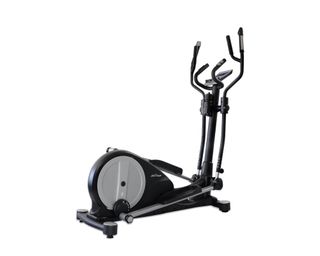 If you're thinking of investing in your first cross trainer and don't want to spend too much money, then the JTX Strider-X7 Magnetic Cross Trainer could be the machine to help you get started.
What reviewers love
Besides its high-quality design (impressive for the price tag), reviewers particularly love that it's easy to assemble, quiet when in use and most importantly, that it has a great range of workout programmes to explore.
Design
It boasts no-frills, but it's a slim machine that can be folded away when not in use which is also great for those who lack the space for a bigger feature-packed machine. It has a 16-inch stride length and a maximum user weight of 130kg.
The important stuff
You'll have a large console with 21 different workout programmes, so you can still monitor your progress as you go, and it uses magnetic resistance which means you'll still get the same smooth experience as with some of the other best cross trainers on the list.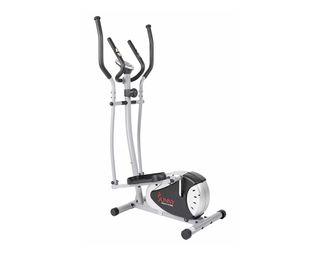 Choose this Sunny Health & Fitness cross trainer if you are on a budget. Not only is it affordable, but it's safe to use, too. A great cross trainer for occasional use.
What reviewers love
Besides the fact that this cross trainer is a total bargain, it's also said to be surprisingly sturdy as well as easy to put together. It's great for compact spaces, and it's quiet when in use. Although it's probably not the best pick for serious cross trainer users, or if you're planning on using your new cross trainer every day.
Design
With anti-slip foot platforms that are large and secure, as well as eight levels of adjustable resistance, you can tailor this machine to your fitness level. It's even on wheels for easy moving, and it has a compact stride length of 28cm – great for smaller homes. It has floor stabilisers so it can be used on uneven ground or carpets, too. There's a maximum user weight of 100kg, but other than that you should be good to go!
The important stuff
Though basic, since there are no workout programmes available and you can't adjust its incline, this cross trainer does have a hand pulse monitoring system to provide heart rate readings, as well as an LCD monitor. Refer to this monitor to track your time, speed, distance, calories and more.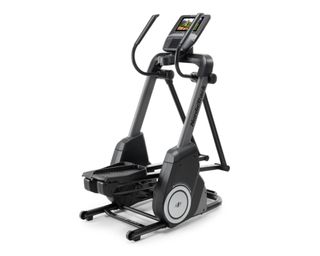 For those who are building their very home gym, the NordicTrack FreeStride FS7i Elliptical 3-in-1 trainer could be the ideal piece of kit for your workouts.
What reviewers love
You might need a hand putting this large piece of kit together, but once it's up it's said to be easy to operate and smooth when in operation. Users love that it it multifunctional as it adds variation to their workouts, while its 24 resistance levels mean it can be adapted to your fitness level.
Design
Admittedly large in size, we think this cross trainer is best suited to a dedicated home gym. It has a 32-inch stride length that's adjustable, as well as a 10 per cent incline. This NordicTrack cross trainer has a sound system so you can motivate yourself with your favourite tunes during a workout. Other design features we love include a fan for hotter days, and Bluetooth compatibility to your smart device to track your progress.
The important stuff
This three-in-one treadmill, cross trainer and stepper is multifunctional, and it's easy to switch between modes. Not only is the machine feature-packed with 24 workout programmes and an adjustable stride, but it's also perfect for multiple people to use even if they have different fitness levels.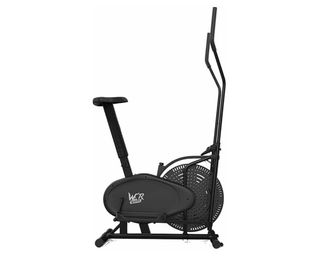 This 2-in-1 cross trainer and bike from We R Sports is both wallet-friendly and easy to store within your home. It might not be suited for those who want to get into stringent training, but for those looking to get active for a little less, it's an extremely affordable choice.
What reviewers love
Many reviewers love this machine thanks to its convenience within their home, making working out easy to slot into their day. The excellent value is the standout benefit for many reviewers, and for under £200, this machine offers plenty of versatility with home workouts.
Design
Swapping between bike and cross trainer is totally painless with this machine, with easy-to-remove handlebars and saddle. It has high and low resistance settings so that you can amp up your workouts when you feel like it, as well as the capability to target your whole body with its design. It also weighs in at just 30kg, which is great for manoeuvring it around.
The important stuff
For anyone on a budget who wants to get active at home, this bike and cross trainer duo will be a revelation. Though it lacks the snazzy features of more expensive alternatives, there's plenty to get started with here for beginners.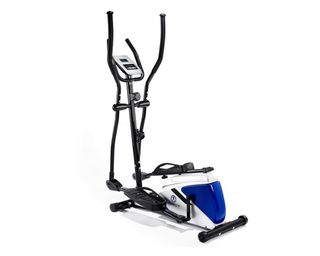 This Marcy cross trainer is a steal for under £400, and it has some higher-end features to keep you motivated as you workout, including pulse sensors and information on how many calories you've burned. It's definitely our best value-for-money pick.
What reviewers love
This cross trainer is not only fairly budget-friendly, but also a great fit for those who don't want their workout to disturb other people in the house. The fact that it's quiet to use is also combined with features that make it easy to stash away so that you can keep your home looking pristine once you're done with exercising.
Design
Anyone who likes to try out different programmes will likely be a little disappointed by the manual resistance of this model, though there are eight different tension levels available. It has a 4kg flywheel and a 14-inch stride length too, meaning that those working at a more intermediate level can bag a great deal with this cross trainer too. The maximum user weight for this cross trainer is 110kg, and it weighs 35.5kg, making it easier to shift around.
The important stuff
This cross trainer won't break the bank and holds plenty of versatility for those who want to build up their fitness and smash new goals. It's also got plenty of statistics to keep you occupied as you work up a sweat, as well as the crowning jewel of a super handy flip-out stand for your phone or tablet so that you can catch up on TV as you get moving.
---
How we chose the best cross trainer
We haven't had a chance to test out these cross trainers just yet, but we are planning on undertaking reviews in the future to get that all-important hands-on experience. In the absence of our own reviews, we have carefully curated this round-up based on a number of criteria, including quality of materials and standout features, in order to bring the very best selection of cross trainers to you. That also includes looking carefully at user reviews, to make sure we get the opinions of those who have used and loved (or not so much) these products themselves.
What to consider when buying the best cross trainer
Where to buy a cross trainer?
There are a few different types of cross trainer you can buy, and some things you'll want to consider before choosing the right elliptical machine for you.
Electromagnet or belt resistance?
There are different types of resistance that can be used on these machines, the most common being electromagnetic, with some cheaper models having a belt resistance. Decide which one you need/would prefer.
Stride lengths
If you're looking for a cross trainer that can be used by multiple members of the family, then make sure you pick a cross trainer with variable stride lengths. This will allow you to adjust the length of your strides depending on your size, and what type of workout you want to do.
LCD monitor
If you'd like to track your progress and have access to pre-set workout programmes so you can make the most of your machine at home, then make sure the cross trainer you use has an LCD monitor to display this information.
Price
For some of the most high-end machines, you'll be looking at setting yourself back up to £2,500. However, if you're on a budget or short of space, there are plenty of more basic options available for as little as under £200, as seen above. Consider the type of training you will be doing, and how often you will be using the machine, and then see what each of our choices has to offer…
More fitness deals
Buying a load of home gym equipment? Whether you are building your own home gym or you just want to invest in a few of the basics, such as the best treadmill, you can find lots of home gym and fitness offers below.