The best cross trainer might be at the top of your list if you are considering investing in some home gym equipment. Ideal if you're not a fan of running but want something that will get you moving a bit more than an exercise bike, a cross trainer is a great piece of kit that'll work all of your muscle groups without putting too much strain on your joints.
Cross trainer machines can be surprisingly compact, so they're a great buy if you want to work out in the comfort of your own home; find the best home gym equipment picks in our buyer's guide, and find out how to create a home gym in our practical advice guide. Head over to our home gym hub page where you'll find design ideas and equipment recommendations aplenty.
What is the best cross trainer?
We think the best cross trainer is the NordicTrack FreeStride Trainer FS7i, it's a 3in1 trainer that features 35 different workouts as well as Bluetooth compatibility and much, much more. However, if you're after something more budget-friendly, opt for the JLL CT300 Elliptical Cross Trainer.
How to buy the best cross trainer
Best places to buy a cross trainer
There are a few different types of cross trainer you can buy, and some things you'll want to consider before choosing the right elliptical machine for you.
Electromagnet or belt resistance?
There are different types of resistance that can be used on these machines, the most common being electromagnetic, with some cheaper models having a belt resistance.
Stride lengths
If you're looking for a cross trainer that can be used by multiple members of the family, then make sure you pick a cross trainer with variable stride lengths. This will allow you to adjust the length of your strides depending on your size and what type of workout you want to do.
LCD monitor
If you'd like to track your progress and have access to pre-set workout programmes so you can make the most of your machine at home, then make sure the cross trainer you use has an LCD monitor to display this information.
Price
For some of the most high-end machines, you'll be looking at setting yourself back up to £2,500, but if you're on a budget or short of space, there are plenty of more basic options available for as little as under £200. Consider the type of training you want to invest in and then see what each of our choices has to offer…
THE BEST CROSS TRAINERS
1. NordicTrack FreeStride Trainer FS7i Elliptical
Best cross trainer you can buy: a 3-in-1 trainer for those who are serious about their workouts
Specifications
Best for: 3-in-1 trainer
Workout programmes: 35
Stride Length: 38in (adjustable)
Incline: 0-10%
Reasons to buy
+ Bluetooth compatibility + Silent magnetic resistance
Reasons to avoid
- Tricky to assemble- Expensive
For those who are building their very home gym, this 3-in-1 trainer could be the ideal piece of kit for your workouts. Not only is the machine feature packed with 24 workout programmes and an adjustable stride, but it's also perfect for multiple people to use even if they have different fitness levels. You might need a hand putting it together, but once it's up it's said to be easy to operate, and it has a sound system so you can motivate yourself with your favourite tunes during a workout. Other features include a fan and Bluetooth compatibility to your smart device to track your progress. Our pick of the best cross trainer for those who are after a 3-in-1 model.
Shop more NordicTrack cross trainers at eBay
2. JLL CT300 Elliptical Cross Trainer
Best budget cross trainer: coming in at under £200, this cross trainer is a bargain
Specifications
Best for: Budget
Workout programmes: 8
Stride Length: 32cm
Incline: N/A
Reasons to buy
+9-function monitor+Heart rate sensors+Tablet holder+Transportable
Reasons to avoid
-Not as advanced machine as others-Not a great choice for those over 6ft
Designed to be both durable and stylish at the same time, the JLL CT300 Elliptical Cross Trainer can simulate climbing, walking or running, all without causing excessive pressure on your joints. It has a nine-function LCD display monitor that shows RPM, speed, distance, time, temperature, heart rate, calories, body fat and pulse; and its dual-action handlebars feature comfortable foam grips. It features eight levels of magnetic resistance and you can pedal forwards and backwards thanks to its 5.5kg flywheel. Our favourite part? It has a tablet holder for those who like to catch up on their favourite programme while exercising instead of looking at the amount of calories they've burned, and it's on wheels so it can be easily moved around your home gym.
Shop more JLL products at Amazon
3. Reebok ZR8 Cross Trainer
Best basic cross trainer: first-timer? This is the cross trainer you need. It's basic, affordable and does the job
Specifications
Best for: Basic
Workout programmes: 19
Stride Length: 15in
Incline: 0%
Reasons to buy
+Affordable+Easy to use+On wheels+Adjustable and anti-slip footplates+Built-in hand pulse sensors in handlebars
Reasons to avoid
-Fiddly to assemble-No water holder-No incline
Ideal for occasional use or for beginners who don't want to spend an arm and a leg on a high-tech, pricey machine, this cross trainer features 19 programmes, 12 of which are pre-set workouts. Its 5.75in LCD control displays speed, distance, time, calories and pulse rate. The machine runs pretty quietly – ideal if the machine is in a spare bedroom – and smoothly. There's no incline function to simulate a hill, but you can increase the resistance to make your workout harder. For those who are conscious about it being on show in the middle of the living room, this cross trainer is on wheels, meaning it can be easily moved out of sight when not in use. And a big plus is its price tag. Perfect if you think it might spend more time under your discarded clothes than you.
Shop more Reebok cross trainers at their Amazon page
4. Life Fitness E1 Elliptical Cross Trainer
Best cross trainer for families: this cross trainer is adaptable for all fitness levels and family members
Specifications
Best for: Modes
Workout programmes: 14
Stride Length: 51cm
Incline: Yes
Reasons to buy
+Easily connects with smartphones+Up to four user profiles
Reasons to avoid
-Very big
If you've ever set foot in a gym, it's likely you've spied a Life Fitness machine or two, so you know that you're probably in good hands. This one is about as high tech as they come, and almost endlessly variable for every member of the family. As well as being able to save up to four distinct user profiles, the E1 is also smart stuff: the Track+ console connects to Android and Apple smart devices to create personalised workouts, track in real time and talk to your favourite fitness apps, allowing everyone to embark on their own personal fitness journey. The best cross trainer for those looking for a machine with lots of different modes, we think.
Browse more Life Fitness products at their Amazon page
5. Bowflex Max Trainer M5
Best cross trainer for upper body: a set-stride machine that works your core and upper body as well as the legs
Specifications
Best for: Total body workout
Workout programmes: 9
Stride Length: non-adjustable
Incline: No
Reasons to buy
+ High-intensity workout + Well-built
Reasons to avoid
- Can only register 2 users in the software
This set-stride elliptical trainer will force you to have a hard workout with its positioning designed to increase core and upper body toning by up to 80 per cent. You'll have 16 different resistance levels and you can monitor your training on the LCD screen and sync it to the free Max Trainer app that is available on both iPhone and Android. The only downside is you can only register two users to this machine, which can be a little annoying if the whole family want to use it to track their goals. The machine itself is also said to be very sturdy and pretty compact.
See more Bowflex products at their Amazon page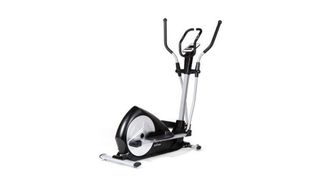 6. JTX Strider-X7 MAGNETIC CROSS TRAINER
Best cross trainer for beginners: an affordable machine ideal for beginners
Specifications
Best for: Entry level
Workout programmes: 21
Stride Length: 16in
Incline: No
Reasons to buy
+ Folds away + Not too complex
Reasons to avoid
- No techy features
If you're thinking of investing in your first cross trainer and don't want to spend too much money, then this basic elliptical could be the machine to help you get started. It boasts no frills, but it's a slim machine that can be folded away when not in use which is also great for those who lack the space for a bigger feature-packed machine. You'll have a large console with 21 different workout programmes so you can still monitor your progress as you go, and it uses magnetic resistance which means you'll still get the same smooth experience as with some of the other cross trainers on the list. The best cross trainer if you're a beginner.
Shop more JTX Fitness products at their Amazon page
7. NordicTrack SpaceSaver SE9i Elliptical
Best cross trainer for small spaces: a high-tech space-saving machine
Specifications
Best for: Space-saver
Workout programmes: 30
Stride Length: 18in
Incline: 0-10%
Reasons to buy
+ Folds away vertically + Connect to your smart device
Reasons to avoid
- Tricky to figure out settings at first
This is another great space-saving piece of equipment, but what the JTX Strider X7 lacks, the NordicTrack SpaceSaver makes up for. This is quite a technical machine, so for those who aren't that tech savvy you may find it tricky to make the most of it. The cross trainer can connect to your smartphone or tablet to track your progress and you can even connect to GPS and simulate real-life runs for a smarter, more interesting workout (you will need to get the iFit app though). It's said to be super heavy and a bit of a mission to get it up the stairs but once it's in it will slip into a small space without making the place look untidy.
Shop more cross trainers at John Lewis & Partners
More home gym inspiration: