Installing one of the best landline phones is a wise move to stay connected with friends and family. Nowadays, people are quick to dismiss the classic fixed-line phone, particularly in an age of smartphones and all their uber-cool features and apps.
However, there are still plenty of good reasons to invest in a house phone, and for those in the older generation – it's still a household staple. For others, it's a lifeline in case of loneliness or, sadly, in an emergency.
Of course, you'll want a contemporary option, and almost everyone will agree a cordless model is the way to go. In today's time-poor world, it's very common for us to be moving around the house, and getting on with multiple tasks with the phone nestled between our shoulder and our ear.
Often, the best broadband providers will require that you own a landline too. In fact, it's common for a contract to offer the user a deal on their landline phone. Oh, and who can deny that relying on your smartphone for work can be a little distracting (if not all-consuming) with all those notifications pinging off? Perhaps also, your area has poor signal? In which case, a cordless landline phone is quite the savior.
To help you find the best landline phone, we've dialled in on a tight roster of choices, each of which comes with its own benefits. Call blocking, easy-to-read display, battery life, phonebook memory, style, and much more are considered. So, without further ado, here are our go-to landline phones. Perfect for if you're 'hung up' on making a decision.
---
The best landline phones
Why you can trust Real Homes Our expert reviewers spend hours testing and comparing products and services so you can choose the best for you. Find out more about how we test.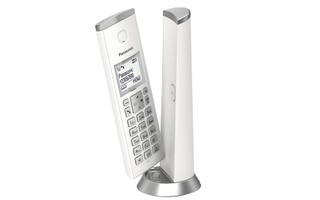 This Panasonic KX-TGK222EW landline phone is one model we certainly wouldn't mind having on display in our house – this cordless phone has all the features you might expect, plus it looks pretty good. This fixed-line phone with look good in any modern lounge or hallway.
What are its features?
Complete with a handy 'do not disturb' mode, designed to prevent unwanted disturbances, as well as the option to block calls, 18 hours of talk time, and an incredible 200 hours of standby time, this model covers more than the basic requirements.
What else?
Our only complaint is that the interface isn't as friendly as it could be. However, if you're after a phone to simply make and receive a few calls a week, then is the best cordless phone for you.
Let's talk design
Slim, neat, and not dissimilar looking to sought after designer cordless phones, this model will blend in seamlessly with your home's interiors.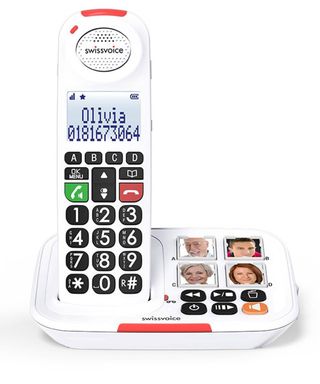 Is there anything this cordless Swissvoice Xtra 2155 doesn't do? If you're hard of hearing or have a visual impairment, this is possibly the closest you'll get to a mobile phone while shopping for one of the best cordless phones.
What are its features?
See: its high-contrast screen makes telephone numbers easy to see, as do the large black keypad buttons for unfussy and non-fiddly dial-outs.
The four photo memories are equipped with vocal VIP ringers that allow you to instantly call your loved ones. These are great as a visual prompt, especially for elderly relatives with dementia and/or other memory loss disorders. Plus, you can store up to 100 contacts too.
And, to get to the phone in time, there's highly visible ringing LED indicators on the handset and base that lights up... Flashy!
Hear: With up to 90dB volume (that's equivalent to a lawnmower), a 30dB boost, and a hearing aid-compatible setting, conversations will be clear and audible.
What else?
For multilingual users, it has a digit recall in seven different languages so you can say Bonjour to your besties and relatives.
Let's talk design
OK, so it's not the chicest, but the brilliant functionality makes this a choice contender if you're deciding between this and another device.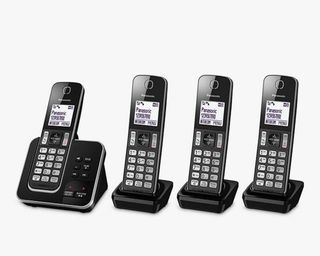 We've all been there. The phone rings, it hasn't been replaced on the docking station in the living room and you're on an almost impossible mission to find which room it's in before the caller puts down the phone... How frustrating!

Offering a full 16 hours' worth of talk time, this quad set of Panasonic KX-TGD624EB digital cordless telephones, can last up to 200 hours on standby. Better still, four handsets are better than one, so you can place two in the sitting room and bedroom, and the remaining two in high-traffic areas of the home, if you struggle to make it to yours in time.
What are its features?
Enjoy uninterrupted evenings and weekends and clamp down on unsolicited telemarketing calling with a dedicated nuisance call blocker button. This feature allows you to block specific numbers or entire groups based on the first two to eight digits) and/or withheld numbers altogether. However, this does require a subscription to the Caller ID service offered by your provider/telephone company (of which additional charges may apply).
Just like your mobile phone you put this phone on silent with the 'do not disturb' setting. Helpfully, you can also customise it so it only rings for specific contacts.
For those who need it, you can also customise the sound frequency with a choice of three settings, so you won't miss any bit of goss or good news.
What else?
It also has an advanced answering system so you can catch voicemail answerphone machine messages when you are at home or away with an alert.
Let's talk design
A sturdy base coming in at H8.5 x W10.8 x D10.9cm with a lightweight handset measuring H16.5 x W4.8 x D3.4cm with 1.8" LCD full dot monochrome display. Granted, it's not the most fashionable feature in your home, but for the convenience of having more than one device, it's ideal.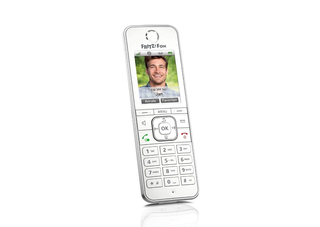 Offering a full 16 hours' worth of talk time, perfect for evening catchups, this AVM FRITZ!Fon C6 cordless model can last up to 12 days on standby. Plus, with an outdoor range of up to 300m, it's a must-have for use in the summer, when you're sunbathing in the garden.
What are its features?
Well, this certainly doesn't skimp on hi-tech quirks. On this, you can display live images from webcams as well as the best video doorbell intercom systems. Oh, and did we mention the door-opening function?
For the busy amongst us, this is also great for keeping tabs on your email and the news. And, as if it couldn't get any better, it also has web radio and podcast functionality.
What else?
As is standard, this has a speakerphone function, plus a whole host of useful features, such as full- or low-battery capacity indicators, digital clock, and calendar, and redialling, forwarding, waiting, and transfer options.
Let's talk design
Quite frankly, this is one cool model. Simple but ever-so slick, it has rounded edges and a minimalist style.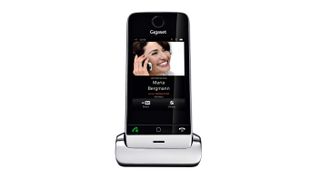 This cordless Gigaset SL910Aphone, is possibly the closest you'll get to a mobile phone while shopping for one of the next best landline phones.
What features does it have?
Its large touchscreen, intuitive interface, and decent range make it very much... well, mobile, for a home phone.
What else?
It's easy to operate and to see, and its lucid, high-quality screen offers a much more comfortable experience than faded numerals on an orange or blue backlit screen for short-sighted users.
Let's talk design
Commended with its high-quality design, the phone itself feels considerable and well-built, a far cry from some of the more flimsy-feeling plastic handsets.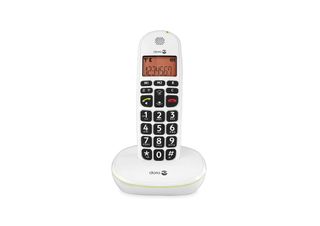 If you're looking for something for your elderly parents, or perhaps you're a senior buyer yourself, this Doro PhoneEasy 100W DECT cordless phone, might be of interest. It's one of the best landline phones for those with visual and hearing impairments.
What features does it have?
Thanks to the large and widely-spaced buttons, the bright and backlit display, and the easy-to-read characters, life is made much easier for elderly people or those whose eyesight is limited. Plus, with an integrated hearing loop, this is ideal for those who use hearing aids. Oh, and the audio boost button allows for the necessary amplification.
What else?
With a neat and user-friendly design, this handset has a handy function whereby the battery LED light flashes when a recharge is required. And, as well as this, a tone sounds during a call, so you know when the phone is close to running out of power.

Let's talk design
As is clear, this design is made with a specific user in mind, and for this, it really performs. Plus, it looks pretty stylish too, if you ask us.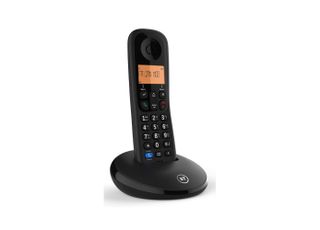 Can't stand the incessant PPI calls? You're not alone. Luckily, there's help out there. Keep cold callers at bay with this simple but oh-so-handy budget handset from BT.
What features does it have?
A single handset – although, it is available as a twin or trio pack – this option has a 'do not disturb' mode, which only allows contacts tagged as VIP to get through. Ideal when you need to get your head down, right? The screen is admittedly basic, but it's clear and easy to read, indicating when you have messages or a second call waiting.
What else?
Like many handsets, this option features standard volume control, so you can turn it up or down to suit you. A little annoyingly though, it doesn't have a loudspeaker option, and it can only hold up to 50 contacts. That said, for its price, it's still a quality choice.
---
How to buy the best cordless landline phone
Gone are the days of corded, rotary dial phones (unless you're looking to go retro). Instead, contemporary house phones are sleek, smart, and can be packed full of modern features.
Here's what we looked out for when choosing the best landline phones, and what you should consider when purchasing a cordless phone for yourself:
Answering machine
When you're out and about, you can sometimes miss calls to your landline, often from close family members or colleagues. Luckily, most landline phones have an answering machine feature, so you're covered for this eventuality – but it's worth double checking that the phone you want has this feature.
Touch screen?
Many modern house phones come with a large touch screen, although simple keypads are available too if you prefer.
Added features
If you use your home phone a lot, you might want to look out for handsets that offer speed dial and contact storage – some phones even allow you to set a different ringtone for different people to avoid the element of surprise.
Why should I keep a landline phone?
Landlines are great for giving people another option to contact you if you don't have your mobile to hand.
Plus, it goes without saying that a work-life balance is essential. With a landline number, you can separate your job from your personal life by only sharing your landline contact with clients or colleagues. More importantly, though, for many people, a landline is considered essential in case of emergencies where mobile service cuts out.
'Mobile connections are prone to problems and so often a bother for making business calls,' says senior vice president, corporate communications and investor relations, Gigaset.
'Yet companies who nevertheless want to give their employees flexibility and mobility rely on cordless DECT handsets, which work seamlessly with existing physical or cloud telephone systems. Single or multicell systems are used, depending on the area to be covered, and can even be included to cover several stories or buildings.'
What are the advantages of having a landline?
'Here are six advantages to keeping your landline in your home,' says Brianna Cloney, digital marketing assistant, and manager, Cincinnati Bell.
Call quality
'Many reports show the quality of sound and clarity in the best landline phones is better than on any cellular phone. This can be a very helpful asset for the hearing impaired and those who rely on a clear connection.'
Emergency response
'Every second counts in an emergency. Even though cellular phones have GPS, often times they only transmit a general location, and it takes a longer time for emergency responders to get the information. Landlines, on the other hand, and are already affiliated with a specific address, so emergency responders can immediately trace that information.'
Power outage
'Again, although our cell phones work in a power outage, they have finite battery life. It is often hard to know when the power will come back on and the phones can be recharged, and those wireless chargers will die too. Corded landline phones work even when the power is out. If your phone service requires a battery backup, that will keep you connected for up to eight hours after an outage, providing you with precious time to connect with family members, call emergency services, or find an alternate power source to get your mobile phone charged.'
Often required with home security systems
'The best home security systems require a home phone connection to serve as the main base or a backup for the security company to contact,' says Brianna Cloney.
'It also often decreases home security bills, as it is easier to connect security systems to landlines than cellphones.'
Ease of use for kids
'Landlines are often a good backup plan to have for a child. Say there is an emergency, a child can be taught how to call for help if something were to happen to a parent and the child could not access a locked or missing cell phone. They can also be a good way to allow children to use the phone without handing them a cell phone, which has apps and the internet on it.'
Long-distance and international calling
'With the often higher call quality, using a landline to speak with someone long-distance is usually the best method for communication.'
How long does a cordless phone battery last?
'The average battery life of a cordless telephone is about 1 to 2 years.' says Jessica Thompson, senior content manager, Panasonic.
'For some cases, it may not be able to charge up within a year. This is likely because the battery has been charged before and left to discharge to too low a voltage. You would then not be able to charge up the battery using the normal charging method.'
'For models which come with a spare battery; make sure that the handset batteries and the spare batteries are fully charged, do not place the handset back to charge but interchange the current batteries with the spare batteries when the battery indicator blinks.'
'For models that come with only one battery; if your talk time is not too long, you can charge the handset at night and use it through the day. If your talk time is long for each call, then it would be best that you put the phone back to charge after every one or two calls. Otherwise, the handset may be discharged and another ten hours will be needed to charge up the phone.'
'When your batteries have been used for more than a year, look out for any chemical corrosion that might appear at the battery plug. If such corrosion occurs, change the battery immediately to avoid the chemical corrosion from damaging the PCB (printed circuit board). Once the PCB is damaged, it cannot be repaired.'
How else can a cordless telephone be used?
Perfect for parents, many of the best landline phones also double up as a baby monitor. And, like a smart babysitter, additional handsets can call the main handset if it detects a sound in your nursery.
And while you shouldn't expect the chicest design, the humble, no-frills cordless telephone is minimal, clean, and light to hold, making it ideal as a home office phone – used while sat on your best sofa.