If you like to add a personal touch to as many items as possible around your home, don't just settle for standard planters, make a statement with designer choices. Cat-themed planters are a great option for cat owners, feline fanciers, and anyone who likes cute kitties. As well as looking great in your own home, cat planters (especially pre-planted ones) make great gifts for any cat lovers you know. We have a wide selection of the best cat planters available, from kawaii kitties to more subtle designs that gently evoke the feline form.
Staff pick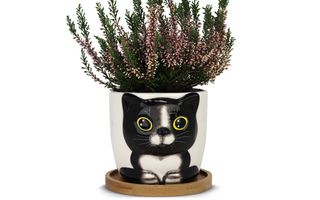 Bamboo saucer included
This adorable cat design is part of a wider family of cat pots from the Window Garden. We like this black and white kitty design, but you can also get a tortoiseshell, a tabby, and a ginger tom. This pot is hand-painted. It has a 4.5-inch opening and is 4.25-inches deep.
Perfect for window ledges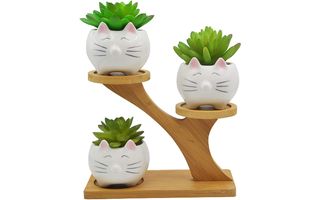 With a three-tiered bamboo stand
Perfectly sized for succulents, this attractive trio of planters sits on a handsome bamboo tree stand. The cute pots each measure 3.14-by-3.14-by-2.71-inches. They are made of durable ceramic and feature a drainage hole in the base. Some assembly is required, but all fixings are supplied.
Hair flair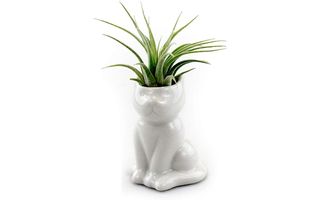 Ideal for air plants
This cute sitting kitty is designed specially to hold air plants, the plant's foliage giving the cat some luscious locks. The cat is tiny, standing at 2.25-inches tall. This planter is made with ceramic materials and has a subtle gloss finish. Human figures are also available in the same range.
Cute smile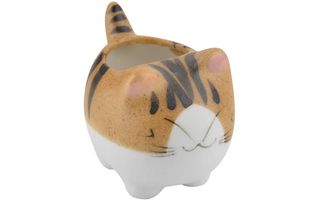 Tiny planter for small succulents
This is another small-scale option, measuring in at a really sweet, palm-sized 2.8-by-1.8-by-1.9 inches. This means it's ideal for smaller plants, such as succulents or cacti. The cat has a friendly, smiling expression and lovely tabby markings.
Fair Trade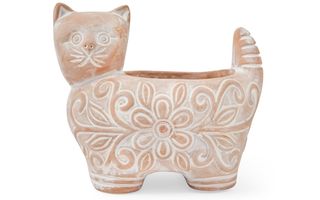 Ethically sourced from Bangladesh
We adore this stylized cat planter. What makes it even more awesome, is that it's handcrafted in Bangladesh by a Fair Trade collective. Each terracotta pot is whitewashed by hand. This is a sturdy option measuring approximately 6-inches high. If you're a dog lover too, a matching canine version is also available.
Strikingly simple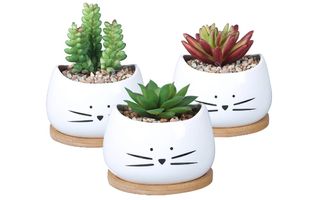 A terrific trio of matching pots
This set of three pots includes three bamboo saucers making it a great value choice. The playfully shaped pots come with either black or gold-painted cat faces. The pots are made from ceramic materials and have a hole in the base for drainage. They measure around 3.2-inches wide.
Sweet dreams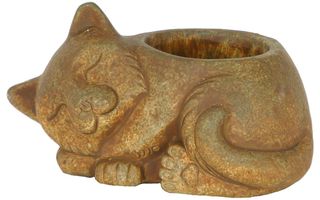 Peaceful sleeping cat
This planter is made from high-quality and heavyweight natural cement, which means it boasts an extremely durable construction. Suitable for both indoor and outdoor use, this design has a weather-resistant and UV protective finish that prevents the rust color from fading. It measures around 8.5-inches long.
Great gift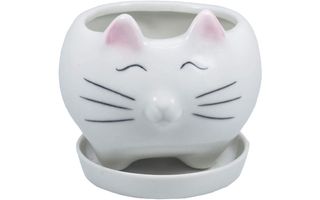 Complete with drainage tray
Another small option, this cat planter is ideal for little indoor plants. The design matches the look of the Cuteforyou trio on the bamboo stand. Instead of bamboo, this planter gets a matching ceramic saucer. The pot is also ceramic and has a drainage hole. This is a popular gift choice for cat lovers.
Five felines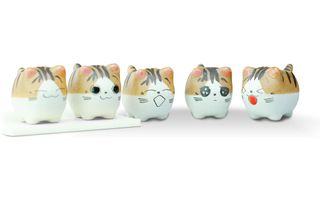 A cute set for tiny plants
This sweet set of five feline friends is ideal if you're looking to dot a collection of themed planters around the room. These ceramic pots are small, measuring in at 2.76-by-1.77-by-1.97-inches, so they will only suit little cuttings. Each kitty has a different facial expression.
Witty design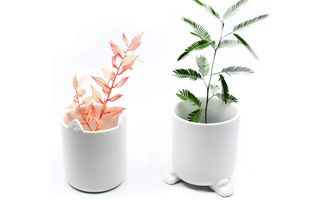 An amusing pair of planters
One of these planters features cat paws, and the other gets cat ears. Both have a tail on the back of the pot. We love how these planters are clearly kitty-themed, but with a clever, subtle nod to cat characteristics. The inside dimensions of each of these planters are 2.5-inches in diameter and 2.75-inches deep.
Smooth finish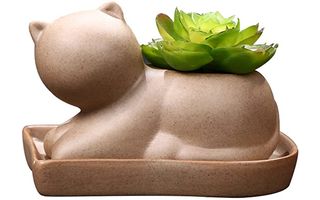 With matching ceramic tray
This ceramic planter is available in a slightly glossy white finish, or our preferred shade — a more matte earthenware brown. Both options have a matching ceramic saucer tray. The planter is just over 5-inches long. Other "species" of planters are available in the GeLive range.
Quirky design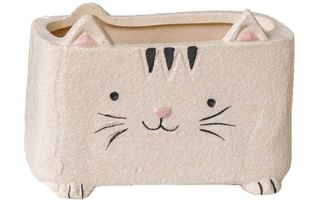 Rectangular planter with cat detail
There's something so cute and quirky about this cat planter. We adore its cheerful, friendly little cat face and its sweet pink nose and ears. It has a tail on the back. Made to look like crude pottery, it's suitable for use on balconies and patios but will need to be protected from hard frost. This pot measures just under 5-inches long.
Kat kit
Why you can trust Real Homes Our expert reviewers spend hours testing and comparing products and services so you can choose the best for you. Find out more about how we test.
It was a difficult call, but our overall staff pick is the Window Garden Oreo large kitty pot. It nabbed the top spot as we think this attractive pot would look brilliant in multiple settings, and you can expand your cat planter collection by investing in the other cute designs in the collection.
We also love the Ten Thousand Villages large garden kitty planter. This gets extra kudos in our book as it's a Fair Trade product, made by craftspeople in Bangladesh. The pot's lovely markings and whitewashed terracotta finish look fab.
If you're looking for a kitty-themed planter that doesn't scream "crazy cat lady," the Creature Cups Wander Pots animal ceramic succulent planters is worth considering. Its playful design hints at "cat," featuring a cleverly subtle reference you must look to see.